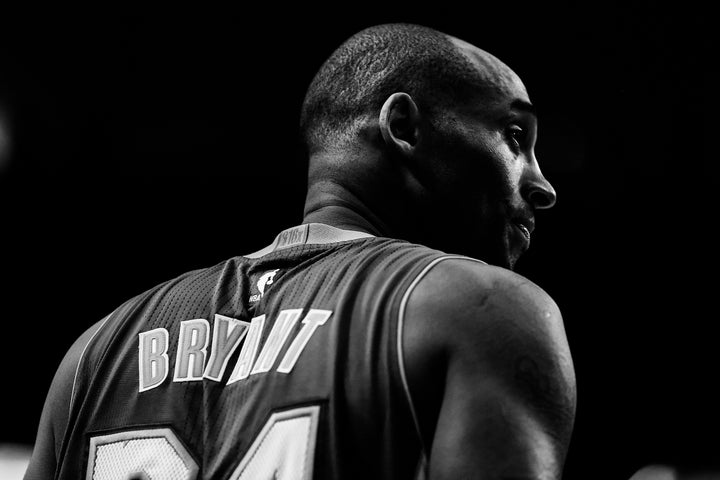 It was a spring day in 1997 when I first heard the name Kobe Bryant. I was 9 at the time and sitting on my elementary school's playground in Los Angeles. Beside me was my friend Eric, who was furiously scribbling a handwritten letter addressed to the Los Angeles Lakers' teenage sensation. 
Bryant, then a rookie, had just won the Slam Dunk Contest at the NBA All-Star Game in Cleveland, Ohio, and was quickly capturing the hearts of basketball fans of all ages, my friend included. Even then, just a few games into his now-storied career, Bryant seemed different -- flashier, more charismatic, harder-working -- and Eric wanted the high-flying shooting guard to know that he had already become his favorite player on the team, an impressive feat considering the Lakers already boasted two readymade stars in Shaquille O'Neal and Eddie Jones, the team's two actual All-Stars representatives in Ohio that year.
I wasn't much of a basketball fan then -- my main memory of the moment is thinking "Kobe" was a strange name -- but Eric's interest inspired me to find out more about Bryant. Quickly, I became a Lakers fan, then a fanboy, then a fanatic. And in the nearly two decades since that moment on the playground, Bryant has become one of the most consistent characters in my life. Friends have come and gone, as have schools and jobs and cities and homes. But season after season, year after year, Bryant's familiar face was there -- Kobe figuring out life in the NBA as I figured out mine outside of it. 
When Bryant retires Wednesday night after his 1,346th and final NBA regular season game as a member of the Lakers, he will inarguably do so as one of the greatest players in NBA history. Over the course of 20 seasons with the team, he has collected a seemingly endless number of accolades, recited ad nauseam throughout his final one: five championships, two NBA Finals MVPs, 18 All-Star selections, 33,000-plus points, an 81-point game and on and on.
But today, as I count the hours before one of the common threads throughout my life exits stage left, I find myself realizing I still don't really know what to think of the enigmatic and often frustrating star. And at this point, I probably never will.
Bryant was unambiguously great, consistently among the top players in the game and almost always its hardest-working. At times, he seemed almost impossibly heroic. I remember watching in utter disbelief as Bryant hit two winding threes against the Portland Trail Blazers in the team's final game of the 2003-2004 regular season -- one at the buzzer to force overtime, the next at the end of double overtime to win it and clinch the Pacific Division title.
Shots like those were remarkable. But if Lakers fans are honest, a large swath of them will tell you that exactly what made Bryant great also held him back from being the greatest. Perhaps no one until Stephen Curry was better than Bryant at making the difficult shot. But unlike Curry, Bryant's desire to hit the shot held back his ability to more completely and selflessly take over a game. Bryant was a truly great passer, at moments comparable to Magic Johnson and LeBron James, but he often limited his ability and intellect in that regard in favor of the harder-fought path: also known as chucking a three with a defender in his face. 
For every game-winner, there were many more attempts that rimmed out at the buzzer as his open teammates helplessly watched on. Lakers fans watched helplessly, too. In fact, one of the most consistent sensations of the Kobe era was watching as Bryant stubbornly held the ball near the end of the game, everyone in the building knowing he was more weary of passing than missing. It is for that same reason that Bryant's 6-24 performance in Game 7 of the 2010 NBA Finals continues to generate such laughter now. Bryant badly wanted to win, but only if he was able to do so on his terms. 
Lakers fans have loved many players during Bryant's career, a list that includes but is not limited to men like Rick Fox, Robert Horry, Derek Fisher, Luke Walton, Lamar Odom, Pau Gasol and Shannon Brown. But what Bryant received from fans could be more accurately described as respect. He could be appreciated, but not entirely understood -- the same hyper-competitiveness that made him worthy of adulation also making him unrelatable. Bryant was forever calculating, both on the court and in crafting his image -- the closest thing the NBA will ever see to Michael Jordan in so many ways that it sometimes felt as if No. 24 deprived himself of leaving a legacy independent of No. 23. 
None of Bryant's on-court imperfections, however, truly get at why I struggled so deeply with rooting for him as I grew older. Nor do his battles with O'Neal, or his mind games with lesser players. The truth is, I was happy to take Bryant as he was on the court -- ball-stopping, ball-hogging, fear-inducing and all. I was willing to live with his faults if it meant I got him in those moments when he was at his best. But what I could never figure out, no matter how much I tried, was how to reconcile Kobe Bryant the basketball player with whatever happened in that Colorado hotel room on June 30, 2003. 
Lakers fans don't like to talk about that period between July 2003, when the sexual assault accusations first surfaced, and September 2004, when prosecutors dropped the case after the accuser decided against testifying. It has understandably become something of a taboo in Lakers circles, forgotten in favor of better memories. Bring up the case around Lakers fans now, and you'll soon enough find yourself listening to talk of semen -- specifically semen other than Bryant's that was found on vaginal swabs taken from the woman during an examination shortly after her accusation. That semen is the go-to among many Lakers fans who want to clear Bryant entirely of wrongdoing and justify their own ability to root for him, unambiguously and forever.
Those truths were uncomfortable then, and they are uncomfortable today. The way that the trial ended didn't allow for resolution. People just had to move on, left to choose between guessing and forgetting what happened. For some, that turned into a harsh and ugly denial, heavy on victim-blaming by way of the aforementioned semen traces and the accuser's civil suit, which ended in a settlement of an undisclosed amount. For others, there was simply a silence.
I couldn't realize it then, but for me, the lack of resolution meant I couldn't entirely go back to only worrying about Bryant's small number of on-court imperfections. Bryant's case was, in a real way, my teenage self's introduction to rape, and it left me confused and unable to return to rooting for Bryant without some small bit of reservation. That might not be fair to Bryant, who was never found guilty of anything, but unlike the many people who are unambiguously celebrating Kobe today, I never figured out how to feel otherwise. And it looks like I never will.
Calling all HuffPost superfans!
Sign up for membership to become a founding member and help shape HuffPost's next chapter
BEFORE YOU GO
PHOTO GALLERY
The Greatest Photo From Every Season Of Kobe Bryant's Career