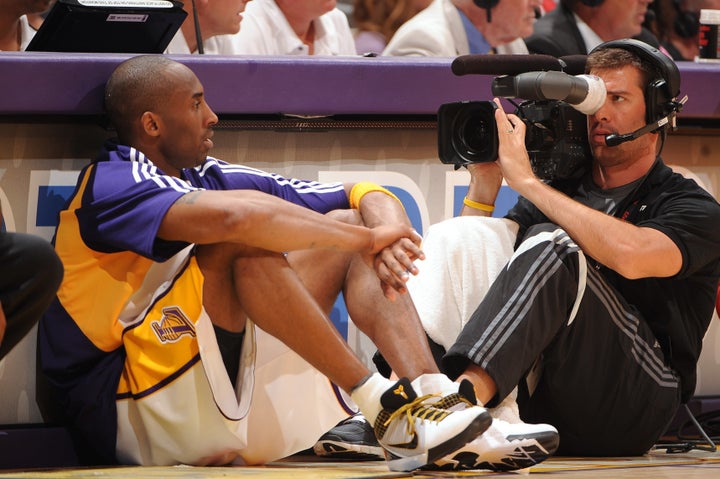 Something unusual has been happening to Kobe Bryant throughout the first two weeks of the 2015-2016 season: He has received cheers and chants of encouragement on the road, states away from the Staples Center. These rounds of applause seem most equivalent to a final ovation for a bowing performer before he leaves the stage at the end of a show, as it's widely assumed that Bryant will retire after this year. But No. 24, seemingly hoping to avoid the Jeter Tour, has refused to definitively state whether he will indeed be hanging it up next spring. Now, however, a few cameras by Kobe's side have provided us with the most conclusive proof yet that he will retire before his 38th birthday in August.
[Bryant] did hire a film crew to track him all season, filming every move and collecting sound bites in quiet moments. No documentary is planned, Bryant told me. But don't be surprised if we see one if this truly is the end.
Surely no one would hire a film crew just to record a penultimate season. So this (probably) means Kobe (is pretty sure he) will retire this season, even if he keeps equivocating in front of the media and the throngs of fans. He said just days ago that as of now he will indeed call it quits in a few months -- but actions speak louder than words, and amidst a season of uncertainties for the Lakers, lugging a film crew in tow is the action that speaks the loudest thus far.
PHOTO GALLERY
Kobe Bryant Through The Years
REAL LIFE. REAL NEWS. REAL VOICES.
Help us tell more of the stories that matter from voices that too often remain unheard.