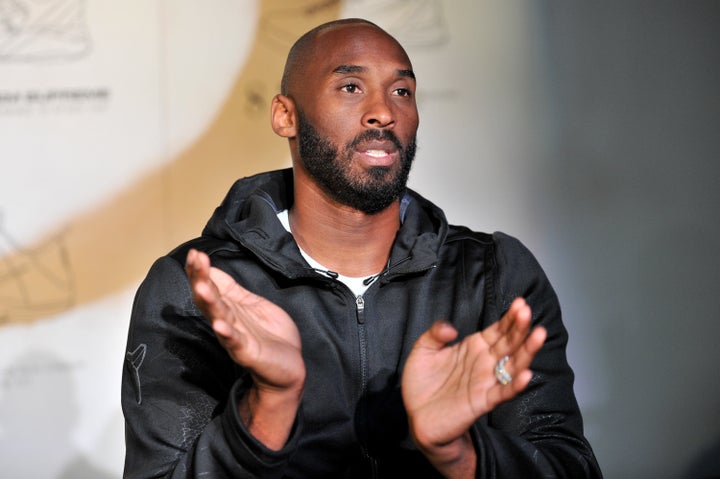 With the eyes of the NBA on last night's record-setting matchup between the Golden State Warriors and the Los Angeles Lakers, Kobe Bryant had a chance to rewrite the latest chapter of his career.  With his stats down across the board in the early going of the season, it would have been classic Kobe to come through when it was least expected -- facing the best team in the league, with the chance to spoil the Warriors' shining moment and with everyone believing him down for the count. 
But it was not to be. Instead, the Lakers, who are now sitting in last place in the West with a 2-12 record, were the personification of a flaming pile of hot garbage. Just really rank garbage. On an evening when the Lakers fell behind by as many as 41 points in the final period, Bryant shot just 1-of-14 from the floor, proving once again that after 20 years in the league, he can no longer will his team to victory or pull off the heroics that he's been expected to pull off for two decades now.
From Bryant's vantage point, his numbers should not be the Lakers' biggest worry -- that should be reserved for the lack of fluidity, chemistry and ball movement amongst those on the floor at any given time. But it is just really depressing to listen to Kobe try to tell reporters he could lead the league in scoring if he wanted to.
"I'm not really worried about [my percentages], honestly," Bryant said. "My shooting will be better. I could've scored 80 tonight. It wouldn't have made a damn difference. We just have bigger problems. I could be out there averaging 35 points a game. We'd be what, 3-11? We've got to figure out how to play systematically in a position that's going to keep us in ballgames." 
Bryant attributed some of his low shooting clip to the difficulty of the attempts he's been taking -- step-back jumpers, contested threes and pull-ups, all of which are "tough to hit at 27" and "very tough to hit at 37" years of age, per Bryant. 
"Frustration kind of got to me," Bryant said. "The fact that -- the way I played, the way I shot, blowing coverages defensively, coming down offensively and not having concept of what we're trying to do. It just kind of got to me a little bit and frustrated me, and it affected my shot … I feel OK. Just pissed. Just frustrated with what were doing. It bothered me. So I got out of my Zen."
Head coach Byron Scott and Bryant have both said in recent weeks that some of the burden is on Bryant's young teammates. His shooting will inevitably slump and suffer as long as he's put in difficult spots -- given the ball late in the clock on the perimeter, for example. And until the rookies and second-years he's playing with understand the pace and positioning specific to the NBA game, Bryant's own play will take the hit.
Meanwhile, a lack of consistency in Los Angeles' lineup and a lack of transparency in how those lineups are chosen have left little clear even to those in the locker room. Highly touted rookie D'Angelo Russell has been forced to warm the bench for a handful of fourth quarters thus far this year, an extraordinary fact considering the team's insistence that he is The Future Of The Franchise.
Scott's taken a good amount of heat for his treatment of Russell this past month. And it got worse on Tuesday, as he admitted that there is no rhyme or reason to when he chooses to sit or suit up the young floor general.
We're less than a month into the season, and things already seem to be bottoming out for LA. Case in point: Even Nick Young -- Nick Young! -- was preaching better ball movement after yesterday's disappointing effort. 
With 68 games remaining in the 2015-2016 campaign and no aha! moment in sight, the Lakers are going to need to try something new -- after over 47,000 minutes on the NBA hardwood, their 37-year-old superstar can no longer be expected to make fire out of thin air. And while that, for Lakers fans, is a sad notion, it's one that is becoming increasingly evident every time the team takes the floor.
Calling all HuffPost superfans!
Sign up for membership to become a founding member and help shape HuffPost's next chapter