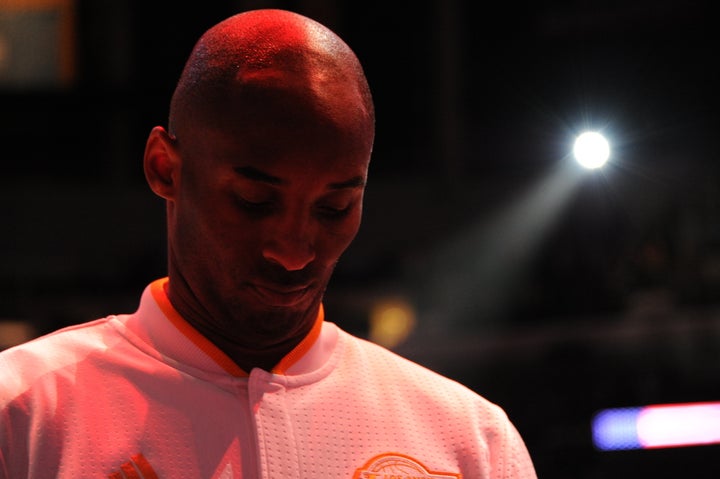 Ever the polarizing on-court player and off-court personality, Kobe Bryant has long divided NBA fanatics around the globe. Some, of course, relish every spinning move No. 24 makes, but many others have derided him as a selfish, ball-hogging hurler who always put himself before everyone else. 
That divide has held true in the wake of his retirement reveal. While ticket prices for Lakers games have jumped since the announcement, as fans hope to savor every last moment we have with No. 24, many NBA fans and journalists who cover the league seem all too ready to push Kobe out of the Staples Center door. 
But look at the people who actually work for and play in the NBA, and you'll be hard-pressed to find many Kobe naysayers, ignoring Dwight Howard, of course. In fact, despite the no-one-wants-to-play-with-Kobe diatribe we hear so often, the NBA family's response to Kobe's retirement has been one of almost universal sadness and respect. Throughout the league, notable names have celebrated Kobe's two-decade career and expressed anger at the way he has been treated by some as he heads toward the end of the tunnel. 
Indiana Pacers star Paul George began the dialogue just minutes after he took on Bryant Sunday night, detailing what Bryant meant to him as a kid with a dream, growing up near LA.
 "Kobe was my Jordan," George told reporters. "Watching him win championships, I remember being at home just watching the games with my mom, my grandma and my dad and just idolizing him … In my eyes, he's still one of the greatest players to play this game."
George's sentiments were reiterated by dozens of past and present NBA figures, who came out of the woodwork to express their admiration for Bryant. Adam Silver, Pau Gasol, Damian Lillard, Mark Jackson, Nick Young, Jermaine O'Neal, Jamal Crawford, Nate Robinson and Shane Battier are only a few of the NBA veterans who took the time to tip their caps to No. 24 in the past 40-odd hours -- on Tuesday morning, LeBron James stated that he "wanted to be just like" Kobe, modeling his own work ethic after Bryant's:
Kevin Durant went further. Facing the media on Monday, the Oklahoma City small forward traded his usual amiability for verbal acidity when reporters brought up Bryant's retirement.
I did idolize Kobe Bryant. I studied him, wanted to be like him. He was our Michael Jordan. I watched Michael toward the end of his career with the Wizards and I seen that's what Kobe emerged as the guy for us. I've been disappointed this year because you guys [the media] treated him like shit. He's a legend and all I hear is about how bad he's playing, how bad he's shooting, time for him to hang it up. You guys treated one of our legends like shit and I didn't really like it.

Hopefully now you can start being nice to him now that he decided to retire after this year. It was sad the way he was getting treated. He had just an amazing career, a guy who changed the game for me as a player mentally and physically. Means so much to the game of basketball. Someone I'm always gonna look to advice for anything. Just a brilliant, brilliant, intelligent man …
These people, these players, are the ones we should really be listening to when dissecting Kobe's legacy. They are the people who are actually trying to do what Kobe has done, who really know what it takes to be great. They are the ones who truly understand how impressive Bryant was over the years, how significant of an impact he has had on the sport for the past 20 years.  
Not the media, and not fans, but the players.
Kobe's play is a case study in meticulous footwork and mental strength -- it's a melding of basketball fundamentals and personal flourish. Anyone that has grown up watching him -- like Durant, like George, like so many of this next generation of NBA stars -- has seen what it truly means to not only say you want to win, to say you have that never-say-die mentality, but to witness a guy put in the grunts and work through the grind to be great enough to always have a chance.
For these players, Bryant's different then the other superstars of the last decade. Tim Duncan is one of the best ever, sure, but his play has never really had the pizzazz or fervor of Bryant's. Shaquille O'Neal is one of the most dominant of all time, of course, but to say that he "never said 'die'" would be a waste of words, a load of hot air, given his reputation for giving up a couple steps too soon. Bryant, well, Bryant has been the the antithesis of complacency ever since he first stepped onto the NBA hardwood.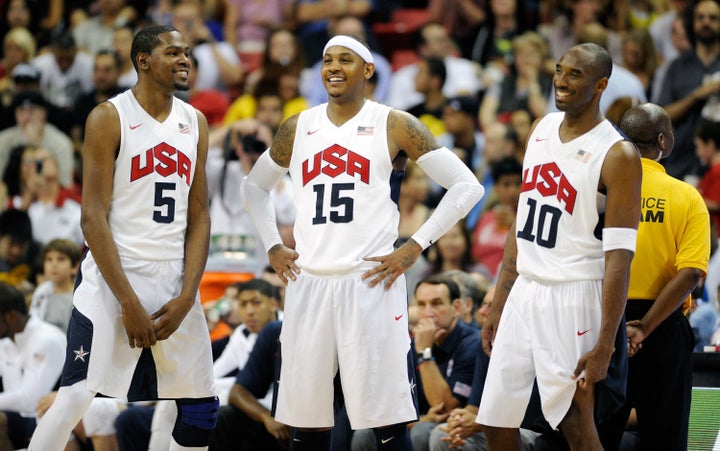 For whatever reason, Bryant has been a punching bag for NBA fans virtually since he stepped into the league two decades ago. He gets criticized for shooting too much, then, when he begins to pass more, he gets told that he's just sharing the ball out of spite. He heard that he couldn't win without Shaq, then, when he did, the tune was changed to he-can't-win-without-Phil-Jackson. Neither could Jordan, by the way.
Kobe could never win, even when his team won 65 games in a season. Or when he won those five titles, two Finals MVPs and handful of All-Star Game MVPS. Even when he was setting countless scoring records and making the NBA All-Defensive Team year after year, he could just never win with us -- the public, the press, the jury.
So that, it seems, is why these players have felt the need to speak out this week -- with Kobe getting harangued in the media for shooting poorly at age 37, for the see-ya-later­ mentality with which some have met his retirement announcement.
These stars felt the need to explain what Kobe has meant to the game because he has meant a hell of a lot to this game -- after all, they would know. But that somehow gets overlooked whenever (another!) one of his shots falls short or he (so impatiently!) shakes his head at a young teammate lost on defense. 
And that explains why even the most dissimilar NBA players have voiced effectively the same opinion time and again in just the two days since Kobe's announcement. Case in point: The tweets of the always-controversial J.R. Smith reiterate the comments of the typically-middle-of-the-road Durant. 
Even Shaq -- whether ingenuously or not -- sent kind words to his former frenemy. Ex-teammate Rick Fox called for the Lakers to retire both Kobe's No. 8 and No. 24 jerseys. And San Antonio Spurs coach Gregg Popovich sent some dry humor Bryant's way, which is the Popovichian equivalent of a long hug.
Kobe will never be fully accepted or approved of among NBA fans. But he should always be acclaimed -- for his offensive ability, for his defensive agility, for his work ethic. Guys like Durant and George have it right when they point to Kobe's legacy and his impact on today's game. And they're right to call us out for not doing the same, for not giving credit where credit is due -- to this 17-time All-Star who has never been afraid to take the big shot or be himself. The LeBrons of the world have been in the spotlight, have taken the heat, have prayed for their Hail Mary game-winners to go in. They know what it takes to be great day in and day out, and they want us all to know just how once-in-a-lifetime a player like Kobe is. 
PHOTO GALLERY
Kobe Bryant Through The Years
Calling all HuffPost superfans!
Sign up for membership to become a founding member and help shape HuffPost's next chapter