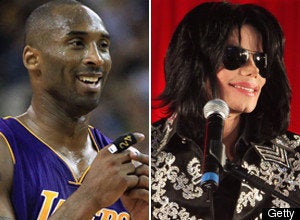 Bryant, who had spoken about Jackson shortly after the singer's death in 2009, described the King of Pop as a mentor and credited his tough mentality to Jackson's teachings.
"It sounds weird, I guess, but it's true: I was really mentored by the preparation of Michael Jackson," Bryant told Yahoo!, adding:
"We would always talk about how he prepared to make his music, how he prepared for concerts. He would teach me what he did: How to make a 'Thriller' album, a 'Bad' album, all the details that went into it. It was all the validation that I needed - to know that I had to focus on my craft and never waver. Because what he did - and how he did it - was psychotic. He helped me get to a level where I was able to win three titles playing with Shaq because of my preparation, my study. And it's only all grown. That's the mentality that I have - it's not an athletic one. It's not from [Michael] Jordan. It's not from other athletes. It's from Michael Jackson."
After Jackson died, Bryant wrote a tribute for TIME, saying that Jackson encouraged him to be different and offered to let him host his wedding at Neverland Ranch for privacy.
"Beyond the genius of what he was, he was just a genuinely, genuinely nice person," Bryant wrote of Jackson. "He was just a genuinely nice person who was exceptionally bright, exceptionally bright, and driven and talented. You mix those things together, man, you have Michael Jackson."
Bryant also described Jackson as "extremely misunderstood" in another interview:
Related
Popular in the Community