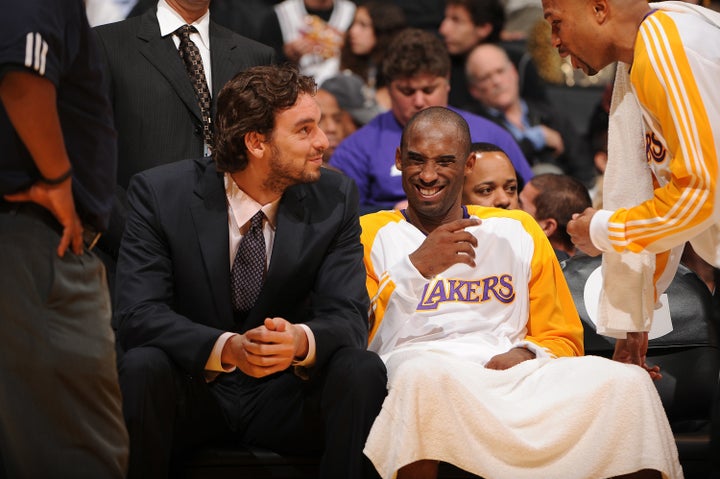 On Sunday, Kobe Bryant took it upon himself to usher his teammates into the new NBA season through his own unique initiation rite: Crushing the youngbloods who dare challenge him on the hardwood.
During an intersquad preseason scrimmage -- where stakes are low, actually, where stakes could not be lower -- the Los Angeles Lakers' never-reticent Nick Young and Lou Williams reportedly began to chirp at the really (really) competitive Bryant, with their "white team" in the lead over his "purple team."
Young, who's been with the Lakers for a couple years now, should've known better. For Williams, let's just call it a learning experience.
It may've been during practice, it may've been during the preseason, but Bryant responded to the trash talk by going full on No. 8-Kobe on the opposing team. Per Lakers.com, Bryant proceeded to toss up his trademark turnaround jumper from his right shoulder -- swish -- and his left shoulder -- splash -- before converting on a four-point play -- game.
That "bear" is a 37-year-old, 17-time All-Star, who's just days away from his 20th season in the league. He went on his historic 2006 offensive tear -- most notably tallying 81 points in a single game -- when most of his current teammates were in their adolescence: Nick Young was sitting at 20 years old, Lou Williams was a teenager and Larry Nance Jr. had just become a teenager, turning 13 a few weeks earlier.
Lakers veteran Metta World Peace -- who played with Bryant for four years during his first stint in Los Angeles -- confirmed the white team's mistake.
This practice story is vintage Bryant -- and it's exactly what Lakers fans want to see from their superstar on the brink of the new year.
PHOTO GALLERY
Kobe Bryant Through The Years
REAL LIFE. REAL NEWS. REAL VOICES.
Help us tell more of the stories that matter from voices that too often remain unheard.