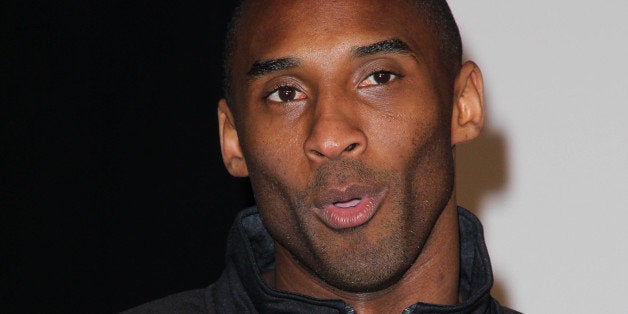 Thanksgiving weekend came with a twist this year as Kobe Bryant announced his retirement, putting the capstone on a storied career. Asked to speculate what's next for Bryant, journalists Michael Wilbon and J.A. Adande both alluded to the legend's passion for storytelling, hinting at creative pursuits such as filmmaking. With the organization in shambles, now's the time for Kobe the future film mogul to reboot this Hollywood tragedy the same way he has scripted his entire career.
Oddly it all makes perfect sense. Bryant's entire career was built around a narrative he himself had penned, and that he was hell-bent on fulfilling. Now as a new breed triple thread - producer, writer and director, the man with more comebacks than Rocky must pull for a management overhaul and remake the Lakeshow like it was his own Adonis Creed.
In retrospect, the five parts of his career flow perfectly, but the final parts are a work in progress.
Part I: Genesis. It started with overnight stardom as he engineered his own draft day trade as a high schooler taken as the 13th pick in the 1996 NBA Draft where Charlotte sent him to Los Angeles for center, Vlade Divac. Angelenos immediately embraced Kobe despite never really seeing him play. He immediately made the top story on Extra and Entertainment Tonight as he took R&B pop star Brandy to prom.
The first signs of his potential emerged during Summer League as he dropped 25 points per game. The script continued as his unforgiving, old school coach, Del Harris, refused him playing time, as his veteran team lead by Shaquille O'Neal felt he should earn his place. By the 1997 NBA Playoffs, in a made-for-TV moment, he helped get his team to overtime in an elimination game against the Utah Jazz. However, in a surprising twist he proceeded to launch three airballs, dividing fans in regards to his greatness and leaving doubt as to whether he was set to crash and burn. Bryant would either rise like the second coming of Jordan or never be same. A cliffhanger, the likes of which fans would see time and again.
Part II: Star Wars. The following season, Bryant showed he was on the rise and within two years he was the ultimate second banana on a team where he owned the perimeter game as much as Shaquille O'Neal owned the inside game. This made Bryant an equal partner in the team's success while setting up an epic power struggle that would play out in headlines for the ensuing decade.
By 2004, Bryant had already ascended to superstardom racking up three NBA Championships and setting up the eternal debate of whether he was the League's Best or living in Shaq's massive shadow. This was not mere barroom chatter either. The Lakers front office was forced into the frontlines as O'Neal's contract was up and the two refused to coexist any longer, despite their massive success.
The intrigue deepened as Bryant, one of the most beloved athletes, a pitchman for brands like McDonald's, became embroiled in sexual assault charges that held the dire possibility of life in prison. The choices were far from obvious -- but spoiler alert -- the Lakers traded O'Neal while signing Kobe Bryant to a multi-year extension. Sadly, Bryant's victory was pyrrhic as he became one of the most hated athletes in the world.
Part III: The Mamba Strikes Back. In true silver screen fashion, Bryant rewrote the script. More cliffhangers. Following a season lost to injuries, coaching blowups and other miscellaneous disasters, Bryant embraced the part of the villain and entered 2006 as a one-man wrecking crew that would sell out arenas nationwide. He was at war with every team he faced. There were 40-point barrages one after another going for weeks at a time. If that weren't enough, he would drop 63 points on the Mavs, outscoring the entire opposing team in three quarters. Following that performance Lamar Odom was asked what would have happened if Bryant had played the full game in Dallas, to which Odom responded that he would have likely scored 74 points. When Bryant was asked the same question, he responded with a wry smile and an outlandish, "I probably coulda scored 80". Just over a week later he torched Toronto for a record 81 points -- a human video game.
As if to take on the role of his own publicist, Bryant eventually dubbed his new bad boy image "The Black Mamba", taking the name straight from Quentin Tarantino's Kill Bill heroine. If anyone could come up with their own nickname and make it stick, it's Mamba. He even changed his number from 8 to 24, which rumor has it, was done as a slight Adidas, a brand he formerly endorsed, that was set to reissue his first signature sneaker without his name - as "Crazy 8's". If ever there was a player who's career was marked by the word "defiant", it's Mamba.
Part IV: The Dark Knight Rises. His narrative lacking the next obvious chapter, an NBA Championship sans Shaq, Bryant began the 2007 season demanding a trade. Although he had mended fences with coach and sensei, Phil Jackson, they reunited on a doormat team that limped into the playoffs solely on Mamba's will power and nothing more. He would never succeed with this abysmal squad and it was clear the front office was satisfied to ride his coattails to substantial profits while reducing team payroll as their ailing owner and fellow legend, Dr. Jerry Buss, planned the succession of the empire to his children.
Bryant went on a summer-long media tirade lambasting the Lakers into trading him to a contender. The Lakers called his bluff, as Buss, a master poker player, knew Bryant would never be able to sit out, even in protest. On opening night against the Houston Rockets, Bryant received a rude awakening as the home crowd booed him mercilessly. The villain was ready for his next chapter.
The season moved forward with no hint of surprise -- but this is Mamba's show. Then February 1, 2008 arrived and in an astonishing move the Lakers landed another, Pau Gasol aka The Spaniard. The team gelled immediately. Batman had his Justice League (re: no Robin references allowed) and went to the three consecutive finals, winning two championships along the way. The complex character Bryant had created found the perfect foil in the Boston Celtics, recasting a vintage rivalry and creating must-watch television. Bryant garnered an NBA MVP award as well as multiple Finals MVPs. With each accolade, Bryant was surrounded by his teammates, where onlookers could not help but be taken by the wonderful chemistry of the team. A man once branded as "petulant" now exuded a certain warmth as "king of the hill".
Part V: Legends of the Fall. Kobe's retirement announcement was a long-time in the making. As far back as 2009 the fatigue of playing heavy minutes, the playoffs and Olympics began to show. In 2011, he spent many practices on the sidelines tending to aching knees which were "bone on bone" as he explained to the New York Post's Peter Vescey. The first hints of attrition.
Much like film franchises that take a step too far -- Rocky V, Star Wars: Phantom Menace - the Lakers came apart at the seams. Believe it or not, the fault did not lie with Bryant. Mercurial Jim Buss, the prodigal son of Dr. Buss, took the reigns of basketball operations, splitting the empire into parts much like the Romans once did -- never a good sign. Despite daughter Jeannie being widely hailed as the logical successor, Dr. Buss let his unfortunate biases get the better of him.
Thus began an exodus. Magic Johnson, league legend and owner, sold his stake. Phil Jackson was offered a return as coach only to be embarrassed as another coach, Mike D'Antoni, was offered the position with the news delivered impersonally via SportsCenter. Jerry West, a former Lakers front office maestro, takes a consulting role with rival Golden State. The list of defectors goes on to this day with names like Derek Fisher, Pau Gasol and Steve Nash all chased off behind the Lakers front office drama. It was a slow burn but Kobe eventually awoke to find his castle in shambles. He tried to carry the load on his own in 2013, again willing his team into the playoffs, only to collapse on-court with an Achilles tendon tear, effectively ending his career.
Though he made two unsuccessful comeback attempts over the past couple of years, resulting in season ending injuries, Bryant has returned for his final season, physically a shell of his former self.
With the organization coming apart, Bryant can no longer command the locker room the only way he knew how -- by imposing his other worldly talent on his team, pulling everyone along with him. This month, he shot 1 for14 during a drubbing by Golden State on national TV, an unwatchable collapse for a legend. He has earned every right to test his boundaries, but playing on a youthful team, far from ready for prime time, he has no one to help him find solid ground. This is a film without a proper ending -- but for a massive implosion then fading to black.
Fans will debate Bryant's place in history, but as ESPN's Adande points out, from 2000 to 2010 the only NBA Finals to garner double digit ratings all featured Mamba. Love him or hate him, he kept eyes glued to screens.
Epilogue: Revolution. This is the critical decision-point for Mamba -- an opportunity to channel his inner Aaron Sorkin. In each previous chapter the lowest moments were in actuality cliffhangers leading to a Phoenix-from-the-flame rebirth. Heroes do not ride off into the sunset through ruins. Bryant is royalty in both the Lakers organization and in the city of Los Angeles. He has the power to lead a revolt. Jim Buss promised to step down if this management experiment failed, which it has. It's time to storm the castle, Mamba.
Demand names like West, Magic, Jackon and Nash return to the fold. Play Rocky in the movie Creed, mentor and architect the Lakers revolution. Do not let this end like the Sopranos, with fans up in arms. This is a team constructed without proper leadership or any semblance of a plan. This is the chance to flip the script in every conceivable way. He can become Maximus in Gladiator, deciding the fate of Laker Nation from the floor of the arena.
Mamba is still a player with vision -- an uncanny rebounder, passer and thinker at shooting guard -- who could usher in change in the locker room as well as the front office. Mamba must once again rewrite the Lakers in his image and cast his successor.
Kobe Bean Bryant has every opportunity to make the last 66 games count for more than a farewell. It's the final scene a great storyteller like Bryant was born to write.
Calling all HuffPost superfans!
Sign up for membership to become a founding member and help shape HuffPost's next chapter