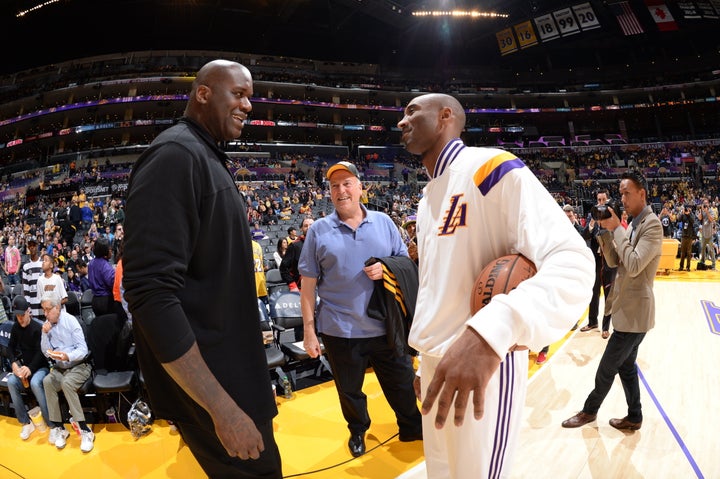 Noted mortal enemies Kobe Bryant and Shaquille O'Neal sat down and pretended that they don't totally hate each other's guts during a taping of "The Big Podcast With Shaq" that was made available for download Monday.
"So I just wanted to clear the air and let everybody know that, no, I don't hate you," O'Neal lied once more.
Bryant played along with the charade as well. "Here's the thing, though ..." Bryant said in a way that was, like, come on. "When you say it at the time, you actually mean it, and then when you get older you have more perspective, and you're like holy s**t. I was an idiot when I was a kid."
Bryant and O'Neal made up one of the most dominant duos in NBA history during their time together on the Los Angeles Lakers. The pair led the team to three straight championships between 2000-2002. Their 2001 NBA playoff performance, in particular, is still considered one of the most dominant runs of all time. But seriously, are we all going to just pretend like Bryant is cool with the guy who once asked him how his rectum tasted?
O'Neal is retired now, and Bryant is entering what many expect to be his final year, so perhaps this is the first of many attempts to pretend they don't seriously want to kick the living crap out of each other so they can make some post-career money at appearances or something. 
"Kobe I just want to say I love you brother, and I miss you," O'Neal again lied in what could be the start of a lifelong attempt to act like the two NBA legends can be in the same room at the same time without wanting to scream at the top of their respective lungs. "I enjoyed the times we played together, wish we could've got to seven championships but it is what it is."
"I love you brother, and I miss you, and good luck this year," said O'Neal, who literally admitted on the exact same podcast that he once said he would kill Bryant. 
PHOTO GALLERY
Some Cool 2015 NBA Finals Photos
REAL LIFE. REAL NEWS. REAL VOICES.
Help us tell more of the stories that matter from voices that too often remain unheard.