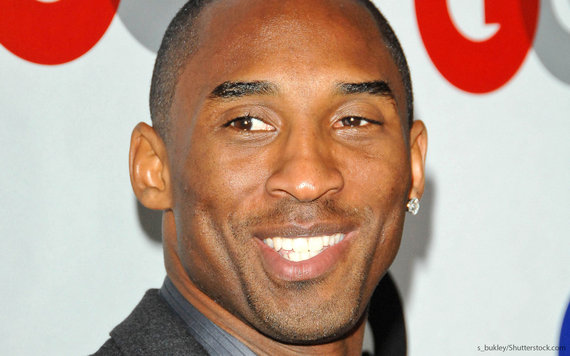 Kobe Bryant's 20-year career with the Los Angeles Lakers ends tonight at the Staples Center in Los Angeles. One of the most well-known and accomplished professional athletes, Kobe Bryant's net worth of $320 million makes him one of the highest-paid NBA players, according to Celebrity Net Worth, a celebrity finance outlet.
After announcing his retirement in November in a poem, Bryant has been well received by crowds eager to see the legendary player in action before he hangs up his jersey for the last time. Here's a look at the NBA player's career highlights and his last game with the Lakers.
Kobe Bryant's Last Game: L.A. Lakers vs. Utah Jazz
It won't be just another game at the Staples Center tonight, as the Lakers will play multiple video montages in tribute to Kobe Bryant, and the team has already disclosed plans to give him the ball as much as possible.
Fans are paying top dollar to be part of basketball history, with the average ticket price on StubHub reaching $971. Nosebleed seats are going for $685 and courtside tickets are selling for just over $18,000.
More than just a ceremonial evening, viewers can expect Kobe Bryant's last game to be a good one -- the Jazz need to win this match. If they win and the Houston Rockets lose their game, Jazz will score an 8th seed slot in the 2016 NBA Playoffs.
How to Watch Kobe Bryant's Last Game
In a somewhat controversial move, Bryant's last game has been bumped to ESPN2, in favor of another high-profile game with a 7:30 p.m. PST start -- the Golden State Warriors versus the Memphis Grizzlies. Tonight, the Warriors hope to break the Bulls' record for regular season wins.
If you're hoping to watch Bryant's last game on ESPN2, you'll need a cable or streaming subscription. If you have a cable subscription with Dish Network, you can catch the game with Sling TV, a live-streaming service.
ESPN2 and Sling TV are available on Roku, Amazon Fire TV, Nexus Player and the Xbox One. You can also access the game through your PC and iOS and Android devices.
Kobe Bryant Net Worth: $320 Million
NBA superstar Kobe Bryant's net worth is $320 million. In 2015, he earned a total of $49.5 million, making him the 10th highest-paid athlete in the world, according to Forbes.
His $23.5 million salary for the 2014-15 season secured his spot as the NBA's top earner for the fifth year straight. Endorsements from companies like Nike, Lenovo, Hublot and Panini generated $26 million.
Kobe Bryant Stats and Awards
Kobe Bryant's stats set the bar high for future players. At present, he's scored a total of 33,583 points for the Lakers -- ranking him third on the NBA all-time scoring list and number one in the franchise's history.
The first guard to play 20 seasons, his career with the Lakers breaks history as the longest run any NBA player has had with a team. He also exits the court as the Lakers' all-time leader in 3-pointer and game steals. He comes in second in assists to Magic Johnson.
Legendary NBA player Kobe Bryant has been honored with dozens of awards throughout his career. He's won the NBA Player ESPY Award twice and the NBA Most Valuable Player Award. Additionally, he was named to the NBA All-Defensive Team 12 times, the All-NBA First Team 11 times and was named All-Star Game MVP four times.
Kobe Bryant on His Retirement
More from GOBankingRates:
Calling all HuffPost superfans!
Sign up for membership to become a founding member and help shape HuffPost's next chapter