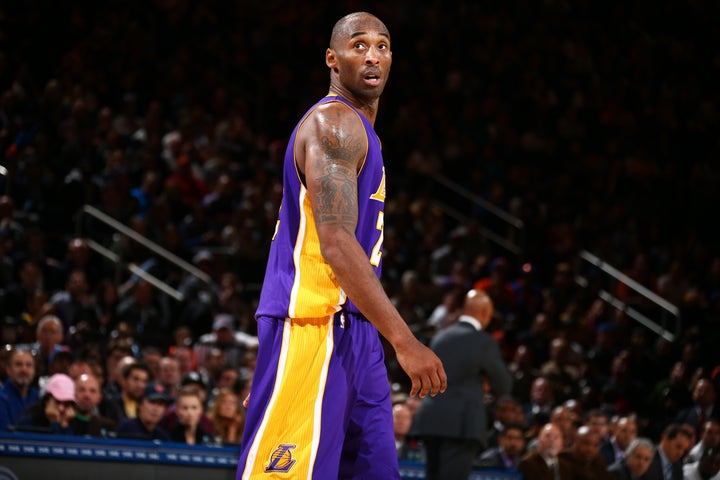 The Los Angeles Lakers' ominous 1-6 start to the season should not come as a surprise. Their three most important young players have less than a full NBA season of experience, while their future Hall of Famer, Kobe Bryant, has literally been in the league more than half his life. What may be a surprise, however, is how the 37-year-old Bryant is crippling the youth movement around him.
Long gone are the days when Bryant could violently attack the gym. What has unfortunately supplanted those drives has become a series of ineffective isolation moves that typically result in one-and-done basketball: Bryant misses a bad shot, the defense rebounds and he fails to retreat to stop the break. No second-chance points, no real ball movement, no pressure on the defense -- and worst of all, the most 3-pointers he's ever taken.
Through six games (he sat out one due to back pain), Bryant is enduring career lows in both field goal percentage (32 percent) and 3-point percentage (21 percent). Maybe more troubling is his 5.5 free-throw attempts per game, the lowest clip since his rookie season, way back in 1996. And therein lies the biggest issue with No. 24. Because he is unable to generate offense efficiently, he is forced to work that much harder for his points. And, because he's Kobe, he's not willing to deviate from what has always made him great -- making plays with the ball in his hands.
To the Lakers' credit, the front office has drafted three young prospects, all of whom appear to be oozing with potential. Julius Randle, a former top-10 pick and tireless worker at power forward, broke his leg before last season but has played well so far this year. Jordan Clarkson was a second-round pick in 2014 and can play both guard spots. He is the team's second-leading scorer behind Bryant, at 15.9 points per game. Then there is the prize, 6-foot-5 left-handed point guard D'Angelo Russell, taken second overall last June from Ohio State.  
While Randle and Clarkson are struggling with the actual definition of their roles, Russell looks downright confused and lost when he's on the floor. Head coach Byron Scott -- a Kobe loyalist who played with him in LA -- hasn't the slightest clue how to take the ball out of Kobe's hands and give it to Russell. Russell was the best pure playmaker in the entire draft, a dynamic open floor talent whose prodigious passing allowed his stock to skyrocket, despite question marks surrounding his prolonged defensive lapses. Moreover, in this massive rebuilding season, Russell's minutes are inconsistent at best. He hardly ever plays in the fourth quarter, even when the game is no longer in doubt. 
The beauty of having young talent in this league is giving them the tools to develop. That is the head coach's responsibility. For Scott though, doing so -- especially with his backcourt -- would be relinquishing a portion of Bryant's responsibilities, something he's clearly not willing to do.
"Just trying to get him the ball in areas that I know he's real comfortable getting the ball," Scott told NBA.com. "Then again, we can't stand around and watch him either. We still got to move on the weak side, still got to set screens. We can't just rely on it to be a home run."
A "home run" would be a low-20s usage rate for Bryant. A grand slam would be the 28.7 rate -- tops on the team -- that the Mamba currently has. This is a long season, and perhaps Bryant will come to understand how important his role is for this franchise moving forward, even if it's not what he hoped. Because while wins and losses always matter, the bigger picture here goes way beyond an 82-game record.
REAL LIFE. REAL NEWS. REAL VOICES.
Help us tell more of the stories that matter from voices that too often remain unheard.