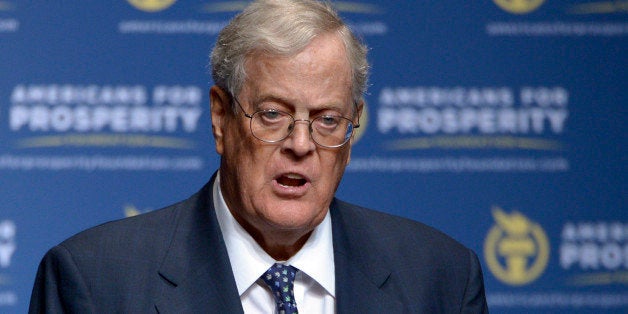 Various top party officials interviewed by The Huffington Post said they expected outside groups and campaign committees to further elevate their attacks on the Kochs heading into the next election. Portraying the brothers as political villains was a prominent element of the 2014 game plan. And though that election ended horribly for the party, there is little sense that Democrats should back off now that Koch entities will play an even larger role in 2016.
"We're going all out with the research and the communications in the 2016 cycle," David Brock, founder of American Bridge 21st Century and MediaMatters.org, told The Huffington Post.
But in donor circles, talk has centered not just on communications strategies but on checkbooks as well. Matching the nearly $1 billion in conservative money is going to prove monumentally challenging, if not impossible, officials concede.
One top Democratic donor, speaking on condition of anonymity, marveled at how the millions he has given to the party now seem quaint. He then turned his attention to liberal billionaires who aren't yet engaged in electoral politics.
"They may not like it," the donor said, "but at this moment, they are in a special position to influence the course of history for the better, and they have a responsibility to band together and put up the money we need."
Other donors, including those in Hillary Clinton's orbit, weren't quite ready to sound the clarion call for liberal billionaires sitting on the sidelines. The expectation is that the former secretary of state will have a lucrative funding network to fall back on when she chooses to enter the race. And several top money men in the party said that Clinton would rely on veterans of Barack Obama's presidential campaigns to help tap into the grassroots donor network that propelled him to the White House.
"For her," said one top Clinton donor, "I don't believe raising large sums of money will be the main issue."
"I'm not panicked by this," said Steve Elmendorf, a longtime Democratic adviser, lobbyist and donor with close ties to the Clintons. "I think it is unfortunate that two people can spend that much money in politics. But we will just have to redouble our efforts. … What are people supposed to do: 'Oh my god, we have to go out and find a billionaire!' People can wring their hands and say this is terrible. But we don't have people like that, we just don't."
What Democrats do have, Elmendorf added, is a number of very wealthy donors who are interested more in specific causes than party politics. And while their money has certainly helped elect like-minded individuals to office, it likely will be neither vast enough to match conservative resources nor uniformly directed enough to lift all Democratic lawmakers.
Gara LaMarche, president of the Democracy Alliance, a network of liberal donors, said that many of the group's members "are very active in the electoral sphere, and will work hard for the election of progressives to the White House, Congress and State Houses." But the money the group spent -- and LaMarche said they expect to exceed all "previous contribution records" -- would go toward other functions as well.
"Many have asked whether progressive donors, in the Democracy Alliance and related organizations, will match [the Koch brothers]. But that's the wrong question," emailed LaMarche. "[O]ur donors are focused on building a long-term infrastructure at the state, local and national level, to push for progressive values and policies no matter what party is in office."
Democrats have more recently streamlined their super PAC infrastructure. They've set up entities that allow donors to focus on specific races, and have sought to create a highly coordinated operation within their network of groups. They have also expanded this approach to state-level campaigns with the launch of super PACs targeting state legislative races and secretary of state campaigns. In the State Innovation Exchange, Democratic operatives have even created a progressive counterweight to the conservative American Legislative Exchange Council, a nonprofit forum for corporations, conservative activists and state lawmakers to draft conservative legislation together.
Much of this is to catch up to the political and policy apparatus receiving funding from the Kochs and their donor network. The Kochs have been ahead of the game in capital-intensive political efforts: launching state affiliates of their Americans for Prosperity; funding ALEC; and engaging in state elections at all levels. They are now trying to match the Democratic strength in labor-intensive political organizing, as they plan to hire 1,500 grassroots organizers for their 2016 push, according to Politico.
Even if they cannot match the Kochs' $889 million, Democrats believe they can compete if they maintain the disciplined approach taken in the 2012 election.
"At the end of the day the Republican and conservative groups are always going to win this kind of spending arms race," Brock said. "What we've found is that we need a healthy amount of resources in order to be competitive but we don't need to match them dollar for dollar."
Those resources will still go into attacks on the Kochs. But Brock said that he expects the jabs to be more refined in 2016. Rather than label the brothers as nefarious influence-peddlers (which, he says, voters assume everyone with money is), they will be honing in on specific cases of Republicans advancing their benefactors' priorities.
"[Y]ou really have to get down to the specifics of marrying the spending to the Kochs' agenda, which when people are told about it, isn't popular, and to the self-interested aspects of how the political change they are trying to make benefits their bottom line," said Brock.
Targeting like this was tried in the 2014 campaign by Democratic-backing organizations. NextGen Climate, the super PAC backed by $70 million from the billionaire former hedge fund executive-turned-environmentalist Tom Steyer, ran an ad stating that Koch Industries had polluted Detroit's 48217 zip code and was now dumping money into Terri Lynn Land's Senate campaign. NextGen Climate spokesman Chris Lehane told HuffPost that Steyer's group would continue with this type of attack ad in 2016, describing it as "using the Kochs as a fully weighted oil drum that we tie to the Republican candidates and presidential candidate."
In an email to HuffPost, Lehane tried to allay Democratic concerns about whether those ads will get drowned out by the $889 million from the other side.
"Given all of this, it only reinforces that Tom [Steyer] -- along with other progressive groups -- are the David taking on the Koch Goliath," Lehane wrote. "The good news is that because of Tom and others we do have the resources to deploy a slingshot that will fire hard, fire fast and fire on target and we can make up the delta between our resources and the amount of money being spent by the Kochs because we have truth and justice on our side."
Calling all HuffPost superfans!
Sign up for membership to become a founding member and help shape HuffPost's next chapter
BEFORE YOU GO
PHOTO GALLERY
Politicians' Favorite Things