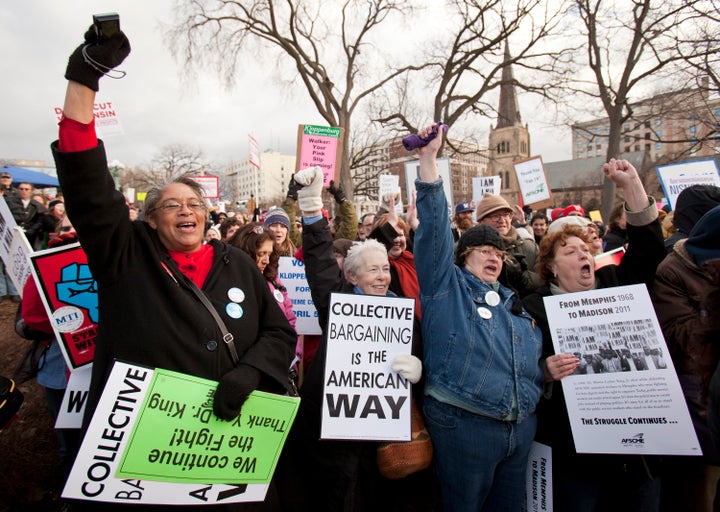 Patch.com reported that Charles Shultz, a Democrat who lives in the 10th Senate District, received an absentee ballot application form last week from AFP that contained incorrect information on it. The form instructed him to mail it back to the wrong location by Aug. 11 -- two days after the recall election in his district between Sen. Sheila Harsdorf (R) and Shelly Moore (D) is set to take place, on Aug. 9.
Politico obtained a copy of the AFP mailer, which was also distributed to voters in the 2nd District.
The Wisconsin Democratic Party filed a formal complaint Tuesday with the state's Government Accountability Board over the issue, accusing AFP of "falsely representing the time frame" for the upcoming August 9 recall election. Shultz filed his own complaint with the GAB on Saturday.
AFP may also be getting involved in the increasingly heated ad wars that have been leading up to the recall elections. According to One Wisconsin Now, AFP has reportedly purchased over $150,000 in television ad time in the Green Bay, Madison and Milwaukee areas.
A spokesperson for Americans for Prosperity did not respond when asked for comment on the purchase, but One Wisconsin Now, a non-profit statewide progressive communications network, says the ad buy appears to be an effort to help the six Republican state Senators who were challenged by recall elections after supporting Governor Scott Walker's anti-collective bargaining legislation in early 2011.
Scot Ross, the Executive Director of One Wisconsin Now, said at least one of the AFP-backed ads will air in support of two Republicans, Sen. Luther Olsen (District 14) and Sen. Robert Cowles (District 2). The group has also confirmed a $90,000 AFP ad buy in District 12, currently represented by Sen. Jim Holperin, a Democrat who is being recalled.
Walker's legislation -- which eliminated collective bargaining and other rights for public employees and forced state workers to start paying more for their pensions and health care benefits -- prompted voters to stage mass protests and led to nine total recall elections.
Six Republicans and two Democrats are still trying to keep their seats. One Democrat, Sen. Dave Hansen, fended off a challenge from Republican David VanderLeest in July. If Democrats pick up a total of three new seats in the recall elections, their party will retake control of the Senate and gain an increased amount of influence over Walker's budget legislation.
Spending on the recall elections, much of which is coming from outside groups, is expected to top $20 million. Sen. Alberta Darling, a Republican facing a challenge from Assemblymember Sandy Pasch, is on track to set the record for the most money spent by a state Senate candidate in Wisconsin, having already put more than $600,000 toward her recall effort.
Americans for Prosperity has a history of backing Wisconsin Republicans. The organization previously paid for an ad entitled "Stand With Scott Walker," showing its support for the governor's budget-cutting plan and blaming President Barack Obama for the February protests in the state.
Gov. Walker's ties to the Kochs -- billionaire brothers who are behind the second-largest privately owned company in the United States -- have caused controversy in the past, particularly after an incident where a man believed to be Walker made controversial statements to Ian Murphy, editor of the news site the Buffalo Beast, as Murphy pretended to be David Koch.
In light of the continual protests and recall elections, Walker admitted to making mistakes during his rocky first term but still defended his policy choices. He acknowledged that his controversial budget-cutting decisions could make it hard for Republicans to prevail in the August recall elections.
"If the Republican candidates are outspent two to one, it's pretty difficult," Walker told Reuters about the recall effort, adding that the party will have a better chance of prevailing "if things end up being relatively even and the message gets out."
This article has been updated to include additional information about advertising purchased by Americans for Prosperity.
Support HuffPost
The Stakes Have Never Been Higher
Popular in the Community