WASHINGTON -- The Koch brothers might be coming to a town near you, but not in a way that they'd want. Patriot Majority USA is launching a national bus tour on Saturday to expose the "Greed Agenda" of the billionaire industrialists David and Charles Koch. The progressive nonprofit hopes to highlight how the Kochs have advanced a range of conservative policies throughout the country.
The bus tour is just the latest in a series of efforts by Patriot Majority USA to counter the brothers' big spending at both the state and national levels. In August, the group began a series of national advertisements specifically targeting the Kochs, rather than a candidate or an issue.
Patriot Majority USA head Craig Varoga calls the campaign against the donors behind conservative policies "unprecedented": It's meant not only to attack the Kochs on the process issue of their spending -- which many other groups do by calling for campaign finance reform -- but to "fight them where it matters, on the policies."
"What they have done through all their various front groups is they have declared war against the American middle class," Varoga said, referring to the Kochs' grassroots nonprofit Americans for Prosperity and their contributions to the American Legislative Exchange Council (ALEC).
The bus tour, which will hit more than 20 states, will highlight those efforts one-by-one. On Saturday, the tour makes its first stop in Philadelphia, where the group will be focusing on the Kochs' support for stricter voter identification laws that Republican state legislatures and governors have enacted since 2010, including in Pennsylvania.
Democrats has repeatedly pointed out that these laws "solve" a voter fraud problem that barely exists, while increasing barriers to voting among groups more likely to vote Democratic, including African Americans, Latinos, the working poor and the young. Joining the tour for the Philadelphia stop will be Jerry Mondeshire, president of the Pennsylvania state conference of the NAACP.
At all the tour stops, Patriot Majority USA plans to hold rallies, in conjunction with supportive local groups, that focus on different issues on which the nonprofit says the Koch brothers have been busy, including environmental protections, labor rights, economic justice and voting rights. At each stop, the tour will be joined by speakers from local organizations and local elected officials who have been working on these issues.
Patriot Majority USA is also ramping up TV ads against the Kochs, which it plans to run in four states within a few weeks (see the video above).
Koch Industries responded to a request for comment by sending along a previous statement that mentions Patriot Majority USA's advertising.
"The ads are dishonest and at odds with some of this country's most cherished values -- that Americans have a First Amendment right to challenge politicians and that voters make up their own minds about competing ideas," stated Philip Ellender, president and COO for government and public affairs at Koch Industries. "This attempt to shut down free speech should be troubling to all Americans. Koch has a long history of standing firm for the principles of economic freedom and we will continue to do so, in spite of the ongoing attacks."
According to Varoga, Patriot Majority USA expects its anti-Koch spending to eventually reach into the millions of dollars and stretch well beyond this year.
"They've spent decades pursuing this agenda," Varoga said. "We recognize that this is going to take several years."
He also pointed to the gap in resources between his group and the Kochs: "We are David fighting Goliath."
Patriot Majority USA refused to name the donors behind this initiative. "We have numerous organizations and a wide coalition who are working on this," Varoga said. "I don't think the people who are supporting us would be particularly surprising, but we are not disclosing the donors for this particular organization."
Varoga hopes the bus tour and the ad campaign will help to build a grassroots base to fight the Kochs' policy priorities.
"We know that the vast majority of Americans oppose the 'Greed Agenda,'" he said. "We recognize that they will always have more resources, but we think that the power of public opinion can beat back all their hundreds of millions of dollars."
Before You Go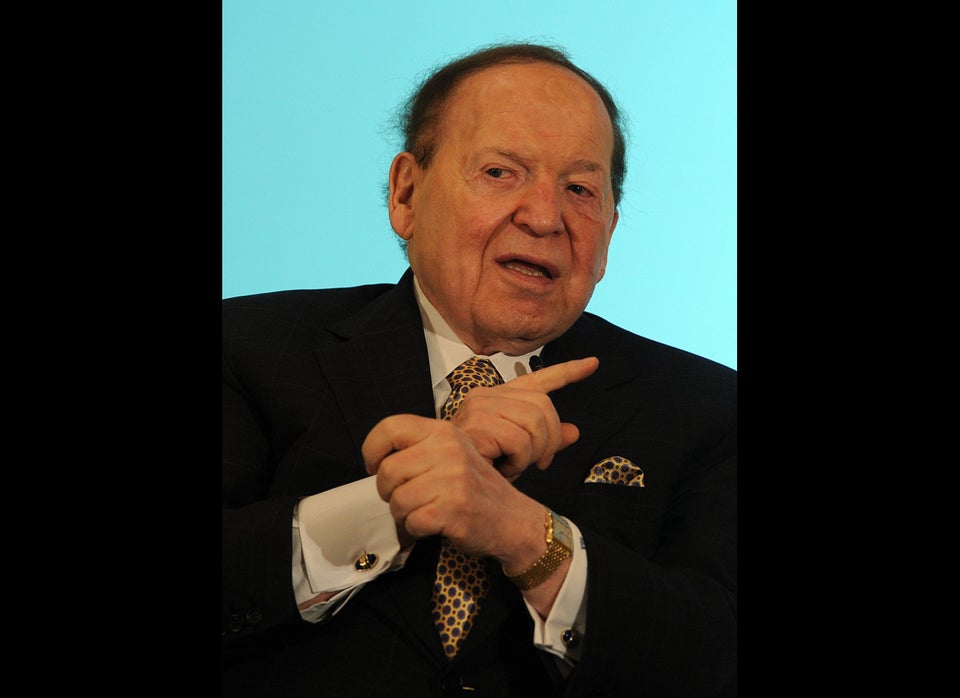 Donors Giving $500,000-Plus To Super PACs
Popular in the Community