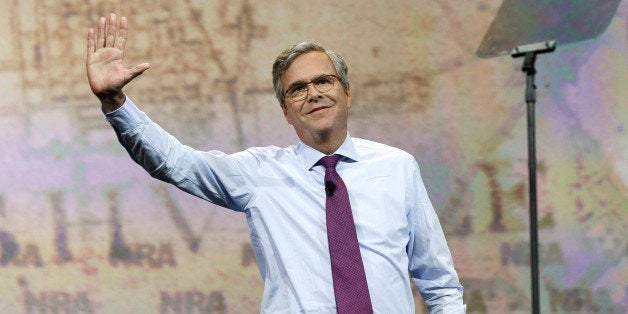 It's been a while since we've checked in on how American politics is thriving within the Doom Loop of Oligarchy (TM Ezra Klein!), but a fresh dispatch from Politico's Mike Allen offers us another opportunity to goggle at the slow-motion death of American exceptionalism. The issue at hand, as ever, is the ruling class of billionaires who fund our presidential campaign dumb-show. More specifically, it's the Brothers Koch, who have an assignment for former Florida governor and presidential hopeful Jeb Bush. Per Allen:
In another surprise, a top Koch aide revealed to POLITICO that Jeb Bush will be given a chance to audition for the brothers' support, despite initial skepticism about him at the top of the Kochs' growing political behemoth.
Mr. Bush will be expected to perform a two-minute classical monologue about tax cuts, a two-minute comic monologue about tax cuts, and 32 bars of a contemporary Broadway musical ballad about union-busting.
This is good news for Jeb, I guess. As Allen notes, the last time the Kochs cooked up an audition, it was at their "winter seminar" in January, and according to those present, Florida Sen. Marco Rubio was the clear standout at that confab. But Bush will be getting "a second look" at the brothers' summer conference, because "so many Koch supporters think he looks like a winner."
Obviously, winning the affection of the Koch brothers is a significant prize, since they've pledged to raise and spend the oddly specific amount of $889 million on the 2016 election cycle. But never fear -- there's a long list of other billionaire weirdos at whom candidates from across the political spectrum can cringe on bended knee, begging for boodle, if they fail to receive the Koch nod. Plus, there's an entire financial industry waiting to receive the private, reassuring genuflections of candidates who play populist on the weekdays.
It goes without saying that the fun part of this election is going to be watching all those political pundits argue about which candidate is the most "authentic."
REAL LIFE. REAL NEWS. REAL VOICES.
Help us tell more of the stories that matter from voices that too often remain unheard.
BEFORE YOU GO
PHOTO GALLERY
Some Of The Politicians Who Became Lobbyists