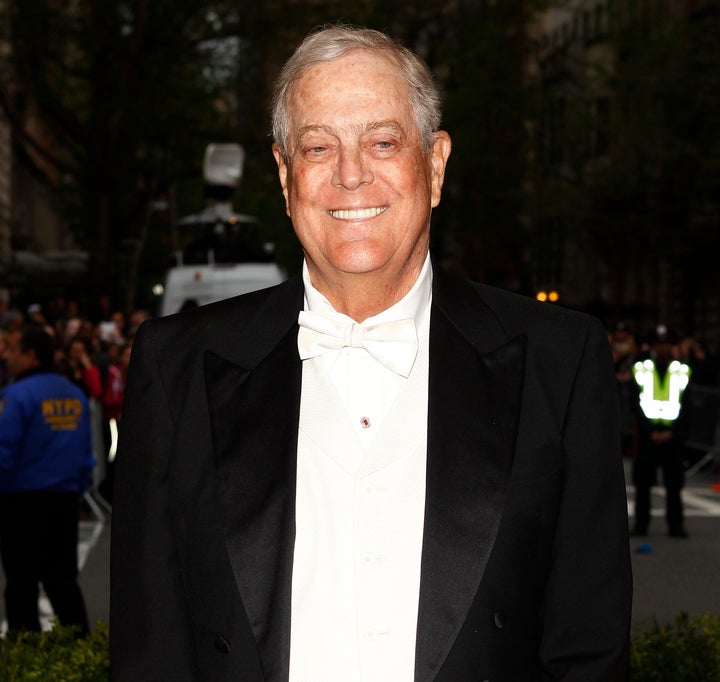 UPDATE: April 28 -- The legislation passed out of the Ways and Means Committee on a party line vote with all Republicans in support and Democrats in opposition. Prior to the vote, committee members were sent another letter in support of the bill. This letter came from Phillip Ellender, president of Koch Public Sector, the official lobbying and PR arm of the Koch brothers.
WASHINGTON -- Republicans in Congress are trying to decrease the already scant amount of disclosure for politically-active nonprofits -- known as dark money groups. The legislative effort is unsurprisingly supported by the main political arm of the billionaire brothers Charles and David Koch.
Rep. Peter Roskam (R-Ill.) is expected to introduce a bill in the Ways and Means Committee that would eliminate the requirement for nonprofits to make a non-public disclosure of their donors to the IRS when they file their annual tax forms. The donor disclosures -- known as the Schedule B report -- are not released to the public, but the list of donation amounts with the donor names redacted are released.
The bill is supported by Freedom Partners Chamber of Commerce, the dark money donor hub run by the Koch brothers. The Kochs operate a vast political empire that mostly operates through nonprofit organizations that do not disclose their donations.
"This bill is an important first step toward reaffirming Americans' right to free speech while protecting them from threats and intimidation because of their personal beliefs," Mark Holden, Freedom Partners chairman and lead lobbyist for Koch Industries, said in a statement.
Roskam's legislation comes amid a court case involving the donor list of another Koch brothers outfit, Americans for Prosperity Foundation. California attorney general Kamala Harris had sought the donor list of the organization for non-public review to ensure that it was abiding by California laws. A federal court, however, agreed on April 21 with Americans for Prosperity Foundation's argument that this was a violation of its First Amendment rights.
Campaign finance reform and transparency proponents issued a letter calling on members of the Ways and Means Committee to oppose Roskam's bill. Those backing the letter include Brennan Center for Justice, Campaign Legal Center, Common Cause, CREW, Democracy 21, Public Citizen, Sunlight Foundation and Rootstrikers.
"Eliminating the existing requirement for disclosure to the IRS of donations to 501(c)(4) "social welfare" groups would open the door wide for secret, unaccountable money from foreign governments, foreign corporations and foreign individuals to be illegally laundered into federal elections through 501(c)(4) groups," the letter reads.
Popular in the Community