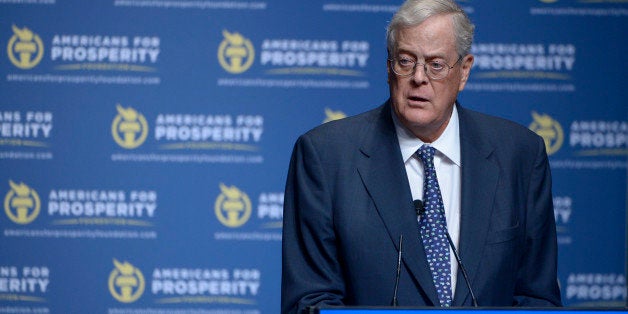 WASHINGTON -- Charles and David Koch have finally disclosed at least a small portion of the large contributions given to their political empire. According to a report filed with the Federal Election Commission on Wednesday, each of the billionaire brothers gave $2 million to Freedom Partners Action Fund, a super PAC founded to influence the 2014 elections.
The donations are but a small part of a Koch-funded political infrastructure that spent some $400 million on the 2012 elections and plans to distribute $300 million during this year's midterms. The super PAC launched in 2014 as an adjunct of the Freedom Partners Chamber of Commerce, a nonprofit business association operating as the main hub of the brothers' efforts to influence policy and elections.
The FEC disclosure, originally reported by Politico, not only offers the first example of direct contributions made by the Koch brothers to an independent political committee, but also provides a list of other donors long thought to be involved in the Kochs' operation.
In total, Freedom Partners Action Fund raised $14.8 million from July through the end of September. Over the same period, the super PAC spent a little more than $9 million, mostly on ads and political outreach targeting Democratic candidates.
The largest single donor to the super PAC was Robert Mercer, who contributed $2.5 million. A top executive at the Long Island high-frequency trading fund Renaissance Technologies, Mercer has been a leading donor to conservative super PACs since the Supreme Court's 2010 Citizens United decision opened the door to unlimited political spending by corporations, unions and, ultimately, individuals.
Mercer has not just used his wealth to help conservatives across the country, including the Republican Party in New York. He has also sought to defeat congressional lawmakers who threaten his bottom line. In 2010 and 2012, Mercer bankrolled super PACs trying to defeat Rep. Peter DeFazio (D-Ore.) after the congressman emerged as the leading voice in Congress for a financial transaction tax, which would hit hedge funds that rely on high-speed computer trading hard.
Nebraska trucking magnate Clarence Werner and Wisconsin roofing billionaire Diane Hendricks each contributed $1 million to Freedom Partners Action Fund. Hendricks has long been known to attend the Koch brothers' annual donor meetings and is a major conservative donor in Wisconsin, having made six-figure contributions to support Gov. Scott Walker (R).
A handful of other super wealthy donors, also known to have attended Koch seminars, gave $500,000 or more to the super PAC. They are retired Oregon oilman John Bryan, Boston private equity investor John Childs, New York investor Ravenel Curry, Virginia homebuilder Richard Gilliam, Missouri roofing maker David Humphreys and Arkansas poultry processor Ronald Cameron.
Art Pope, the former North Carolina budget director, gave $400,000 through the corporation he runs, Variety Stores.
Below is a full list of donors to Freedom Partners Action Fund:
Before You Go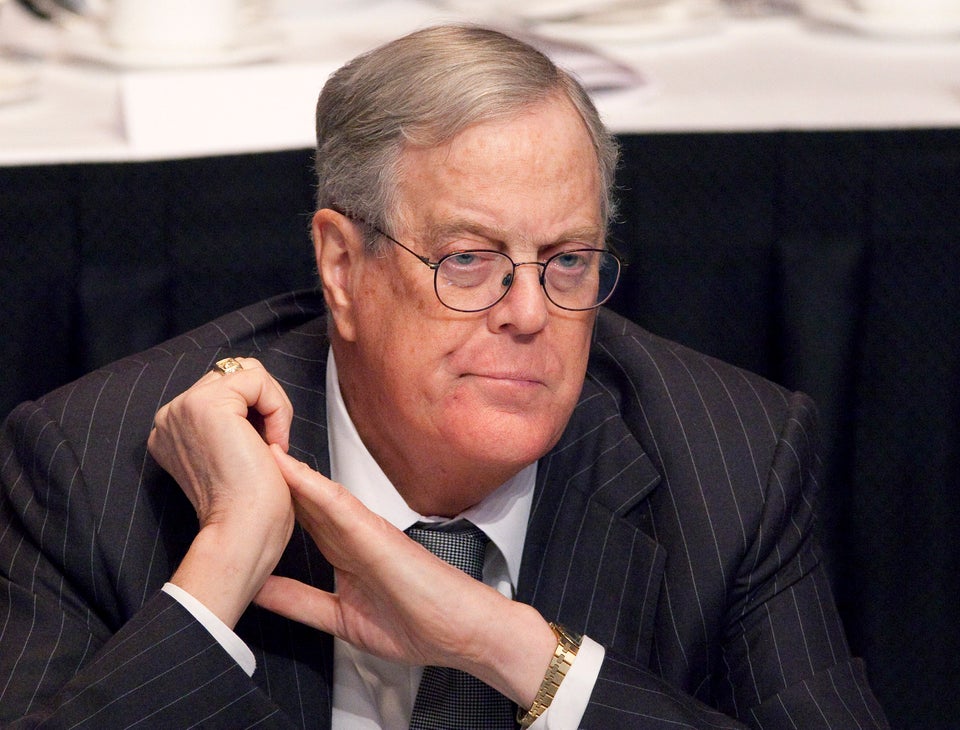 David Koch
Popular in the Community