WASHINGTON -- Three top Republican Senate candidates heaped praise on the political network built by the conservative billionaires Charles and David Koch during a secretive conference held by the brothers this past summer, according to audio of the event.
Iowa state Sen. Joni Ernst and Arkansas Rep. Tom Cotton directly credited donors present at the June 16 retreat in Dana Point, California, for propelling them forward. Colorado Rep. Cory Gardner told attendees that his race would likely be decided by the presence of "third party" money -- an obvious pitch for generosity from the well-heeled crowd.
The presence of Gardner and Cotton was previously reported by The Nation magazine, though it is unclear if Cotton ever confirmed his appearance. Ernst's attendance had not previously been reported.
For all three, the association with the Koch brothers' network is likely to provide kindling for their opponents, who have already argued that the Republicans are steered by deep-pocketed conservatives.
Audio of the event, held at the St. Regis Monarch Beach resort, was obtained by The Undercurrent and shared exclusively with The Huffington Post. In it, the three Republican candidates, appearing on a panel titled "The Senate: A Window of Policy Opportunity for Principled Leaders," speak for several minutes each about the state of their respective races. Because the discussion took place in mid-June, some of the comments are dated. In addition, some of the audio was redacted to preserve the anonymity of the individual who provided it -- "a source who was present at the event," per an official with The Undercurrent -- and to remove sections with too much cross-talk. A separate source, who helped organize the retreat, confirmed each candidate's participation.
During their speeches, both Cotton and Ernst noted that this was actually the second Koch brothers' retreat they had attended. Last year, the two had gone to the New Mexico event as politicians of less stature. The Koch network has since helped usher them to the doorsteps of the United States Senate.
"I was not known at that time," Ernst said. "A little-known state senator from a very rural part of Iowa, known through my National Guard service and some circles in Iowa. But the exposure to this group and to this network and the opportunity to meet so many of you, that really started my trajectory."
"We are going to paint some very clear differences in this general election," she said earlier in her talk. "And this is the thing that we are going to take back -- that it started right here with all of your folks, this wonderful network."
Cotton went further, crediting Koch-funded groups for helping change the political landscape of Arkansas.
"Americans for Prosperity in Arkansas has played a critical role in turning our state from a one-party Democratic state [inaudible] building the kind of constant engagement to get people in the state involved in their communities," he said.
Such discussion is franker than that offered during the daily grind of the campaign trail -- for obvious reason. The talk was private. At one point, Cotton flatly claims that former Majority Leader Eric Cantor lost his seat because he "endorsed immigration principles." At a separate panel on congressional races, the audio of which was also sent to The Huffington Post, officials with two Koch-funded organizations -- Americans for Prosperity's president, Tim Phillips, and Freedom Partners' president, Marc Short -- also spoke more candidly about Senate races than they would have on a public panel.
"Michigan is a state that's basically an uphill climb honestly," said Short, mentioning the battle to replace Sen. Carl Levin (D).
"Minnesota, everyone's favorite comedian, Al Franken. He, against all expectations, actually has kept his head down and not made stupid comments, and has been in decent shape in a relatively blue state," said Phillips, referring to another Democratic senator, who is up for re-election this year.
Listen to highlights from both panels here:
The benefits of blunt talk aside, the underlying reason for the event seemed to be that candidates need to fill their coffers in the age of multimillion-dollar campaigns.
Americans for Prosperity (AFP) has established political branches in the critical states for Senate races this year. That organization and three other Koch-funded groups -- Freedom Partners (which officially hosted the June 16 conference), American Energy Alliance and Concerned Veterans for America -- have also blanketed the airwaves with campaign ads. According to figures provided by a Democratic tracker, roughly $5.3 million has been spent by these groups on ads in Arkansas, roughly $2.2 million in Colorado and roughly $3.4 million in Iowa. An official at the Koch retreat said that the network's 2014 budget would be $290 million.
During the congressional races panel, titled "2014 Debate: Immediate Opportunities to Defend Freedom," the discussion turned to Colorado at one point, and Phillips highlighted the extent to which the Koch network can help fill the holes for a candidate.
"So we have a big task ahead of us," he said. "Concerned Veterans of America, Generation Opportunity and AFP has a good, strong ground game in the Denver area. But this is a big fight to make sure they don't define Gardner -- he's a good guy, a free market guy, his voting record is great in the House -- make sure they don't define him as some extremist, because he's not."
All this spending and ground work has not occurred in a vacuum. Part of the reason Cotton, Ernst and Gardner appeared before the conservative donors was that deep-pocketed Democrats have been spending against them. A trio of environmental groups has spent heavily on Democratic Rep. Bruce Braley's Iowa Senate campaign. The super PAC Next Generation Climate, created by hedge fund founder and dedicated environmentalist Tom Steyer, has spent $3 million in Iowa and roughly $1 million in Colorado, according to a super PAC official. Senate Majority PAC, which supports Democratic candidates, has spent $550,000 in support of Braley and an additional $1.5 million against Ernst, $2.6 million against Gardner and $1.94 million against Cotton, according to Federal Election Commission data. And more spending is possible: The Democratic Senatorial Campaign Committee has consistently outraised the National Republican Senatorial Committee this election cycle.
"We'll raise somewhere between $10 and $12 million in my campaign," Gardner told the crowd. "My opposition is going to raise somewhere between $15 and $20 million."
Asked about the event, Freedom Partners spokesman James Davis said, "The comments from the panel outlined how we saw the issues shaping up across the country at that particular time and how we will continue to drive towards the principles of a free society."
Levi Russell, director of public affairs at Americans for Prosperity, said, "It is common knowledge that AFP is fighting to advance economic freedom policies in many states around the country. Our staff and grassroots activists have knocked on hundreds of thousands of doors and made millions of phone calls. The comments from Tim Phillips reflect AFP's dedication to fighting for policies that result in more prosperity and well-being for everyone."
None of the three candidates returned a request for comment for this article. But their attendance at the retreat offered both reward and risk.
A few days after Ernst's appearance, Charles Koch, his wife, his son and his daughter-in-law each gave the Iowa candidate the legal maximum contribution of $2,600.
Cotton, meanwhile, took heat for backing out of the local Pink Tomato Festival to attend the Koch affair, with his opponent, Sen. Mark Pryor (D-Ark.), all but accusing him of lacking home-state sensibilities. A willingness to go against the prevailing winds at home has endeared Cotton to the Koch brothers' crowd, however. At the California retreat, Phillips praised the congressman for voting against the congressional farm bill (on grounds that it was loaded up with corporate giveaways) even though it was popular in Arkansas.
"There are times when the candidate is running and, frankly, it's just someone that you know that there's no better alternative, right? That's not the case in Arkansas. Tom Cotton is a champion," said Phillips. "He has a 100 percent AFP voting record. ... This guy is running for the Senate [while] actually voting with 61 Republicans in the House to vote against the farm bill -- in Arkansas."
Want more updates from Sam? Sign up for his newsletter, Spam Stein.
Before You Go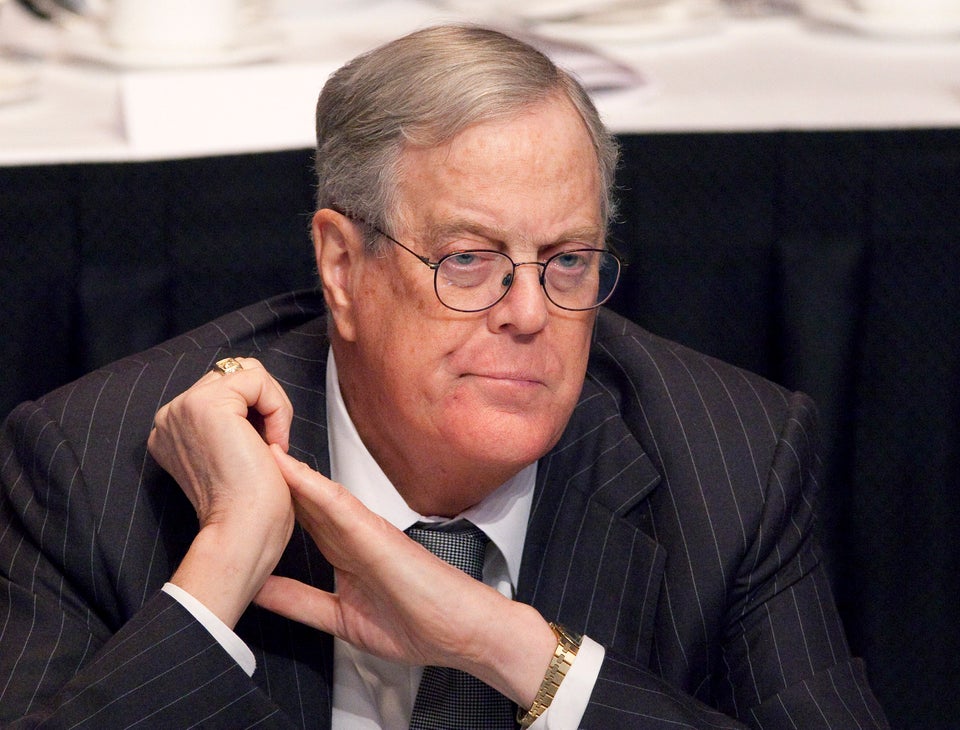 David Koch
Popular in the Community