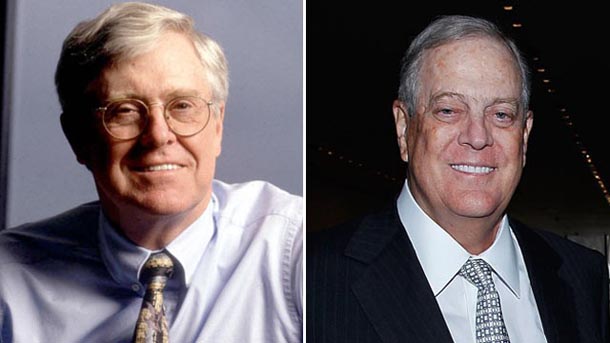 You can say one thing about the Koch brothers: They don't let the facts get in their way.
Of course I'm talking about Charles G. and David H. Koch (above), the billionaire owners of Koch Industries, the oil, coal and natural gas conglomerate that's been dubbed the "kingpin of climate science denial."
Last summer, Richard Muller, a Berkeley physicist long skeptical of climate science, went off script and announced that his three-year, Koch-funded investigation verified that global warming is indeed real, is primarily caused by human activity, and is even worse than the climate science community thought.
Did Muller's conclusions prod the Kochs to reconsider their hardline position against wind, solar and other renewable energy--our best bet, besides energy efficiency, to combat global warming? Hardly. The Kochs' minions merely stepped up their ongoing disinformation campaign to scuttle renewable energy on economic grounds.
Take the American Legislative Exchange Council (ALEC) and Heartland Institute, two Koch-funded organizations with a history of attacking efforts to address climate change. ALEC, a stealthy lobby group whose corporate, nonprofit and state legislator members ghostwrite and then attempt to implement "model" legislation, played a key role in killing the Midwest Greenhouse Gas Reduction Accord, a six-state regional cap-and-trade agreement. Meanwhile, Heartland--an ALEC member that hosts annual conferences deriding climate science--is probably best known for posting a not-so-subtle billboard in Chicago last May comparing people who accept the reality of global warming with "Unabomber" domestic terrorist Ted Kaczynski.
More recently the two groups made news when the Washington Post reported ALEC's board of directors adopted a Heartland-crafted model bill that would repeal state standards requiring utilities to ramp up their use of renewable energy. The model legislation, the "Electricity Freedom Act," claims these requirements--currently on the books in 29 states and the District of Columbia--will dramatically drive up electricity rates.
That claim, however, is bunk. In fact, renewable electricity standards have not significantly increased rates. In some cases, rates have even dropped a bit. But more on that later.
Garbage in, garbage out. To make its case, ALEC--whose members include major coal, oil and electric utility industry companies--cites analyses by Suffolk University's Beacon Hill Institute commissioned by the Koch-funded American Tradition Institute and "free-market" state think tanks associated with the Koch-funded State Policy Network. The analyses examine current or proposed standards in more than a dozen states, including Colorado, Kansas, Michigan, Minnesota and New Jersey. The studies were partly funded by, you guessed it, the Koch brothers.
The fact that the Kochs funded the studies doesn't automatically mean they're biased. In this case, however, Beacon Hill research economist Michael Head essentially conceded to Washington Post reporter Juliet Eilperin that he and his colleagues fudged their findings.
Beacon Hill, Eilperin reported, "assumed that the Energy Information Administration's projected renewable energy price estimates are too low, and that cost-containment measures embedded in state policies will fail." Head told her that he and his co-authors doubted the cost caps, which place a ceiling on how high monthly consumer electricity rates can go to meet renewable standards, would take effect. "We just left it out so we could provide the actual analysis of the policy itself," he explained.
A closer look at a sample Beacon Hill analysis of a state renewable electricity standard shows that this sleight of hand is just one of a number of ways Head and his colleagues play fast and loose with the facts.
Jeff Deyette, a senior energy analyst at the Union of Concerned Scientists (UCS), dissected a September analysis Head et al. did of a proposed increase in Michigan's renewable electricity standard from 10 percent by 2015 to 25 percent by 2025, which was on the November ballot. Besides excluding the cost cap--a key component of the policy--Deyette found that the Beacon Hill analysts:
•ignored the fact that the state already has a standard in place, enabling them to inflate the costs of implementing the stronger standard;
•made questionable assumptions about renewable energy technologies--often citing out-of-date, controversial or unsubstantiated material to support their assertions--instead of using real-world cost and performance data from local projects; and
•failed to factor in the new standard's benefits, including economic development, job growth, cleaner air and reduced carbon pollution.
Beacon Hill--an official sponsor of this year's Heartland climate science-bashing conference--conducted this particular study for the Michigan-based Mackinac Center for Public Policy. The center, the largest state-based free-market think tank in the country, is a Koch grantee and a member of the Koch-funded State Policy Network. Not surprisingly, the center consistently denies the reality of global warming.
This is not the first time Beacon Hill energy analyses have been questioned. Last year, Michael Conathan, director of ocean policy at the Center for American Progress, a progressive, Washington, D.C.-based think tank, reviewed a Beacon Hill analysis of the potential for offshore wind along the New Jersey coast. According to Conathan, the study--which was heavily promoted by Americans for Prosperity, a political advocacy group founded by and largely funded by the Kochs--"misses the mark on both sides of the ledger by dramatically overstating the costs and underestimating the economic benefits of offshore wind."
The facts on the ground tell a different story. Despite the Koch juggernaut's scare tactics, some evidence is already in, and so far the impact of renewable electricity standards on rates has been, for the most part, negligible. In late October, Steve Clemmer, UCS's director of energy research, surveyed rates in three Midwestern states. This is what he found:
•Wind and other renewable technologies have reduced wholesale electricity prices in Illinois by displacing coal and other energy sources that have higher operating costs, saving ratepayers an estimated $177 million in 2011 alone, according to the Illinois Power Agency.

•Minnesota's standard of 30 percent by 2020 for the state's largest utility, Xcel Energy, and 25 percent by 2025 for all other utilities has had little or no impact on rates for eight of 14 companies that submitted a report to the state Public Utilities Commission. Xcel Energy customer rates actually dropped 0.7 percent from 2008 through 2009, and the company calculates that rates will increase a mere 1.4 percent over the next 15 years. Five other utilities reported modest wholesale rate increases ranging from 1 percent to 6.6 percent in 2010, and one utility reported a 16 percent increase.
•From 2008 through 2010, Wisconsin's 10 percent by 2015 standard nudged rates up only 1 percent. By 2010, renewables were supplying 7.4 percent of the state's electricity, nearly double their contribution in 2006.
A national 25 percent by 2025 renewable electricity standard also would be quite affordable. In 2009, UCS calculated that such a standard would lower annual consumer electricity rates by 4.3 percent, saving ratepayers across the country $64.3 billion on their electricity and natural gas bills by 2025. Meanwhile, a 2010 study by the Energy Department's National Renewable Energy Laboratory (NREL) estimated a 25 percent standard would cost less than 2 percent more a month for a typical U.S. household--an average of $2.37 to be precise. Even that would be a small price to pay to help avoid the worst consequences of global warming, and a poll published last May found that Americans would be willing to pay more than five times that amount for clean energy.
Besides the fact that we can afford to transition away from fossil fuels, keep in mind that we can't afford not to. As I pointed out last month in a Huffington Post blog, global warming, hands down, is the biggest long-term threat to the economy we face.
The good news is renewables have been a bright spot in an otherwise gloomy economy. Over the last five years--with the help of state renewable electricity standards, stimulus spending and production tax credits--U.S. wind capacity has more than tripled and solar capacity has more than quadrupled, boosting employment and attracting private investment. Even with a deep recession and slow recovery, U.S.-based wind turbine, blade, tower and gearbox manufacturing has jumped 25 to 60 percent since 2005.
Likewise, the potential for non-hydro renewables is tremendous. They currently generate only about 5 percent of U.S. electricity, but by 2030 they could produce more than 40 percent, according to a 2009 UCS study. That would more than replace the share currently generated by coal, which is still responsible for roughly 75 percent of U.S. utility sector carbon emissions. Looking even further down the road, NREL concluded earlier this year that today's commercially available renewable technologies could adequately generate 80 percent of U.S. electricity by 2050.
But you won't hear any of that from the Koch propaganda machine.
Elliott Negin is the director of news and commentary at the Union of Concerned Scientists.
Related
Popular in the Community