WASHINGTON -- The sprawling conservative network backed by the billionaire brothers Charles and David Koch is being overhauled, with some key Koch operatives moving to a fledgling "dark money" group that is poised to become a chief financing vehicle for the mega donors' political and ideological projects, The Huffington Post has learned.
The new organization, called the Association for American Innovation, is expected to ultimately funnel millions of dollars to other dark money groups nationwide. It's being staffed with Koch stalwarts, including Marc Short, who currently oversees other Koch-funded projects, according to a few GOP operatives familiar with the overhaul.
In a twist, the association has been established under Internal Revenue Service rules as a 501(c)(6) business league, setting it apart from many of the dark money groups into which the Kochs and allied donors have in recent years poured hundreds of millions. Adding a business league, which will have members, to the Koch-backed conservative orbit could boost corporate funding, while still allowing some political spending and letting donors remain anonymous, tax lawyers say.
By contrast, Americans for Prosperity, which was founded by the Koch brothers and spent close to $140 million last year on electoral and advocacy drives with little to show for it, has two arms: It is a 501(c)(4) social welfare group -- which can engage in some political activity and keep its donors secret -- and a 501(c)(3) charity.
The staffing-up at the business association comes at a sensitive moment as several older 501(c)(4) groups face increasing scrutiny from government regulators and private watchdogs about their political activities. In California, officials are probing alleged money laundering that might violate state election disclosure laws by a few groups, including one run by Sean Noble, a prominent Koch operative in Arizona.
"501(c)(4) groups are getting a lot of heat these days, but (c)(6)s are like mom-and-apple-pie organizations," said Ken Gross, a political law expert at the law firm Skadden, Arps, Slate, Meagher & Flom. The U.S. Chamber of Commerce and many other business groups in Washington have 501(c)(6) status.
The roles now being carved out for the Association for American Innovation, which will promote Koch-favored free market solutions in the states, were sparked in part by last year's bitter electoral losses. In the 2012 cycle, the two Koch brothers and other wealthy donors poured hundreds of millions into electoral and related advocacy efforts by dark money groups -- from TV ads to grassroots drives -- in a failed effort to defeat President Barack Obama and help the GOP take the Senate.
Now the new group is looking to enhance donor interest by rebranding Koch-backed projects and to improve controls over their funding, according to GOP operatives familiar with the plan. It also may help Koch-backed efforts fly under the radar better and lower the Koch brothers' public profiles after last year's intense media coverage.
"The outside political efforts last year by Republican-leaning groups are widely regarded as a failure," said one GOP operative. "Trotting out the same old groups and strategies will not be received well by donors. That's why you see major rebranding efforts."
The GOP operatives who spoke to HuffPost requested anonymity because they were not authorized to discuss the inner workings and funding of Koch political projects, which are often shrouded in secrecy.
Koch Industries spokesman Rob Tappan did not respond to requests for comment.
Starting on Sunday in Palm Springs, Calif., Charles Koch is hosting a two-day strategy and fundraising conference for hundreds of wealthy conservative donors and corporate executives. Pitches to financially help the new association and other Koch-backed outfits will be made, say the GOP operatives. (The event is one of two that the Kochs hold each winter and summer, but this year the winter event was postponed until this weekend to finish a post-election analysis.)
Other topics on the agenda include the need to improve the recruitment of "principled candidates to run for office" and to "more effectively communicate" with key demographic groups such as Hispanics, women and youth, according to an email invitation sent to donors by Kevin Gentry, who coordinates Koch conference fundraising.
More broadly, Gentry's missive -- first disclosed by Mother Jones magazine -- promised that conference attendees will have an opportunity to "join the most strategic market-oriented minds in the business world to advance a plan to defend our free enterprise system." To attract donors and pry open checkbooks, the conference will feature some big-name GOP governors, members of Congress and conservative commentators.
The shakeup and shifts in the Koch-backed political network have been underway for months. The realignment is designed to better position conservatives to take on Democrats and some GOP moderates in the next elections and to enhance the credibility of the Kochs' free market messages.
Perhaps to boost those prospects and advance their small government agenda with the media, the Koch brothers are reportedly weighing a bid for the Chicago Tribune, the Los Angeles Times and several other papers.
The Association for American Innovation was set up and approved by the IRS last year, according to public documents, with help from veteran Koch operative Wayne Gable, who since the 1980s has held top posts with the brothers' conservative outfits. Gable was once a senior lobbyist with Koch Industries, the energy conglomerate that's enriched each brother to the tune of over $30 billion, according to Forbes.
For now at least, the association is being spearheaded by Kansas-based Alan Cobb, who previously spent several years leading the state operations for Americans for Prosperity and is expected to focus heavily on state free market programs to reduce the size of government, as Politico first reported. Cobb also did a stint lobbying for Koch Industries.
It's another sign of the importance of the new effort that Short, who has overseen political spending for the Kochs in Washington, is moving to the association, according to the GOP operatives. They say that Gentry, the Koch donor network's lead fundraiser, may also be shifted there.
More broadly, the launch of the innovation group mirrors past attempts by the Koch brothers to start new outfits to attract more funding and increase their influence -- efforts that also often involved shifting around veteran Koch operatives.
Why the Kochs opted to set up the Association for American Innovation as a business league isn't entirely clear, but there's no doubt that the scrutiny of 501(c)(4) social welfare groups intensified during the last election. Watchdog groups have sharply criticized several (c)(4)s for their hefty political spending, charging that some have violated IRS rules mandating that (c)(4)s cannot have politics as their primary purpose. The Senate Permanent Subcommittee on Investigations will hold hearings this spring to examine IRS oversight of (c)(4) groups.
"It's possible that the Kochs think there's less audit exposure with a (c)(6)," said Marc Owens, who used to run the tax exempt division at the IRS and is now a partner at the law firm Caplin & Drysdale. Owens added that there could be risks with the business association: "It's not clear to me what line of business is furthered by an innovation group. That could make it difficult to establish entitlement to (c)(6) status with the IRS."
Some other experts echo Owens. "A dues or annual payment to a business association isn't likely to raise questions," said Ken Gross of Skadden. "But if the business league isn't actively promoting a line of commerce and is acting more like an ideological group, the payments may come under scrutiny."
Nonetheless, the benefits of launching the association as a 501(c)(6) may outweigh other risks given the intensifying probe by California's Fair Political Practices Commission and the state's attorney general. Working closely together, they have issued more than a dozen subpoenas to groups and individuals in order to find the true source of $11 million that was funneled through three dark money groups -- including the Center to Protect Patient Rights run by Koch operative Sean Noble -- to influence two ballot initiatives last fall. Under California law, donors to ballot initiative campaigns have to be publicly disclosed.
In the last two federal elections, Noble's group also funneled more than $60 million to some two dozen conservative groups, such as Americans for Tax Reform, the American Future Fund and Americans for Job Security, to buy television ads to help GOP candidates. Noble is expected to play a significantly smaller role in the Koch network going forward, say GOP operatives.
In Palm Springs on April 28 and 29, donors will receive briefings from various Koch operatives on the brothers' months-long post-election review of what went wrong and hear pitches for new Koch-backed ventures like the Association for American Innovation and for others. In the last few years, the Koch donor network has stepped up its financial backing for a few Hispanic and women's groups that take conservative stances on lower taxes and less regulation, efforts that should increase given the GOP's poor 2012 results with these constituencies. Among those groups receiving money from the Koch donor network, GOP operatives say, are Concerned Women for America and the Libre Initiative, which was launched by Dan Garza, a former White House aide under President George W. Bush.
The retooling of the Kochs' political machine and perhaps the innovation association were presaged late last year. In post-election comments to Forbes, both Koch brothers voiced clear disappointment with the election results but showed no signs of slowing down their giving.
"We're going to study what worked, what didn't work and improve our efforts in the future," David Koch vowed. "We're not going to roll over and play dead."
Support HuffPost
The Stakes Have Never Been Higher
Before You Go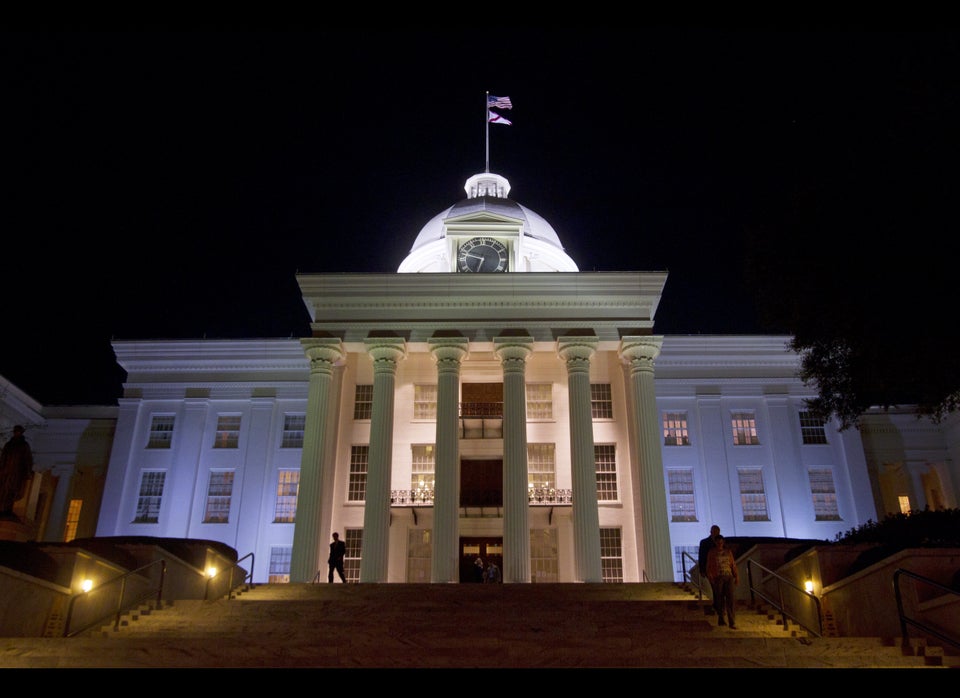 U.S. State Capitol Buildings
Popular in the Community