WASHINGTON -- A report released Friday by a top Democratic political research group details what it calls a "legacy" of layoffs and environmental damage at subsidiaries of Koch Industries, the holding company owned by the conservative billionaire Koch brothers.
The 51-page report was produced by the group American Bridge 21st Century. Titled "Legacy of Loss: Koch Industries' Layoffs and Environmental Harm in Battleground States," it looks at 12 states where Democrats are facing tough races in the fall.
Most of the facts laid out in the report have been previously reported by local news outlets, but taken together they serve to reinforce a major Democratic narrative for 2014: that the GOP is a party funded by billionaires whose business practices cost workers their jobs and pollute the air and water.
Below are some highlights:
Alaska: Koch Industries subsidiary Flint Hill Resources is shutting down refinery operations near the North Pole, eliminating at least 81 jobs. One of the reasons cited by the company is the high cost of cleaning up environmental contamination by toxic chemicals. The state of Alaska has sued Flint Hill Resources over the contamination.
Arkansas: Koch Industries subsidiary Georgia-Pacific has laid off at least 700 workers since 2011 from its Crossett Plywood and Stud Manufacturing Operation. Earlier this year, the air and water at an elementary school near the plant were found to be among the nation's most toxic, ranking in the top one percentile, according to USA Today.
Iowa: In an example of what the report calls an "Anti-Iowa Agenda," Koch Industries Chairman Charles Koch opposes federal subsidies for ethanol, which is a significant source of income in the corn-producing state. Koch, an avowed libertarian, has opposed a broad range of federal subsidies over the years, believing them to be tantamount to corporate welfare.
The other states discussed in the report are Florida, Kentucky, Michigan, Minnesota, Montana, New Hampshire, North Carolina, West Virginia and Wisconsin.
Koch-affiliated political groups have vowed to spend more than $300 million in the 2014 midterm election cycle to bolster Republican candidates through issue-focused ads and to oppose carbon emission regulations proposed by the Obama administration. This level of spending makes the Koch network a prime target for Democratic political groups.
Speaking to journalists ahead of the report's release, American Bridge President Brad Woodhouse said that GOP candidates "can have the Koch brothers' largesse, but they're going to get the other side, too."
Before You Go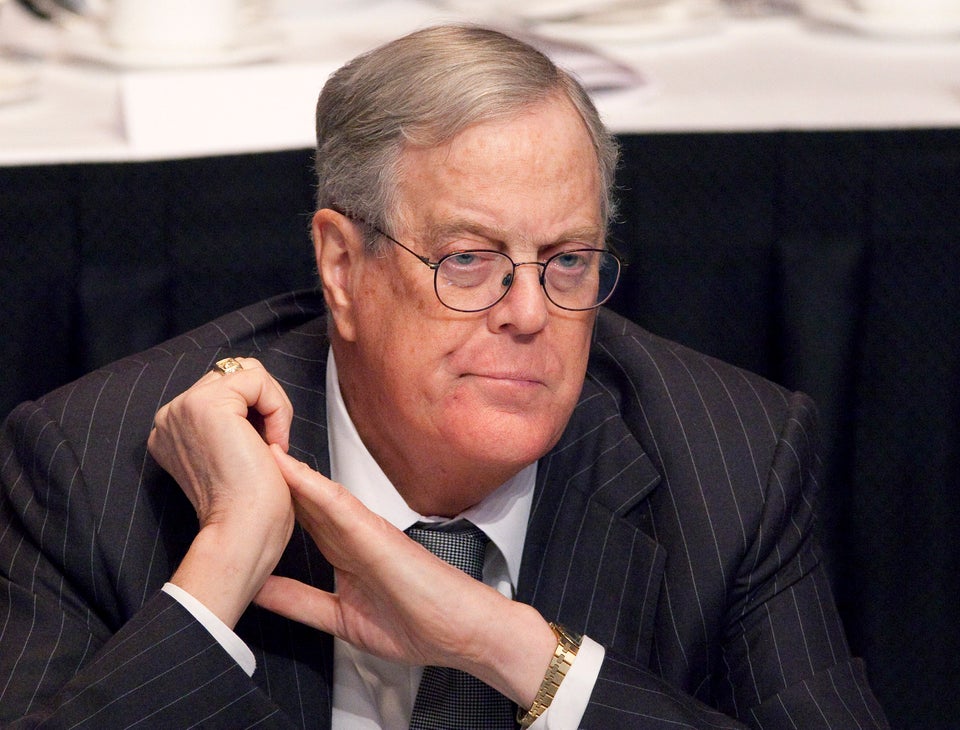 David Koch
Popular in the Community