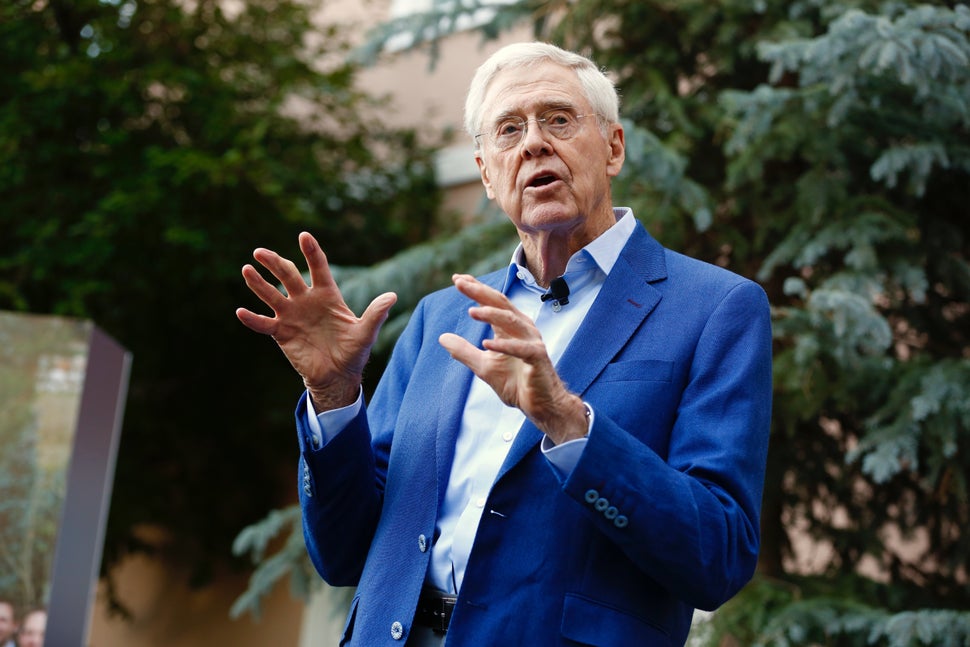 COLORADO SPRINGS, Colo. ― The Koch Network should be celebrating. The Republican Party, whose ideas and candidates the network has spent hundreds of millions of dollars promoting, is in total power at the federal level and in control of a majority of the nation's states.
This dominance grew out of the Kochs' work: They built a political operation rivaling the Republican National Committee in influence. They seeded the tea party movement in 2010, spent $400 million trying to help Republicans win the presidency in 2012, and spent tens of millions helping the GOP win and retain control of the Senate in 2014 and 2016.
But the network's officials spent much of their annual summer confab at the luxurious Broadmoor Resort warning the 500 donors in attendance ― all of whom have pledged at least $100,000 to the network's efforts to shape educational institutions, nonprofits and the nation's political scene ― about the dangers of protectionism, condemning the White House's divisive rhetoric and distancing themselves from President Donald Trump and the GOP. They promised to look for ways to work with Democrats, and announced they wouldn't support the GOP candidate in North Dakota's critical Senate race.
They're discovering one-party control of Washington isn't enough to help them achieve their goals, which they've always insisted go beyond electoral politics.
"The manner in which people engage public policy matters," Brian Hooks, the co-chair of the Seminar Network, the umbrella group that hosts the gatherings, told reporters. "And it's gone way beyond tone, way beyond tactic. The divisiveness of this White House is causing long-term damage. When in order to win on an issue, someone else has to lose, it makes it very difficult to unite people and solve the problems in this country."
In other words, the Trump administration's focus on owning the libs doesn't help pass criminal justice or immigration reform, or any of the group's other major priorities.
The shift ― one donor said the network is "reinventing themselves" ― comes as the libertarian-leaning Koch brothers network, long invoked in countless Democratic fundraising emails as big-spending boogeymen, is undergoing a series of changes that could sever its hand-in-hand tie with the modern GOP, or at least loosen the grip.
For one thing, they're not the "Koch brothers" anymore.
In June, David Koch, the younger of the two brothers, announced he was leaving his roles at the family conglomerate, Koch Industries, and at Americans for Prosperity, one of the major Koch-funded political groups, because of health concerns. Since then, there has been just a lone Koch brother leading the network: 82-year-old Charles Koch, the man who first assembled the conservative donors more than a decade ago. The two brothers, who turned their family conglomerate into the nation's second-largest privately held company, are each worth around $50 billion, according to media estimates.
The network's officials and operatives promise David's retirement won't change much, and the older Koch made sure to boast of his strength ― "I'm not getting weak in the knees" ― when addressing donors Saturday night on the Broadmoor's magnificently manicured lawn.
And Charles, in a rare on-the-record briefing with reporters, suggested they may decrease their direct spending on politics, citing his disappointment with Republicans he has backed in the past. While the party has delivered for the Kochs with judicial appointments, massive tax cuts and regulatory rollbacks across the government, the Kochs have been disappointed with Trump's rhetoric on trade and congressional gridlock on immigration and criminal justice reform. 
"What I regret are some of the ones we have supported," Koch said of past candidates. "We're going to be much stricter, when they say they are going to be for those principles... We're going to more directly deal with that and hold people responsible for their commitments."
If this were 2016, we likely would have gone ahead and endorsed him. But we're raising the bar.

Americans for Prosperity President Tim Phillips, on the group's decision not to back GOP Rep. Kevin Cramer in North Dakota's Senate race.
HuffPost and other news organizations were invited to attend the gathering after accepting ground rules set by the Koch Network, including not identifying donors unless they agree to an interview.  
The biggest sign the Kochs may actually pull back from politics was their decision, announced Monday, that they wouldn't support Rep. Kevin Cramer (R-N.D.) in North Dakota's Senate race because of his votes for the omnibus, the farm bill and the export-import bank ― all of which the Koch officials derided as corporate welfare and cronyism. 
"That makes it hard to support him," Americans for Prosperity President Tim Phillips told donors, arguing Republicans would only embrace the Kochs' policy priorities if the network's support wasn't guaranteed. "If this were 2016, we likely would have gone ahead and endorsed him. But we're raising the bar."
The network then laid out a relatively limited political map for 2018. They say they plan to get involved in just seven contests: Florida's gubernatorial and Senate races, governor's races in Michigan and Nevada, and Senate races in Wisconsin, Missouri and Tennessee. (Network officials cautioned they could get involved in more races.) 
There are at least $10 million worth of reasons for Democrats to greet these proclamations with skepticism. That's how much three Koch-affiliated groups ― Americans for Prosperity, the Freedom Partners Action Fund and Concerned Veterans for America ― have already spent attacking vulnerable Democratic senators this cycle. And the quickest way for a Democrat to earn praise from the Koch camp is to break with their party. 
Koch officials repeatedly brought up their decision to attack Rep. Lou Barletta (R-Pa.) for supporting the $1.3 trillion omnibus spending package ― which Hooks told donors was the "most fiscally irresponsible budget in the history of our country" ― and to praise Sen. Heidi Heitkamp (D-N.D.) for "standing up to Elizabeth Warren" and voting to roll back Dodd-Frank protections. 
"I know this is uncomfortable," Emily Seidel, a top official at Americans for Prosperity, told the collected donors on Sunday morning. "It's uncomfortable for me, too."
But the attack on Barletta came in the form of a mailer, while Heitkamp received a digital ad boosting her. Those are both small investments compared to what the Kochs typically spend to help the GOP win Senate races. Not long before the digital ad praising Heitkamp's vote on the Dodd-Frank rollback, the group spent more than $400,000 on television ads blasting her for voting against tax reform.
Of course, the Koch Network has already promised to spend $1 million to help Brett Kavanaugh win confirmation to the Supreme Court. And officials talked wistfully of replicating the conservative revolutions they've brought to Wisconsin and Florida in other states around the country. The group aggressively lobbies on immigration and criminal justice reform, but its direct spending to pressure politicians with television ads on those issues pales next to what it spent pushing the GOP's $1 trillion tax cut. 
And in interviews, major donors to the network seemed more comfortable with Trump than network officials did. Art Pope, a prominent GOP donor from North Carolina, said the network and Trump were "75 percent to 80 percent" aligned on major issues.
"We're aligned with him on tax cuts, we're aligned with him on deregulation," Pope said. "The path may vary from time to time, but we're still heading in the same direction." 
Network officials were most critical of Trump's push for tariffs and his subsequent $12 billion bailout of the agriculture industry. (Charles Koch warned these developments could lead to a recession, and the network released a new television ad promoting the benefits of free trade and gave donors a free copy of a book titled What's Wrong With Protectionism.) But donors were split on the issue, with many seeing Trump's move as an opening gambit to get to free trade.
John DeBlasio, a donor from Illinois who founded a private equity firm, said he thought Trump was using the threat of tariffs to craft better deals for the United States. 
"I'm not sure Peter Navarro is actually in charge of our trade policies," he said, referring to the famously protectionist Trump aide. "What [Trump] is doing here is tactical."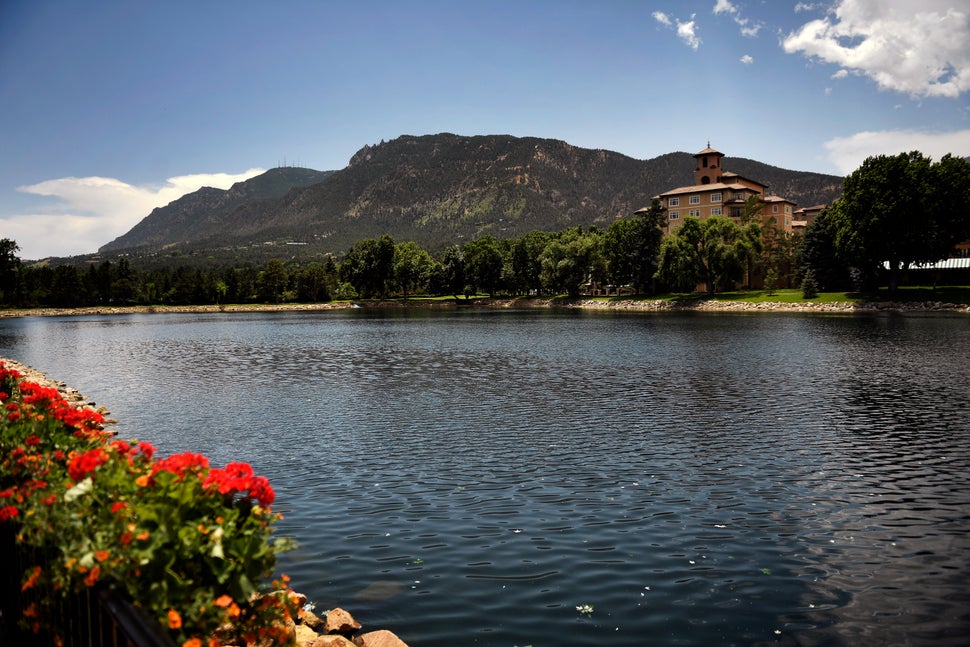 But officials were intent on highlighting the areas where they can work with liberals. During a presentation on threats to free speech on campus, a network official said an effort by conservative students to keep track of progressive professors was keeping her up at night. As Trump continues railing against the "fake news media," network officials highlighted their gift to the Poynter Institute, a journalism nonprofit. They highlighted their nonpolitical work, which includes antipoverty programs. (The network previously announced it would be spending between $300 million and $400 million on politics and policy over the course of the 2018 cycle. An official said they spend about a quarter of their funds on politics.) As Trump maligns immigrants as members of MS-13, the Koch group brought Hilario Yanez, a Dreamer who works for a Fortune 500 company, to meet the press.
"The only reason I haven't gone crazy is God," said Yanez, whose mother brought him to the United States when he was 1. He broke down in tears while talking about his life in America. "It's frustrating. It's tiring. Every morning I check the news to see if something has happened, if I still have my work permit or not." 
The network's critiques of Trump didn't go unnoticed. The White House issued a statement calling the president "a free trader" who "believes that the best way forward is for all countries to get rid of unfair practices and move toward zero tariffs, zero non-tariff barriers and zero subsidies." Trump-friendly media figures blasted the Kochs, labeling them RINOs, or Republicans in name only. (The Kochs have always insisted they are independents.) 
Steve Bannon, the former White House strategist and Breitbart impresario who might still be relevant if you squint hard enough, told Politico the Koch brothers needed to "shut up and get with the program." The Kochs brushed aside his instructions.
"We are focused on uniting the country to help remove barriers that are preventing people from reaching their potential," said James Davis, a Koch spokesman.
Calling all HuffPost superfans!
Sign up for membership to become a founding member and help shape HuffPost's next chapter