WASHINGTON -- Though the network of conservative groups funded by billionaires Charles and David Koch are better known for spending millions on top-tier Senate and gubernatorial races, they may be having a more durable impact at the local level.
A report released Thursday by the left-leaning Center for American Progress Action Fund compiles example after example of how Americans for Prosperity is mobilizing supporters to campaign against local tax increases and mass transit systems and for like-minded candidates running for school and county boards. Americans for Prosperity is a key player in the Koch-affiliated universe, with chapters in 35 states.
Among the local targets cited was a proposed tax increase to provide a permanent source of funding for the Columbus Zoo and Aquarium. After Americans for Prosperity's Ohio chapter mailed fliers, made calls, ran radio ads and knocked on thousands of doors, the proposal was defeated.
"There is no issue we won't get involved in if you're going to raise taxes," Eli Miller, director of the Ohio chapter, told a local NPR affiliate in April.
The CAP Action Fund report suggests that the Ohio effort was aimed less at protecting local pocketbooks and more at protecting Koch-affiliated business interests in Columbus. Georgia-Pacific Chemicals, a Koch Industries subsidiary, would have seen its property taxes go up at one facility if the levy had passed.
Former Ohio Gov. Ted Strickland (D), who leads the action fund, said that the Kochs are interfering with the ability of local communities to "determine what's right" for them.
"The local business community was largely supportive of the zoo levy," Strickland told The Huffington Post. "It's kind of ironic, because some of the people who in the past have perhaps been cheerleaders for the Kochs, as they have attempted to use their wealth in order to get conservative candidates elected to office, are now perhaps a little unhappy that the Kochs are behaving in ways that are not consistent with their goals -- and that was certainly true with what happened in Columbus with regards to the zoo levy. They're willing to spend whatever they need to cripple and limit government."
The report also highlights a fight over a proposed mass transit system in Nashville. The Amp, a 7.1-mile rapid transit bus project, never received the go-ahead after Americans for Prosperity's Tennessee affiliate encouraged state senators to introduce a measure aimed at preventing cities from establishing rapid transit systems that would use separate road lanes. Though a coalition of business and community groups were in favor of the proposal, it fizzled.
The report argues that in the Nashville example, the Koch network was motivated by a belief that public transit would threaten the brothers' oil and gas interests.
"What does David Koch know about the city of Gahanna?" Strickland asked.
The Kochs, he argued, "are willing to spend vast sums of unreported money to interfere with the decisions that should rightfully be made by local communities. If you look across the country, they are using their wealth to try to control what happens at the local level, to the detriment of schools, teachers, firefighters and infrastructure development. If they are successful, if they achieve their goals, it will be detrimental to the country because the decision-making is coming from the top down."
Local education issues are another area arousing Koch interest. The network has worked to roll back efforts aimed at integrating schools in North Carolina and promoted school board candidates in Douglas County, Colorado, who supported abolishing teacher tenure, benching teachers' unions, implementing voucher programs and paying teachers based on the subject and grade they instruct.
The CAP Action Fund report also flags a Huffington Post story about the Youth Entrepreneurs nonprofit, funded primarily by Charles Koch, which pays public school students to take courses espousing lower taxes and fewer regulations and deploring higher minimum wages and social welfare programs.
Strickland framed his group's report as an effort at raising public awareness about the "selfish" motivations of the Kochs' political involvement.
"I think there are many people, even in the communities affected by these efforts, who are largely unaware that these wealthy outside interests are having an impact on what happens there," he said. "The Koch brothers are looking out for themselves and their own economic interests, but they cloak that in a kind of political and economic philosophy that allows them to pretend to be high-minded in their motivations. Their motivations are selfish and people need to know that. Once people understand the threat to the democratic process and understand the source of that threat, we will be better able to help local communities protect themselves from these efforts."
Americans for Prosperity has a different take. It sees its local campaigns as a way to reach voters who wouldn't otherwise show up for a federal election and bring them into the network.
"It's a little frustrating when someone says, 'Oh, this is a political effort about the U.S. Senate,'" Americans for Prosperity President Tim Phillips told National Journal in June. "They don't look at the totality of what Americans for Prosperity is doing."
"We're genuinely a long-term effort," he added. "We're not about some election cycle."
Before You Go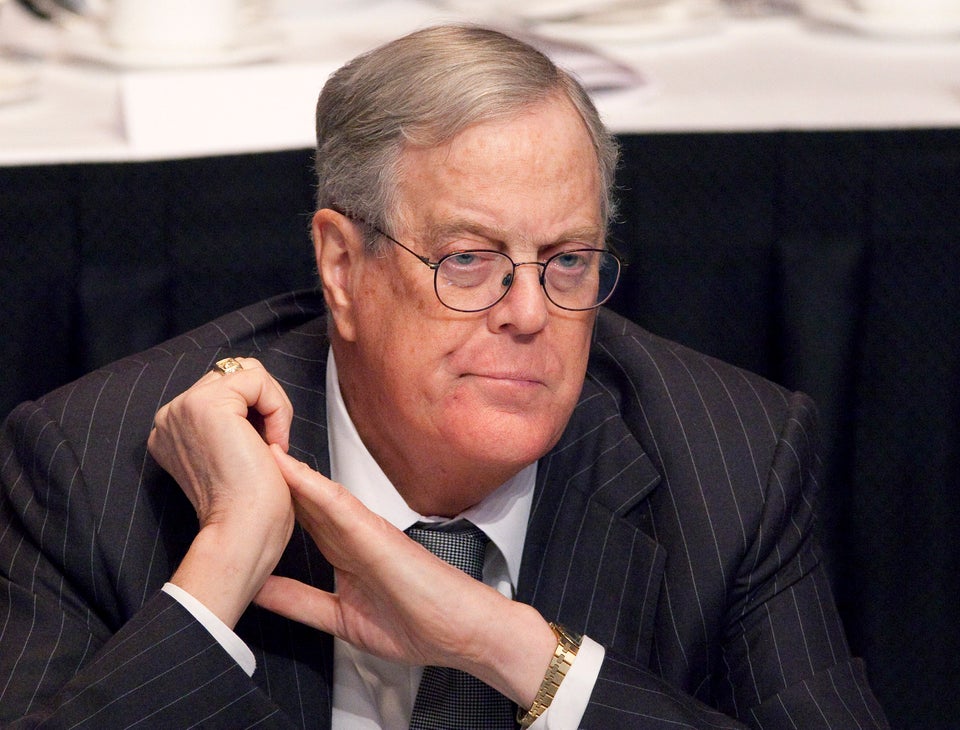 David Koch
Popular in the Community