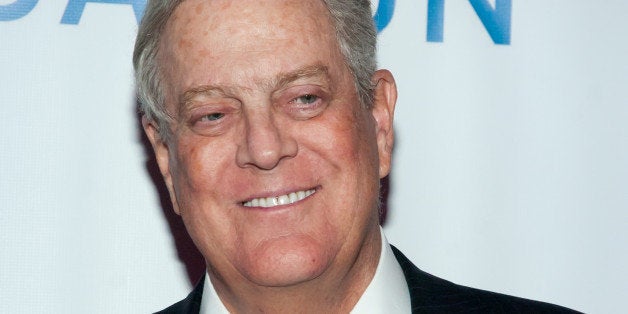 WASHINGTON -- A nonprofit group funded by Charles and David Koch to promote the reduction of national debt and government spending has been pressed into service as a defender of the billionaire brothers, who have come under attack by Democrats for plowing millions into conservative causes.
Public Notice, a Koch-connected, Washington-based nonprofit organized as a limited liability corporation with 501(c)(4) tax status, sent opposition research on Senate Majority PAC, a super PAC supporting Democratic candidates, and the candidates the group supports to reporters on Friday. The research said Senate Majority PAC's attack on the Koch brothers as out-of-state billionaires was hypocritical, since Senate Majority PAC is funded by billionaires from California and New York.
Public Notice's move into opposition research suggests that the full network of nonprofits funded by the Koch brothers and their allies may be deployed into the brothers' political battles. Democratic candidates in this year's elections and their backers, including the Senate Majority PAC, have begun fierce attacks directly aimed at the publicity-shy brothers in recent weeks, portraying them as un-American villains whose massive spending is ruining the political process.
Public Notice hadn't before publicly engaged in direct political activity or targeted specific Senate campaigns. Its involvement in opposition research on Senate candidates and super PACs appears to be a change in tactics to help the broader fight waged by the lead Koch group, Americans for Prosperity, which has spent at least $25 million on television and radio advertising in Senate races in the past year.
A Public Notice spokesman didn't respond to a request for comment.
Public Notice, founded in 2010, had been exclusively focused on promoting the reduction of the national debt and slashing discretionary government spending, and spending on safety net programs like Social Security and Medicare. The organization also has pushed to repeal Obamacare and block increases in the federal debt limit. Most of these efforts involved paid television advertising and social media targeted at young people.
Like most Koch-connected groups, Public Notice is organized as a confusing string of limited liability corporations, disregarded entities and nonprofits, obscuring the undisclosed "dark money" it accepts. At the top of its organizational structure is a disregarded entity called POFN LLC. Public Notice is legally registered as SGC4 Trust, but operates under the name Public Notice. The group also operates a 501(c)(3) educational nonprofit called Public Notice Research & Educational Fund.
Freedom Partners Chamber of Commerce, the central node in the Kochs' political money network, was the main source of funds for SGC4 Trust, the group operating as Public Notice, in 2012. Freedom Partners provided $5,466,250 to Public Notice from Nov. 2, 2011, to Oct. 31, 2012. According to Public Notice's tax forms covering the period May 1, 2011, to April 30, 2012, Public Notice raised $5.9 million.
During this period, Public Notice also received $1.67 million from TC4 Trust, another Koch-linked nonprofit acting as a grant-making bank for other nonprofits. The TC4 Trust contribution came during a period from July 1, 2011, to June 30, 2012.
The links between the Koch world and Public Notice do not end with funding. Public Notice's sole trustee and director Gretchen Hamel previously worked as program leader for TC4 Trust, the Koch-linked group that has been the largest funder of Public Notice. Hamel's employment at TC4 Trust was reported on tax forms covering the period Aug. 28, 2009, to June 30, 2010. Public Notice's first tax form states that the organization began operations on May 1, 2010.
Other Koch-linked groups that had mostly been on the sidelines of political fights are now getting involved. According to the Sunlight Foundation's Political Ad Sleuth, American Encore, previously CPPR, has purchased time on Minnesota airwaves to run an advertisement targeting Sen. Al Franken (D-Minn.) for his support of IRS rules cracking down on excessive political activity by nonprofits like American Encore.
CPPR had previously advertised on health care issues. But it hadn't run advertisements mentioning specific members of Congress, nor did its affiliated group, the Coalition to Protect Patient Rights.
Before You Go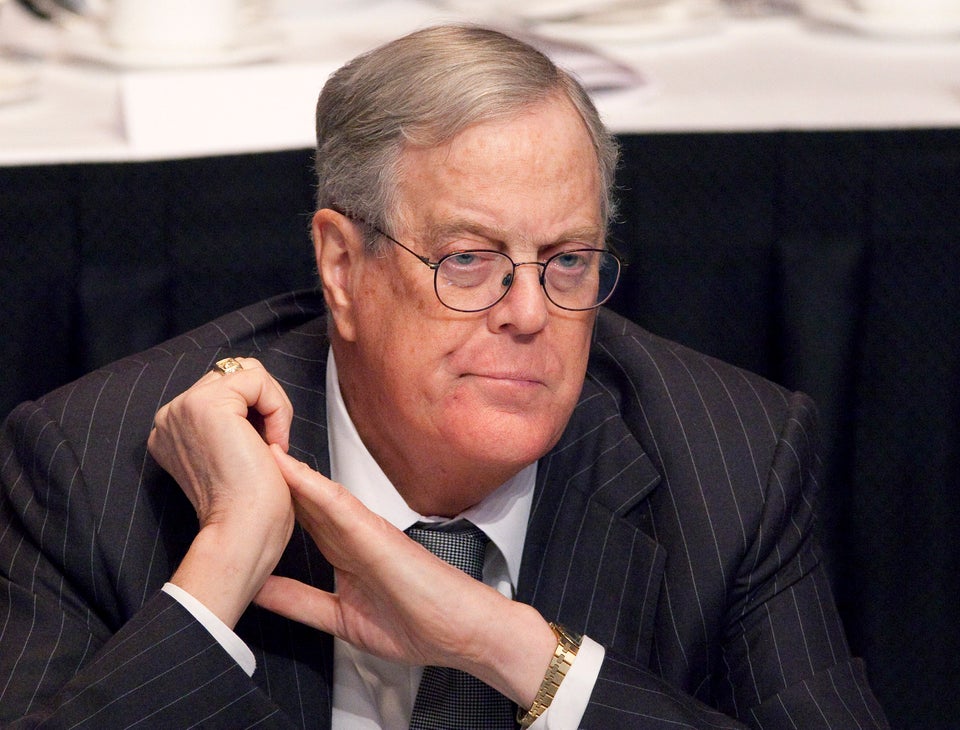 David Koch
Popular in the Community