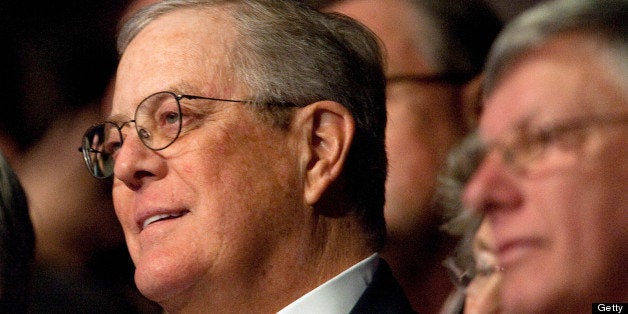 Move over, Rupert Murdoch -- there are some more conservative billionaires who want to buy the Los Angeles Times.
The media mogul has, by all accounts, made his desire for the Times--which, despite many cutbacks, is still one of the biggest newspapers in the country--clear.
But, as the New York Times reported Sunday, the Koch brothers--friend of oil companies, scourge of liberals, sworn enemies of the Obama administration--are very interested too. What's more, the paper's Amy Chozick wrote, the Kochs would be happy to buy all eight of the Tribune Company's big regional titles, including the Baltimore Sun, Chicago Tribune and Orlando Sentinel.
It's easy to see why a pair of movement conservatives with cash to burn would set their eyes on the Tribune titles. The Times, for instance, is still a very powerful voice in Southern California. The Tribune is still the most influential paper in the Midwest. They may not be the most financially viable investments, but the Kochs have the vast wealth needed to run them as vanity titles.
Naturally, liberal sites like Daily Kos have been up in arms about the prospect. Thousands have signed a petition demanding that Tribune not sell to the Kochs.
Unfortunately for them, Chozick wrote that, so far, the Kochs appear to be in the lead:
At this early stage, the thinking inside the Tribune Company, the people close to the deal said, is that Koch Industries could prove the most appealing buyer. Others interested, including a group of wealthy Los Angeles residents led by the billionaire Eli Broad and Ronald W. Burkle, both prominent Democratic donors, and Rupert Murdoch's News Corporation, would prefer to buy only The Los Angeles Times.
Calling all HuffPost superfans!
Sign up for membership to become a founding member and help shape HuffPost's next chapter
BEFORE YOU GO
PHOTO GALLERY
25 Biggest U.S. Newspapers In 2012