 WASHINGTON -- House Republicans will vote Wednesday on a bill to help Wall Street banks and the Koch Brothers avoid regulatory scrutiny for risky trades similar to those at the heart of the 2008 financial crisis.
The legislation would allow banks to dodge market transparency and government oversight by conducting trades through offshore affiliates. By simply booking a trade in a London-based subsidiary, for instance, banks could avoid U.S. standards -- even if work on the trade was actually conducted within the United States. The bill would also hamstring funding for a key agency, and make it easier for the largest banks to sue financial regulators over rules the banks don't like.
"If you liked the financial crash of 2008, you're gonna love the financial crash that this Wall Street-drafted bill is gonna deliver you," Dennis Kelleher, President and CEO of Better Markets told HuffPost.
Republicans have long sought to derail President Barack Obama's 2010 Wall Street reform law, and have won a few victories against the legislation with help from conservative Democrats. In December, Obama signed a government budgeting bill into law which reinstated subsidies for the riskiest types of derivatives trading -- subsidies that had been eliminated by the 2010 law.
Billionaire brothers Charles and David Koch have assisted big banks in the lobbying blitz against Wall Street reform for years. While they're better known for financially supporting Republican politicians and advocating tax cuts for the wealthy, limiting financial oversight is one of the duo's top policy priorities. The Koch business empire is a hybrid of energy, commodity and financial business.
The new deregulation measures, which will receive a vote on Wednesday, are packed into legislation that would formally reauthorize the Commodity Futures Trading Commission, a key overseer of the market for derivatives. Complex derivatives trades were not regulated prior to the banking crash, and were an integral part of the disaster. The CFTC, however, can continue functioning without formal reauthorization, provided Republicans do not also defund its operations.
Obama opposes the bill, making it unlikely to survive as standalone legislation. But key provisions may end up sneaking into other must-pass bills if they can win over a few dozen Democrats. Last year, 46 Democrats joined all but one Republican in voting for a similar bill. The lone GOP dissenter, Rep. Walter Jones (R-N.C.), is a persistent opponent of government perks for Wall Street. This time around, however, the overwhelming majority of Democrats are opposed to the bill.
"Republicans willingly forget the lessons of the financial crisis because they don't want to protect Americans from the next preventable crash," Rep. Keith Ellison (D-Minn.) told HuffPost.
Bank watchdogs are particularly concerned about the bill's offshoring provision. Only major financial centers like London and Frankfurt, Germany, would be eligible for this offshoring loophole, and Republicans say foreign oversight in those locations will suffice. But European bank regulators are internationally renowned for their laxity. JPMorgan Chase infamously lost over $6 billion in its London Whale trading debacle, named for the locale in which the bank's trader was placing his risky bets. German banks, meanwhile, are notorious for buying up mountains of bad debt in a long series of financial crises, including the current European mess with Greece and the 2008 U.S. housing calamity.
The 2010 Wall Street reform law changed the way banks trade derivatives. Under the law, when to companies want to trade, they're required to go through a central counterparty which guarantees each side's ability to make good on the trade. Banks also have to post margin on the trades -- a small fee to help cover any bet that it ultimately can't make good on. The changes provide regulatory and market oversight that didn't previously exist, and were designed to prevent a "cascade of failures," in which one bank's downfall would quickly topple its trading partners. European standards are weaker.
"This literally incentivizes companies to send banking jobs overseas," Kelleher said. "The foreign country gets the jobs, the benefits and the tax revenue, and the U.S. taxpayer gets the bill."
Before You Go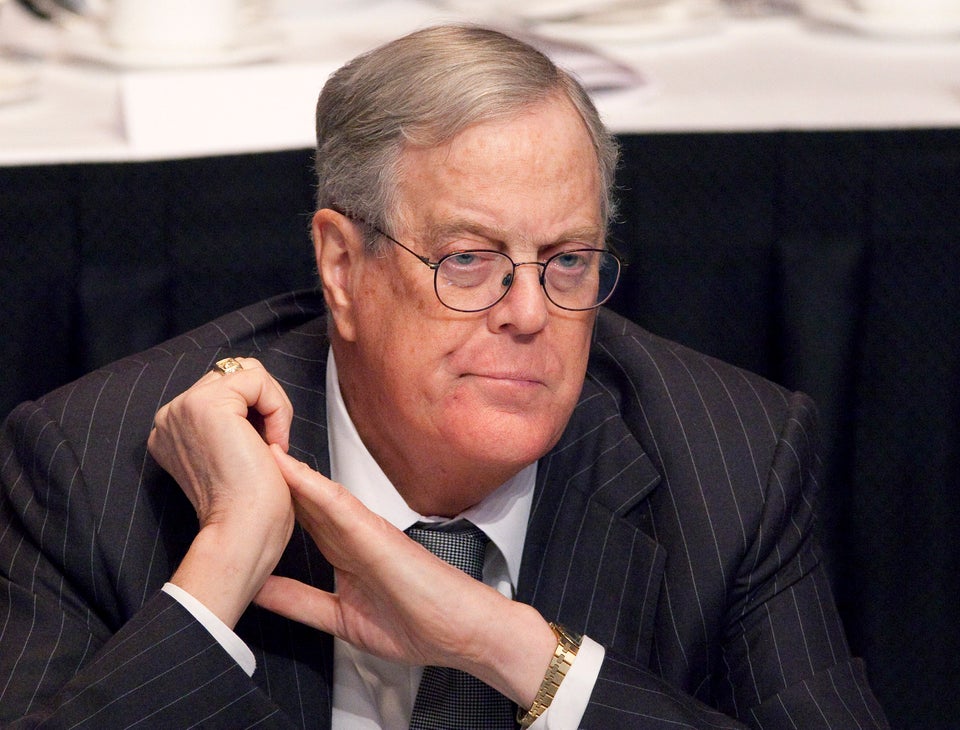 David Koch
Popular in the Community