WASHINGTON -- Koch Industries, Inc., the corporation led by conservative billionaires Charles and David Koch, is holding discussions with a coalition of strange bedfellows to tackle criminal justice reform.
In conversations with people like Sen. Cory Booker (D-N.J.) and organizations like the ACLU, the Koch brothers are homing in on reducing overcriminalization and mass incarceration, as well as reforming practices like civil forfeiture. Progressives, rather than giving the Kochs the stink eye, are welcoming their efforts.
Koch Industries general counsel and senior vice president Mark Holden told The Huffington Post that he met with Booker and his staff a few weeks ago. The New Jersey Democrat and Sen. Rand Paul (R-Ky.) are co-sponsoring the REDEEM Act, legislation that would give states incentives to increase the age of criminal responsibility to 18, among other reforms.
"We must reform our criminal justice system. It is an urgency more and more recognized by people across the political spectrum," Booker told HuffPost in an email. "To make change in Congress and beyond I will work with just about anyone who shares my passion for this mission -- that includes Republican members of Congress and other leaders I've begun to work with like Newt Gingrich, Grover Norquist and Charles Koch's team."
Booker and Koch Industries also attended a criminal justice discussion held on Jan. 28 by the Constitution Project, a nonprofit. Joining them were Sen. Al Franken (D-Minn.), Sen. Rob Portman (R-Ohio), Rep. Jim Sensenbrenner (R-Wis.) and Rep. Danny Davis (D-Ill.). Koch Industries shared a panel with former Obama administration official Van Jones. Jones has been a longtime critic of the conservative-cause financiers, but on criminal justice, they are finding common ground.
"We were hugging and shaking hands and laughing it up," Holden said.
"I think it was funny and odd for both of us," Jones told HuffPost. "But progressives need to be as sophisticated as the systems we are trying to change. We should fight against the Koch Brothers on environmental issues, where they are wrong. But we should work with them on criminal justice issues, where they are right. The people in prison deserve that."
Koch Industries is also speaking with other groups, like the ACLU, the Pew Charitable Trust Public Safety Performance Project and the Brennan Center for Justice, and helping Generation Opportunity and Families Against Mandatory Minimums produce a documentary on mandatory minimums.
Inimai Chettiar, director of the Justice Program at the Brennan Center for Justice, said there are several conservative leaders they've wanted to have participate in Brennan Center projects, and Koch Industries has been "extremely helpful in connecting us with folks on the conservative side."
Last month, Koch Industries signed onto a letter to House Speaker John Boehner (R-Ohio) supporting a proposed amendment to House rules that would give the Judiciary Committee more oversight on bills that create new criminals laws and modify penalties. The amendment was approved. Molly Gill, government affairs counsel for FAMM, called that letter a "concrete example" of how the Kochs are putting action behind their words.
Criminal justice reform isn't a new area for the Kochs. A spokeswoman says the company has five to six people working on these issues and has donated "seven-figure funding" in total over the past 10 years to the National Association of Criminal Defense Lawyers, an organization that promotes justice and due process. (To put that figure into perspective, however, the Koch Brothers have reportedly budgeted $889 million for the 2016 presidential and congressional races alone.) In addition to giving grants to NACDL, Koch has invested a significant amount of money on criminal justice reform efforts for more than 10 years, the spokeswoman said.
But this year, Holden said, there's a lot more focus on criminal justice across the board and "we've gotten swept up in that." The outreach to like-minded liberal allies and the behind-the-scenes work suggest that beyond being just swept up in a movement, the Kochs are seeking to help direct it.
The Kochs have outlined five pillars for reform: The right not to be prosecuted for accidentally breaking the law; fair treatment under the law; competent and fair representation; mandatory minimum reforms; and restoration of rights.
When Koch Industries leaders talk about criminal justice, they at times sound like bleeding-heart progressives. Holden, for example, called civil forfeiture practices, where police seize assets from someone accused of a crime, "a huge, grave injustice." He also praised Attorney General Eric Holder for taking a stand against the practice, and worried about the longterm consequences of the U.S. prison system.
"[S]omeone makes a mistake sometimes and it falls on the rest of their life, because they can't get a job, they can't vote, can't get a loan, that type of thing," he said.
On the case of Eric Garner, an unarmed black man who was suspected of selling cigarettes illegally, and died from being put in a chokehold by a police officer, Holden said, "Do we really need New York's brave police force enforcing loose cigarette tax laws?" He added that generally, putting law enforcement in situations "where there's not really violent crimes or things like that they should be doing" ends up increasing "the tension between communities and law enforcement."
Like other elements of their political activism, Koch Industries' interest in reforming criminal law can be traced, in part, back to their bottom line. The company has said it first became interested in criminal justice after its experience with a 1995 case in Corpus Christi, in which it was accused of dozens of alleged environmental crimes before the charges were dropped and Koch Petroleum Group LP only pleaded to a concealment of information charge. That case "got us to thinking about what might be happening out there to the average person," Holden said.
But organizations that work on criminal justice reform say they believe the Kochs' efforts are sincere and not monetary.
"I think there are some people that worry perhaps the Kochs might be prioritizing things like environmental crime, or crimes more likely to impact white people with means," said Alison Holcomb, the national director of the ACLU's Campaign to End Mass Incarceration. "My experience so far has been that they are genuinely interested in the issues across the board."
Before You Go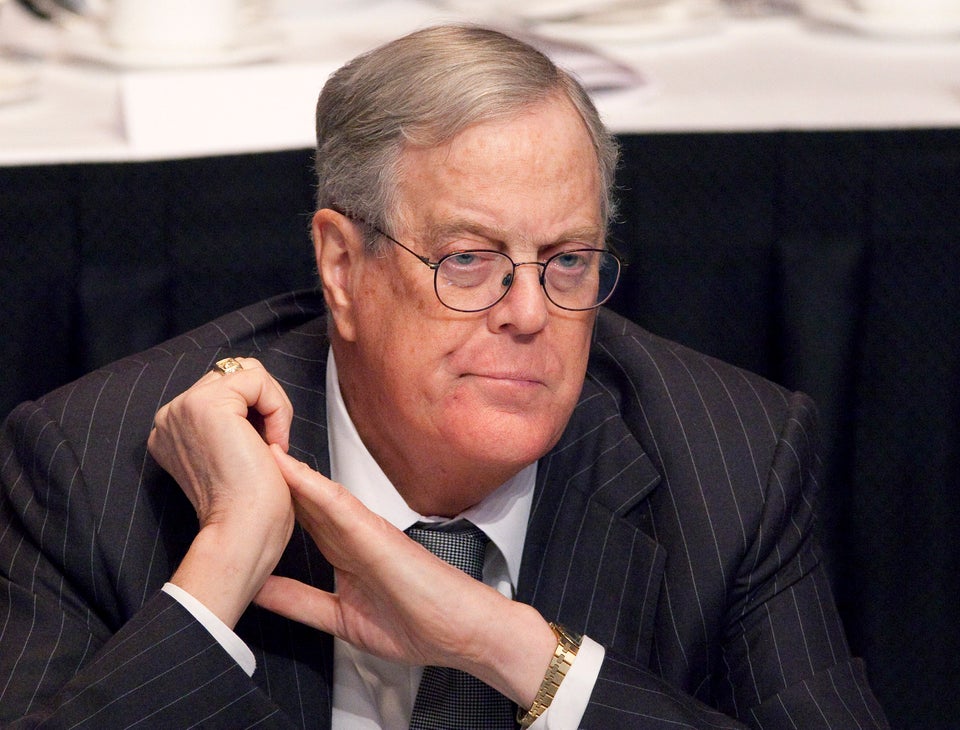 David Koch
Popular in the Community