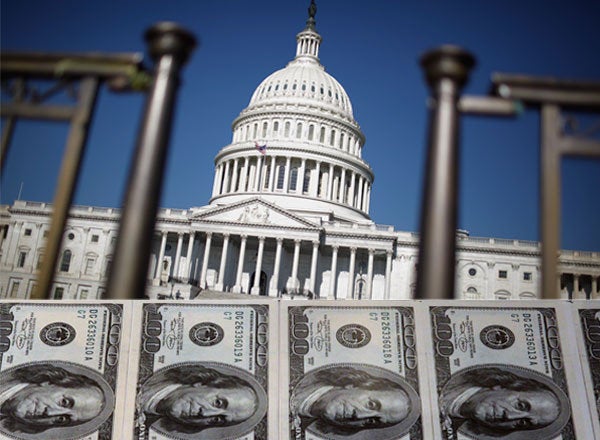 ARLINGTON, Va. -- A recently-formed judicial "academy" funded by industry groups and conservative billionaire brothers Charles and David Koch is offering members of Congress and their staff free meals and trips in order to "educate" the lawmakers on controversial pro-business reforms.
The group is the Congressional Civil Justice Caucus Academy (CCJCA), launched earlier this year by the Law and Economics Center (LEC) at George Mason University's School of Law. Despite being part of the university, the right-leaning LEC depends entirely on specially-designated donations which come from a core group of about 50 corporations and foundations, including The Charles G. Koch Charitable Foundation, Merck, Exxon, Eli Lilly, Altria, Wal-Mart, and the conservative Bradley Foundation.
Unlike similar LEC programs for judges and attorneys, however, the CCJC academy is connected to Congress via the Congressional Civil Justice Caucus. The two groups share the same goals, but are separate entities. Formed in February of this year, the caucus is made up of Republicans and Blue Dog Democrats committed to promoting "a civil justice system that ... advances job creation and economic growth." For co-chair Bob Goodlatte (R-Va.), that means a justice system wiped clean of "excessive and frivolous litigation" and "inefficient rules." Goodlatte's caucus co-chair is retiring Democrat Dan Boren (Okla.), who is joined by Republican House Judiciary Committee chairman Lamar Smith (Texas) as well as GOP Reps. Randy Forbes (Va.), Trent Franks (Ariz.), Paul A. Gosar (Ariz.) and Lee Terry (Neb.). On the Democratic side are Utah's Jim Matheson, Minnesota's Colin Peterson, Nick Rayhall of West Virginia and Loretta Sanchez of California.
According to promotional materials, the caucus academy aims to provide "rigorous and balanced education programs on a range of civil justice issues for the benefit of the general public and members of the U.S. Congress and their staff."
Thus far, however, the academy has fallen short of this goal.
During the past three months, the CCJC academy has organized a closed symposium on Capitol Hill and a lavish, invitation-only gala dinner for legislative branch staff at the impressive Reagan International Trade Center, both of which were free for attendees. Next up is a three-day getaway -- no cost to attend -- for senior congressional staff in colonial Williamsburg.
The academy's executive director, Geoffrey Lysaught, declined to comment on the events.
According to an invitation and an agenda obtained by The Huffington Post for the October retreat, participants will be "educated" on "civil justice issues" by three different experts, all of whom belong to the same controversial "Law and Economics" movement in the legal community. The movement's speakers favor the use of economic principles to make legal decisions, with a high value placed on the most efficient solution. As such, Law and Economics tends to favor corporations over individuals where lawsuits and punitive damages are concerned, making it especially popular among industries with high litigation rates and plaintiff class actions, such as pharmaceuticals and consumer goods. These same industries are the ones that fund the academy's work: In addition to the corporations above, the Law and Economics Center has received donations from Verizon, GlaxoSmithKline, Johnson & Johnson, Google, State Farm, Pfizer, Conoco Phillips, Boeing, AT&T and 3M -- every one of which has been the target of at least one class action lawsuit since 2009.
For Bill Allison, editorial director of the transperancy advocacy group The Sunlight Foundation, this specter of friendly corporations and philanthropists who invest in programs aimed at "educating" members of Congress raises plenty of red flags. The academy's near-total reliance on political and industry stakeholders to survive does too, as the group simultaneously reaps the benefits of being part of a research university.
On Capitol Hill, George Mason University's status as an "institution of higher education" means it enjoys a special status in House Ethics Rules, and by extension, so does the CCJC Academy. This was especially clear on the invitation to next month's staff retreat, where the exception for universities from the traditional gift ban on multi-day travel was prominently featured. A few lines above it was one of the weekend seminars, entitled "How Advertising Helps Protect Consumers."
"Situations like this threaten to defeat the whole purpose of the gift ban," Allison told The Huffington Post, noting that the academy's corporate donations essentially function as tax-deductible support for advocacy work, while the university's nonprofit status means that donor money can be spent entertaining lawmakers. "Even the smallest exceptions to the gift ban allow people to find some way to wine and dine members of Congress," he said.
WATCH:
Popular in the Community