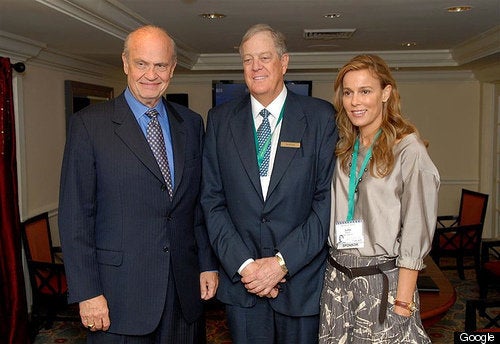 A spokesman for Koch Industries, the private energy conglomerate that has taken a leading role in bankrolling conservative causes, forcefully lashed out at the White House on Tuesday evening for casting the company as an electoral bogeyman.
Responding to a story in the Huffington Post -- which reported that Democrats are attempting to turn election spending by Koch (and other companies) against the Republican candidates ostensibly benefiting from the money -- Nancy M. Pfotenhauer, a spokesperson for Koch Industries, offered the following response:
Koch Industries is an American company led by citizens who exercise their freedom to speak out on issues and participate openly in our political democracy. That the White House would single out this company, which employs 50,000 American taxpayers and its leadership, for vague and partisan political attacks without making any allegation of actual wrong-doing is deeply distressing and should be of concern to all Americans. We are additionally concerned that the White House would demand transparency from behind the veil of anonymity. We would ask White House officials to go on the record with their accusations or formally retract their statements. Koch Industries pays its corporate taxes and fully complies with all tax laws.
Pfotenhauer's dig at the anonymity used by White House officials seems somewhat off-base. The administration and allied Democrats have been quite willing to publicly attack the group -- and the associated Americans for Prosperity -- for funding a host of Republican causes in shadowy, non-transparent fashion.
But the pushback reflects some of the sharpest yet to come from the usually private, if not downright secretive oil company. Pfotenhauer is a seasoned GOP operative. And her elevated role on behalf of Koch suggests that officials there are prepping for even sharper political battles ahead. Indeed, on Tuesday, Koch lawyers accused the White House of looking through the company's tax returns for dirt, a charge the White House denied.
That said, the increasingly cantankerous relationship between Koch Industries and the Obama administration does seem to benefit both parties involved -- giving Democrats a corporation with all the obvious features to vilify (oil-based, politically-active) while elevating Koch into a well-moneyed anti-Obama hero within the conservative community.

Calling all HuffPost superfans!
Sign up for membership to become a founding member and help shape HuffPost's next chapter