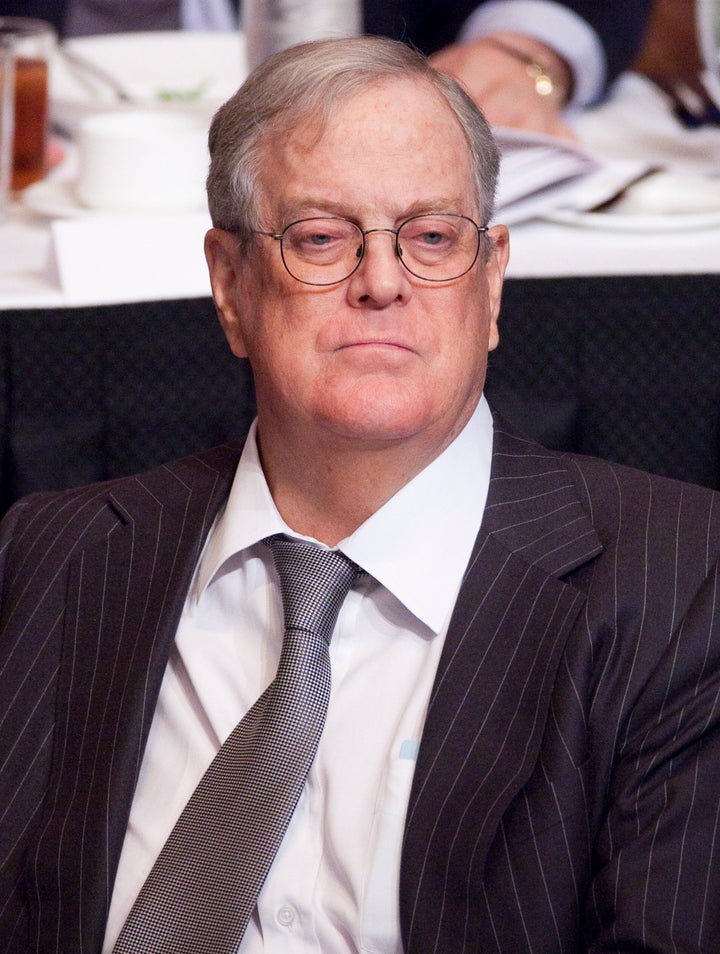 The Koch-brothers-funded Americans for Prosperity spearheaded a letter published as a full-page advertisement in Politico on June 9, 2014, attacking wind energy and claiming that 117 organizations oppose reviving wind-energy tax breaks that expired at the end of 2013. The Energy and Policy Institute examined the list of signatories and discovered that a majority of the groups have ties to the Koch brothers or other fossil-fuel interests.
The fossil-fuel industry continues to enjoy billions in taxpayer handouts that are written into the tax code and funds supposed "free-market" front groups to attack clean-energy tax breaks. We've tracked fossil-fuel-funded front groups mobilizing across the country to weaken the clean-energy industry, which has become a major threat to the fossil-fuel status quo.
Americans for Prosperity's letter is just the latest example of fossil-fuel front groups attacking clean energy on the federal level. The letter includes 60 organizations that are either funded by fossil-fuel interests such as the Koch brothers, ExxonMobil, and the American Petroleum Institute or have known ties to the Koch brothers' political network (or both). At least 36 of the organizations have been exposed as fossil-fuel-funded front groups. The remaining 24 organizations have been known to operate within the Koch brothers' vast political network as allies of the State Policy Network, American Legislative Exchange Council, or other Koch-backed organizations and may very likely be funded by fossil-fuel interests.
Forty-two of the organizations are local anti-wind groups, many of which have minimal public presence or are small collections of local anti-wind activists. Due to the lack of an online footprint, we were unable to determine the size or funding of many of these groups. However, some of the local anti-wind groups listed attended a meeting organized by a fossil-fuel front group in Washington, D.C., in 2012. In total, 21 of the 117 organizations have no public presence or a sparse online footprint. For example, Sherman.Wind.Resistance has no public presence except for a single Word document referencing the email address sherman.wind.resistance@gmail.com. The organization Lee County Informed is a group of 10 families fighting a local wind farm, but it has minimal public presence and no online footprint. Another organization, Save our Skies Ohio, has been unincorporated in the state of Ohio, according to business records.
Finally, Americans for Prosperity claims that 117 organizations signed the letter, but there are only 116 organizations listed, and the list includes entities that are hardly organizations. For instance, The Weyrich Lunch is not an organization but a weekly gathering of elite conservatives that happens every Wednesday in Washington. The lunch gathering is affiliated with Grover Norquist's Wednesday-morning meetings of fossil-fuel-funded Americans for Tax Reform. Less Government is a front group managed by consultant Seton Motley, but it has no website at its URL, lessgovernment.org, and no public presence except for Seton Motley's work as a pundit. Ohioan for Affordable Electricity has no online footprint and is actually just one anti-wind activist, Tom Stacy. Stacy apparently runs Save Western Ohio, but the organization's website is a collection of old or dead links.
It's no surprise that Americans for Prosperity is inflating numbers and including organizations that aren't really organizations to pressure members of Congress. The Koch-funded political network has a history of spreading misinformation to achieve its goals. We've seen this tactic time and again in the fight over renewable-energy standards. Koch-funded State Policy Network member Beacon Hill Institute produced a series of flawed reports attacking renewable-energy standards in 20 states. The reports ignored experts from the Energy Information Administration, thus inflating the cost of clean energy, and, in producing their analysis, excluded state laws meant to reduce the cost of reaching the clean-energy standards. And Americans for Prosperity Kansas was criticized by Dave Kerr, a former Republican state senator and president of the Kansas Senate, for producing a television advertisement that is provably false that inflated the cost of the clean-energy law by nearly a factor of 10.
With electricity from wind now cheaper than coal and natural gas, fossil-fuel interests are desperate to weaken the clean-energy industry, so we're likely to see more misinformation and lobbying efforts, like Americans for Prosperity's latest letter, in the future.
Calling all HuffPost superfans!
Sign up for membership to become a founding member and help shape HuffPost's next chapter