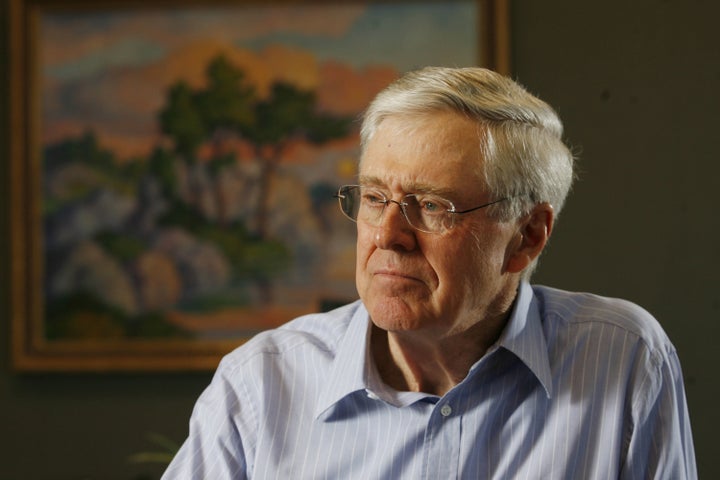 COLORADO SPRINGS, Colo. ― Leaders of the Koch Network of conservative megadonors opened the group's annual summer summit with harsh criticism of President Donald Trump, slamming his rhetoric as divisive and his push for a trade war as misguided.
This year's gathering of donors was the network's largest ever, with more than 500 donors pledging more than $100,000 apiece toward the network's efforts, which include everything from backing nonprofits and universities to lobbying for regulatory rollbacks to attacking Democratic senators.
The network, which has spent millions over the past 15 years to shape the GOP in its image, has had an up-and-down relationship with the president. It refused to back his election bid in 2016, but has succeeded in filling the Trump administration with allies who share its economic libertarian vision, often with the help of Vice President Mike Pence. It's praised the president's judicial selections ― and has said it will spend heavily to promote the nomination of Brett Kavanaugh to the Supreme Court ― as well as the GOP tax cuts. But it has broken with him on immigration and trade.
In a briefing for reporters, top Koch network officials said the Trump administration's rhetoric was making it more difficult for politicians and Americans to find common ground.
"The manner in which people engage public policy matters," said Brian Hooks, the co-chair of the Seminar Network, the umbrella group that hosts the gatherings. "And it's gone way beyond tone, way beyond tactic. The divisiveness of this White House is causing long-term damage."
"When in order to win on an issue, somebody else has to lose, it makes it very difficult to unite people to solve the problems in this country," Hooks said.
HuffPost, along with other news organizations, was invited to attend the event after accepting ground rules set by the Koch Network, including not identifying donors unless they agree to an interview.
A number of prominent Republican officials were set to attend the event, including Florida Gov. Rick Scott, who is the GOP nominee to challenge Democratic Sen. Bill Nelson in November; Rep. Marsha Blackburn, who is running against Democratic former Gov. Phil Bredesen in Tennessee's Senate race; and Nevada Attorney General Adam Laxalt, who is challenging Democrat Steve Sisolak for the Silver State's governorship.
Kentucky Gov. Matt Bevin, Georgia Rep. Doug Collins, Texas Sen. John Cornyn and South Carolina Sen. Tim Scott were also in attendance.
The Koch officials reserved much of their ire for the president's trade policy, which has sparked talk of a trade war with China. James Davis, a network spokesman, blasted Trump's tariffs as a "tax" and said they would hurt the economy. Alarmed by the president's actions, the network recently started a multiyear, multimillion-dollar effort to promote the benefits of free trade, including seminars for conservative activists across the country.
"Protectionism is bad trade policy," Hooks said.
David Koch, 78, the younger of the two brothers who originally gave the network its name, recently stepped down from his roles with the donor network and with the family's conglomerate due to ailing health. He and his brother Charles both made a fortune with Koch Industries, and have estimated net worths in the tens of billions of dollars.
It was Charles who first founded the network, gathering prominent businesspeople in 2003 to raise concerns over the Bush administration's steel tariffs and what they saw as government overspending.
"We see some similarities today," Davis said at the start of the briefing.
Popular in the Community