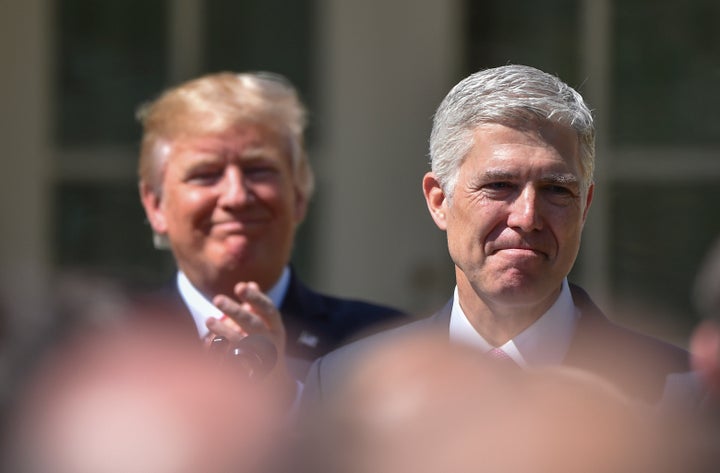 "Faced with a vacancy on the highest court, we encourage President Trump to build on that success by nominating a Supreme Court Justice in the spirit of Justice Neil Gorsuch — a nominee who will respect the rule of law, interpret the Constitution as written, and not seek to advance a political agenda," said Sarah Field, the vice president for judicial strategy at conservative advocacy group Americans for Prosperity.
The early promise of big spending shows the stakes of the fight over the nomination, which Democrats may be powerless to stop. Republicans see a chance to enshrine a conservative majority on the court for another generation, and their donors are willing to spend heavily to make it happen.
The network, which includes Americans for Prosperity, Freedom Partners, Concerned Veterans for America and other groups, spent millions supporting Gorsuch's nomination with waves of direct mail, canvassing, digital ads in a dozen states, town halls and more than 500,000 phone calls.
In a phone interview, Field indicated the group would support any candidate on Trump's list of potential Supreme Court nominees.
"We're impressed with the whole list," she told HuffPost. "The president has a great record of picking judges with a fidelity to the Constitution."
Field said it wouldn't be clear which senators or states it might target with ads until a nominee was announced. "This is going to be an even bigger fight," she predicted.
The vote is likely to put intense pressure on a small group of Democratic and Republican senators whose votes are considered up for grabs as the court's swing justice is replaced. The most likely targets are two moderate Republicans who support abortion rights, Maine Sen. Susan Collins and Alaska Sen. Lisa Murkowski, along with 10 Democrats who are facing re-election in states President Trump won in 2018.
Of those 10 Democrats, three — Indiana Sen. Joe Donnelly, North Dakota Sen. Heidi Heitkamp and West Virginia Sen. Joe Manchin — backed Gorsuch's nomination, while seven others, including Missouri Sen. Claire McCaskill, Montana Sen. Jon Tester and Florida Sen. Bill Nelson, stood with the rest of the Democratic caucus to oppose his nomination.
Another conservative group, the Judicial Crisis Network, has already launched a $1 million digital and cable television buy aimed at pressuring vulnerable Democrats to vote for a prospective Trump nominee. The group did not name which senators it would target.
The ad praises Trump for appointing Gorsuch, who a narrator calls a "fair and independent justice, committed to the Constitution." The narrator also claims Senate Minority Leader Chuck Schumer, New Jersey Sen. Cory Booker, Massachusetts Sen. Elizabeth Warren and others will "will lie and attack the nominee."
"But don't be fooled. President Trump's list includes the best of the best," the ad's narrator concludes, before directing viewers to call their senators and support Trump's nominee. "And with your help, America will get another star on the Supreme Court."
Judicial Crisis Network has been a major spender in past Supreme Court fights, spending $7 million to oppose Merrick Garland's nomination during President Barack Obama's administration.
Popular in the Community