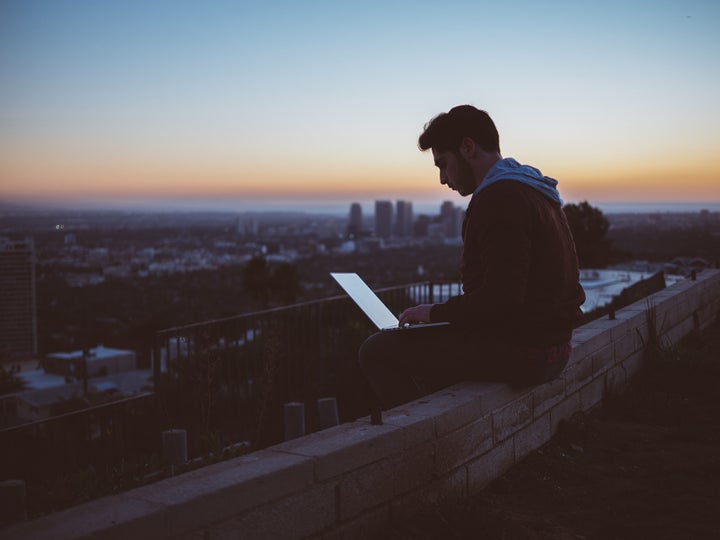 For the past three years, American Commitment, a small nonprofit with ties to the donor network spearheaded by billionaire industrialists Charles and David Koch, has been actively opposing net neutrality with social media, commentaries, and a little-known coalition whose members include other Koch nonprofits and prominent conservative groups.
Before the FCC's ruling in 2015 to protect net neutrality, American Commitment President Phil Kerpen actively opposed the policy with coordinated anti-net neutrality comment submissions and blog posts.
Since the new FCC Chairman, former Verizon lawyer Ajit Pai, announced on November 21 his plan to overturn the 2015 net neutrality ruling, Kerpen has supported its repeal to his over 26,000 Twitter followers, posting over 40 tweets and retweets about net neutrality in that period. He also has argued against net neutrality in commentaries published by CNS News and Townhall.
The FCC is expected to vote Thursday in favor of repealing the net neutrality protections as outlined in Pai's proposal.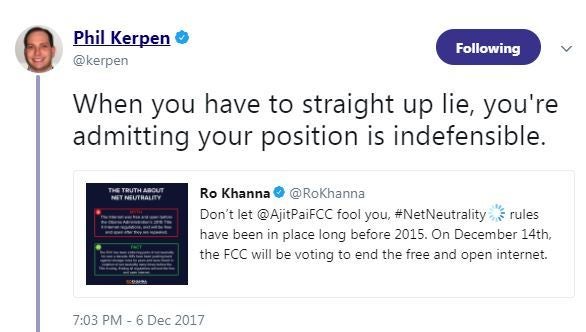 According to American Commitment, nearly 370,000 anti-net neutrality comments have been submitted to lawmakers through its website. In 2015, however, Kerpen came under scrutiny when language matching email templates from American Commitment appeared in fraudulent anti-net neutrality emails to lawmakers. The emails purported to be from those lawmakers' constituents, but the firm managing some lawmakers' "contact" pages later found that many did not originate in the districts they claimed.
American Commitment's 2016 tax documents show that the nonprofit's funding was almost entirely made up of contributions in the tens of thousands. As a 501(c)(4) social welfare organization, the nonprofit is not required to disclose its donors, however, so it's unknown whether any telecommunications companies with a stake in ending net neutrality have funded the group's operations.
Freedom Partners Chamber of Commerce, the financial hub of the Koch donor network, gave $50,000 to American Commitment in 2016, according to the former's tax filings.
Earlier this year, a memo attributed to Kerpen argued that dominant web platforms like Facebook, Twitter and Google should be required by law to disclose "how traffic is treated" and "the standards used for limiting speech" because the companies, he said, were "systematically promoting liberal views and limiting or even banning conservatives."
The disclosure proposal would "put us on the offense on the net neutrality issue," according to the memo, which mentions Pai's plans to revoke the FCC's classification of internet service providers as common carriers under Title II and suggests Congress should be the body to establish net neutrality rules.
"That draft memo represented preliminary thoughts on complex issues and was not intended for publication," Kerpen said in an email to CRP when asked about the memo.
Pai, the FCC chairman, raised the same point made in the memo in a recent Washington Times op-ed. "Large Silicon Valley platforms today pose a far greater threat to a free and open internet than do internet service providers," Pai wrote.
Kerpen chairs the Internet Freedom Coalition (IFC), a collection of educational and social welfare nonprofits and conservative platforms including American Commitment, Americans for Tax Reform, the American Legislative Exchange Council (ALEC), and other politically active nonprofits. Verizon, Comcast, Sprint and AT&T have all been members of ALEC or held positions on its committees.
Of the IFC's 22-member organizations, three are currently or were formerly linked to the Kochs. Kerpen's own ties to the Kochs go back to his days as vice president of policy at Americans for Prosperity, the Koch brothers' flagship political group.
In an email to CRP, Kerpen said that the IFC was "not a legal entity" but rather an "ad hoc coalition of groups generally opposed to taxation, regulation, and United Nations control of the Internet." (He opposes both U.S. and international net neutrality regulation).
Berin Szoka of TechFreedom.org, which is listed as a member on IFC's website, said Lori Armistead, a former American Commitment consultant, approached his organization to join the coalition five years ago.
"I haven't talked to her since then, or otherwise heard of the coalition," said Szoka, TechFreedom's president.
According to Szoka, Armistead said IFC's activities included coordinating media opportunities, publicizing its members' positions on social media and submitting public comments to the FCC.
IFC's website was created in 2006, and the site's copyright reads 2009.
Todd O'Boyle, a media program director at the pro-net neutrality watchdog group Common Cause, said he had not heard of the Kerpen's coalition.
Timothy Karr, director of the pro-net neutrality advocacy group Free Press, described Kerpen's impact on the net neutrality debate as "minimal."
According to tax filings obtained by CRP, Kerpen's member organizations have collectively received about $550,000 in grants since 2015 from the National Cable & Telecommunications Association (NCTA), the major trade group representing internet and cable TV providers.
Related
Popular in the Community