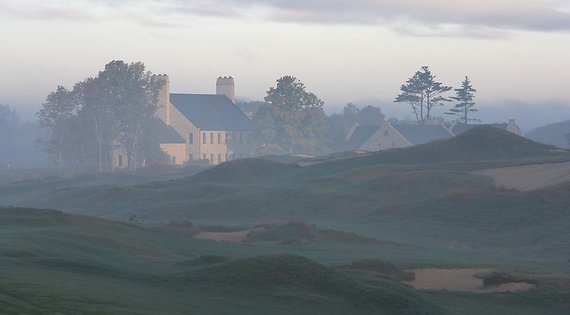 Nothing about Kohler, Wisconsin, is unintentional. It is the expression of a remarkable vision unique to America when planned communities--sometimes characterized as Utopian--sprang up in the 19th century as places both autonomous and isolated from the stewpot cultures of the big cities.
Many, the various Shaker and Amish communities, were wholly based on religion and philosophy. Others were founded on scientific and social reform, like Boatload of Knowledge in New Harmony, Indiana.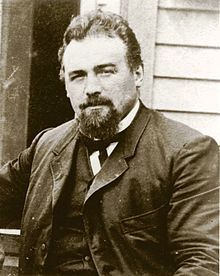 But while there were certain elements of all those in the establishment in 1873 of Kohler, its founding was foremost a way for Austrian immigrant John Michael Kohler (above) and Charles Silberzahn to maximize efficiency and reduce costs for their booming Sheboygan Union Iron and Steel Foundry, which made their signature cast iron bathtubs and farm implements and later produced drinking fountains, plumbing fixtures, engines, generators, and, of course, the kitchen sink.
It was Kohler's idea to have his workers live within a short distance of his new plant, set on 28 acres of farmland, so a village was developed and incorporated in 1912. If not wholly Utopian, Kohler was truly a company town where Kohler's son Walter contended "A worker deserves not only wages, but roses as well." Even if it was not always a bed of roses (workers have called four strikes since 1934), the mostly immigrant workers paid only $27.50 a month for room and board to stay in a marvel of Tudor architecture named The American Club, opened in 1918, which included a pub, bowling alley and barbershop. The management as well provided lessons in the English language and for gaining American citizenship. Aesthetic standards for homes were formulated, and a Residential Review Board was established to oversee any further development.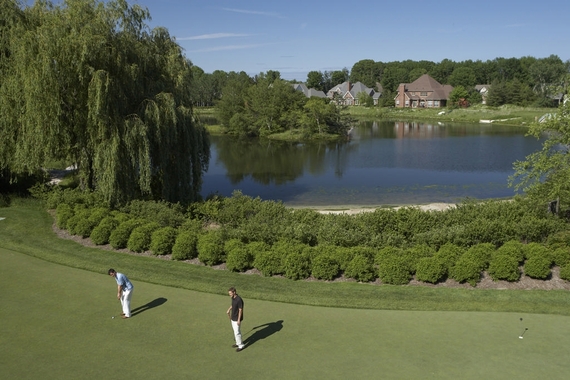 Around the Club the Olmsted Brothers, whose masterpiece of landscaping had been NYC's Central Park, helped create a 50-year master plan that would take full advantage of the natural beauty and quietude of the woods and lake lands of northeastern Wisconsin.
With an increase in families in the town, workers wanted their own homes, mostly to be built and sold at cost by the company, so that the American Club was eventually reconfigured as a grand inn, which was placed on the National Register of Historic Places in 1978.
I shall report next week specifically about the American Club, its various lodges, activities, and restaurants, but let me speak of the attractions that make Kohler itself a beautiful and very special place to visit. My wife and I did so in winter, which I do not highly recommend, for the glory of the territory bursts forth in spring, continues through a brilliant summer and ends in a riot of fall colors, from the yellow and red foliage to the blue and silver shadings of the sky and rivers, the gold of farmland and the diverse greenery of forests.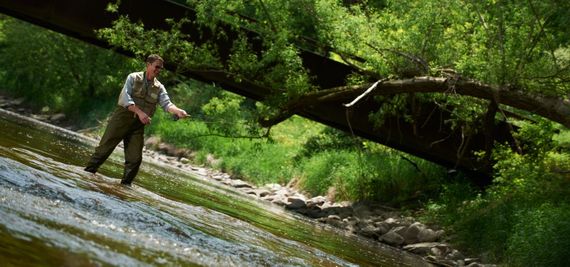 As you can imagine in a land of lakes and rivers, fall is an ideal time to fly fish the Sheboygan River or Lake Michigan for spawning king salmon and steelhead, or canoeing and kayaking down the 25-mile long river, though seven miles is the usual route people take for a day trip. Kohler's River Wildlife offers upland and bird hunting at three fields on different terrain, in addition to trap shooting. Of course, merely hiking or meandering at one's leisure over the 500 acres of the town's land can be a blessing in summer and fall for anyone who wants to appreciate Wisconsin as slowly as possible. (You'll need snowshoes in winter.) Horseback riding is also available. As you might imagine, golf is one of the principal attractions for visitors to the area, and the Club has four courses, two each at Blackwolf Run and Whistling Straits, designed by legendary architect Pete Dye. They have hosted three PGA championships, a US Senior Open and two US Women's Opens. In 2020 the prestigious Ryder Cup Matches will be held at Kohler.
Even in winter I found the Kohler Design Center to be among the area's most fascinating attractions, since there is a Heritage Museum of Kohler history--the brick building of 36,000 square feet was transformed from a recreation hall built for the workers--a testament to American ingenuity and original design as fine as the Smithsonian's Arts and Industries Building in Washington, DC. Here are the plows that broke the land, the earliest tubs and stoves, massive generators and diesel engines for the war, and a cache of industrial graphics that are priceless, along with a modern art section whereby American artists pay homage to industrial themes.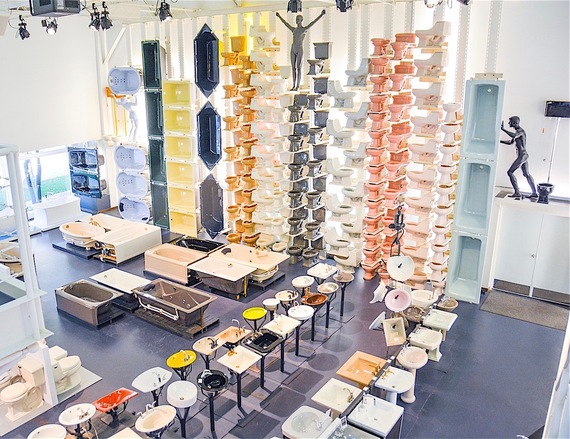 The Design Center itself is also a showcase for contemporary Kohler bat and kitchen designs, not least its "Great Wall of China," made from many colored toilets.
The town has two shopping areas, one at Woodlake and another at Deer Trace. The former is home to many local designers and artists, like Art Imig's men's clothing store, Kacia women's clothing, Wisconsin Trader home furnishings, and Scentualities for perfume and lingerie, as well as an Italian restaurant named Cucina, the Craverie Chocolatier Café, and the ArtsSpace Gallery.
In nearby Sheboygan the non-profit John Michael Kohler Arts Center emphasizes folkloric and craft-related forms including works by self-taught artists, all located with Kohler's restored mansion and the former Mead Public Library.