Welcome to the inaugural installment of "WTF, CSA?" Each week this CSA season, we'll help you make use of your overflowing CSA baskets. You ask, we answer. That's how this works. Or rather, you shouted, "WTF?" into your CSA box and now we're going to tell what on earth to do with all that kohlrabi.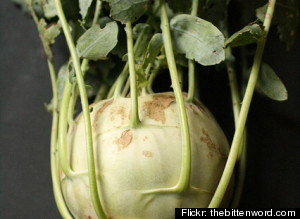 It's easy to see how kohlrabi could throw you off your game the first time you see it. It looks like someone teleported a vegetable from Mars right into your kitchen. But in truth, kohlrabi is incredibly versatile. Kohlrabi, cabbage, Brussels sprouts and kale are all cousins, so you can expect that any flavor that goes nicely with one, will be lovely with the other.
After asking a formerly vegetarian friend what she likes to do with kohlrabi best, she said, "Honestly, just peel it, slice it, sprinkle it with salt and eat it raw." We love her style and hope you follow suit. You can basically treat kohlrabi, both the green and purple varieties, like a sweet, overgrown radish. Do be sure to remove all of the peel (which is really tough), unless you plan to cook it until it's soft.
Kohlrabi is a crispy, crunchy alien vegetable that you can prepare in more ways than we were able to catalogue. Here are some of our favorites: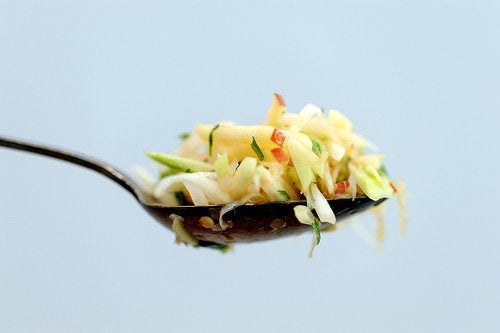 WTF, CSA?: Kohlrabi
Related