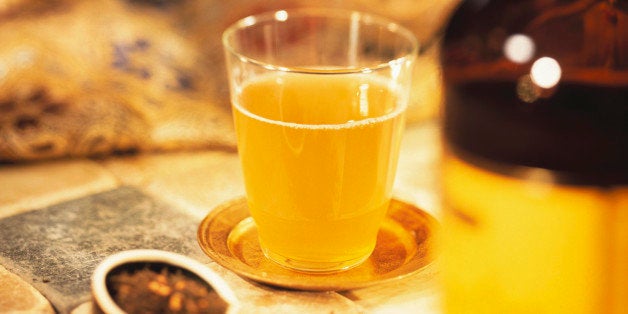 In the past six months or so, I've noticed that the vending machines I frequent for a midday snack have gradually been taken over by bottles of Kombucha tea. These tart probiotic teas are a far cry from the cavity-inducing sweet teas that I savor while visiting my home in South Carolina.
A 2012 L'Oreal Research & Innovation study found that Kombucha extract was "beneficial to the skin, helping to maintain moisture and elasticity so it appears more even in tone and texture." No wonder it has popped up in cleansers, eye gels and moisturizers.
Below are seven Kombucha beauty products and their benefits.

Art/GIF by Raydene Salinas
1. Marie Veronique Organics Treatment Serum. $90, MVOrganics.com. Blended with vitamin B5, niacinamide, argan oil, emu oil and, of course, kombucha extract, this facial serum helps to reduce acne breakouts and control oil buildup.
2. Murad Pore & Line Minimizing Hydrator. $50, Sephora.com. I was already a huge fan of this lightweight moisturizer before taking a closer look at its ingredients label. It leaves your irritated skin calm and virtually poreless.
3. Avalon Organics Lavender Luminosity Revitalizing Eye Gel. $20, Walgreens.com. You can rest assured dabbing this gel onto your puffy and dark under-eyes knowing that it's free of parabens, synthetic colors and fragrances. Instead, you'll get a soothing mix, including aloe vera and lavender.

4. Philip B Chai Latte Soul & Body Wash. $35, Neimanmarcus.com. This body wash smells almost good enough to eat thanks to exfoliating, toning and hydrating ingredients like honey, ginger, black tea and milk proteins.
5. EmerginC Kombucha Cleanser. $34, Dermstore.com. This face wash is gentle yet effective enough to wash away a day's worth of dirt and grime, leaving behind a more luminous glow.

6. Fresh Black Tea Instant Perfecting Mask. $88, Sephora.com. Our complexions can all use a boost after enduring winter, and this black tea, lychee seed extract and jicima root juice blended mask helps to soften rough skin and stimulate natural collagen.
7. Juara Sweet Black Tea & Rice Facial Moisturizer. $49, Juaraskincare.com. Here's another anti-aging option in the form of a Kombucha moisturizer that's safe to use on normal to dry skin, as well as mix with your foundation.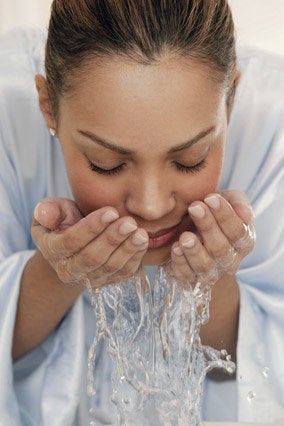 What Women With Great Skin Do Every Day