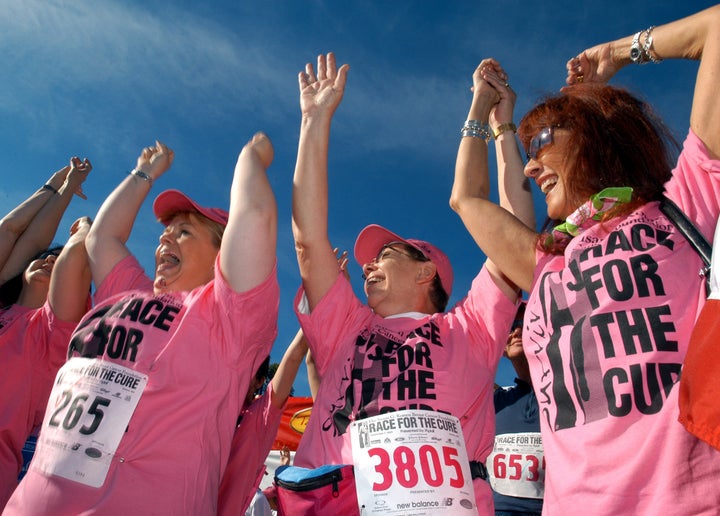 Sweating do-gooders ran, walked and jump-roped their way through 2011 to raise more money for charity than they did a year earlier, according to a recent report.
"The Run Walk Ride 30" study analyzed the country's top athletic events that ask participants to raise money for a charitable cause. The report found that they generated $1.69 billion last year, up 40.8 million from 2010.
Participants determined to bring in thousands of dollars for their favorite causes came out in droves and some just used impossible-to-ignore fundraising tactics to meet their goals.
While preparing for the New York City Triathlon with Team in Training, Miriam Weiskind knew she couldn't just stick to sending out emails to collect $5,000 for the Leukemia and Lymphoma Society. Instead, she slipped into her wetsuit, strapped on her goggles and stood in Times Square in the frigid January weather, beckoning passersby to give to her cause, NY1 reported.
"Strangers are always willing to give," Weiskind told the news outlet, "and it's amazing to see how many people come up and bring me a dollar, and then you run into people who are cancer survivors."
Despite the few losses, figures were encouraging for the great majority of survey respondents and many expect an even better outcome next year. They're predicting a median revenue growth figure of 10.3 percent, the study reports.
"This is probably overly optimistic," Hessekiel said, "but it is a good sign that the field should experience increased growth."
CORRECTION: The original version of this post stated that 27 out of the 30 fundraising events profiled in the study saw an increase in 2011 funding. Twenty-three of the fundraising events saw increases in 2011 funding.
Popular in the Community