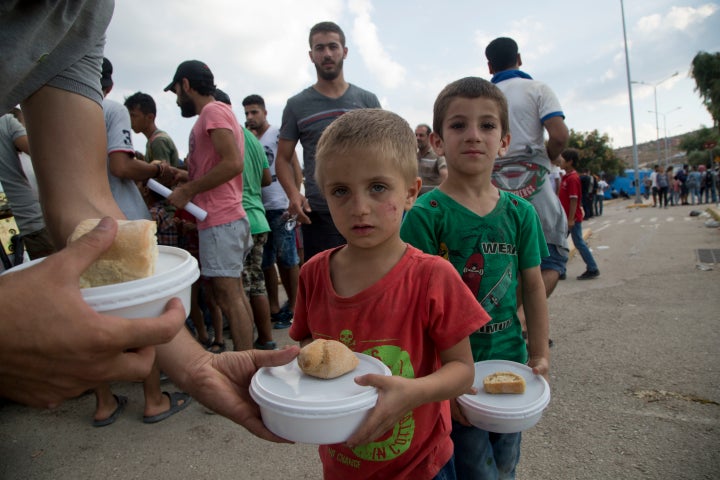 One man was fed up with seeing people hungry.
Konstantinos Polychronopoulos, is the founder of O Allos Anthropos, or The Other Human, a Greek aid group that feeds the homeless, unemployed and anyone else who is hungry in Greece -- including migrants and refugees.
According to freelance journalist, Annia Ciezadlo, who was in Greece in August, O Allos Anthropos comes to the Kara Tepe refugee camp on the Greek island of Lesbos every Tuesday, Thursday and Friday to cook colossal communal meals for roughly 2,000 people.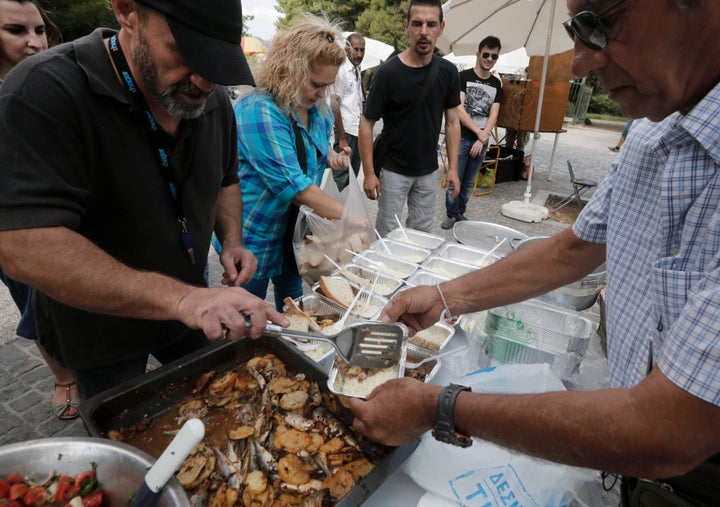 The island of Lesbos is a common stop for people fleeing war in the Middle East. The Guardian reports that island saw almost 450,000 refugees pass through during 2015 alone. People usually travel to the Greek island by boat, rest there for a time and then head further into Western Europe in search of a new home.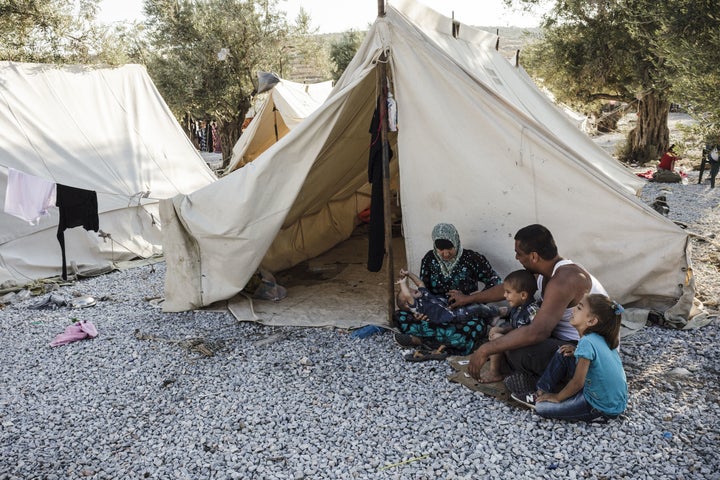 It's a rough journey, but while they're at Kara Tepe, for at least three days out of the week, they can depend on a hot meal, where everyone -- Greek, Syrian and Iraqi -- can sit down together, eat and have a conversation.
And Polychronopoulos wouldn't have it any other way.
In 2009, when a financial crisis hit Greece, Polychronopoulos lost his job in marketing. Two years later, at 47, he was broke and living with his mom. One night he was walking around the streets of Athens he saw two kids fighting over rotten fruit from a garbage can.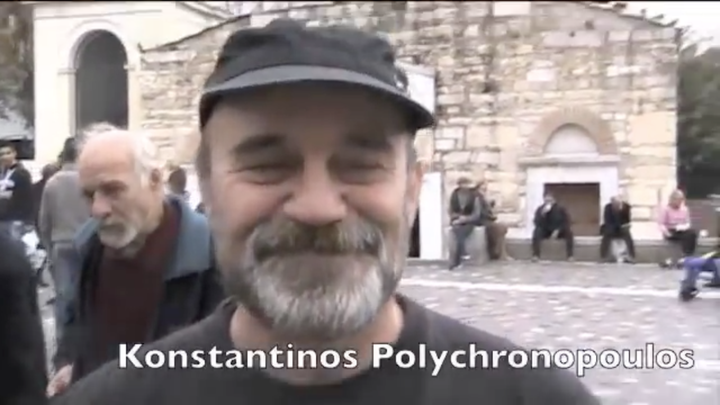 "The worst thing was that people were passing, and they didn't care," he told Politico. "They just looked at them and passed by. I thought that that this was not acceptable and horrible and that people should care. So I decided to do something about it."
So, the next day he decided to make sandwiches and share them with people on the street. But no one was biting.
"They took them only when they saw that I also ate one," he told HuffPost Greece. "There was mistrust in the beginning. And I got into their shoes. I wouldn't receive food if I hadn't seen how it was made, too. So I started preparing food on the street."
He would get the food he needed to feed people who were in need from begging vendors at local markets.
"I went to the street market and I was asking for one potato from a vendor, one carrot from the other. Gradually passers-by started contributing. And this is way O Allos Anthropos began," he told HuffPost Greece.
Polychronopoulos tries to create a friendly and conversational vibe while cooking and serving food that resembles the atmosphere at a family barbecue.
"This is the most essential. Food helps us come closer," he told HuffPost.
As for his career, creating food in his makeshift "social kitchens" is what Polychronopoulos does full time now.
"I am still doing marketing now but without profit," he told Upworthy, thumping his fist over his heart. "My profit is emotional."
Calling all HuffPost superfans!
Sign up for membership to become a founding member and help shape HuffPost's next chapter
BEFORE YOU GO
PHOTO GALLERY
Meet The Syrian Malala