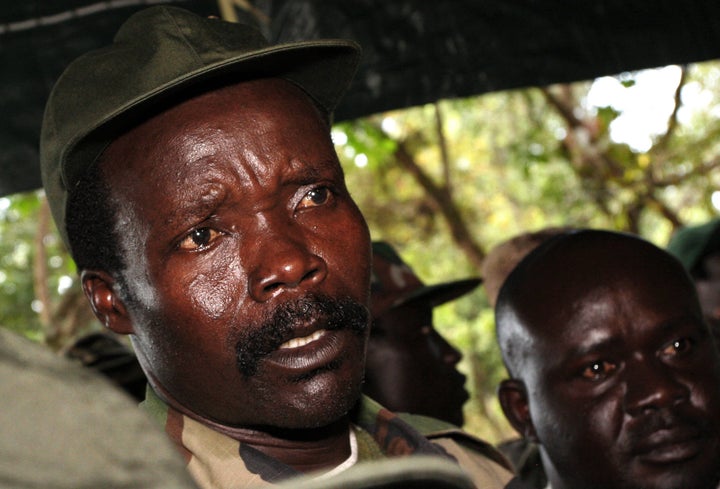 What's a 'Trojan Horse'? See footnote
[Below: In audio obtained by Truth Wins Out, from 2005 San Antonio conference, Jason Russell states that Invisible Children is a "Trojan Horse".]
As the LGBT rights watchdog group Truth Wins Out reported yesterday, in an April 5th, 2012 press release, the Invisible Children nonprofit behind the viral video hit KONY 2012 and its video sequel "Beyond Famous" appears to have an invisible agenda -- which TWO's Executive Director Wayne Besen calls "stealth evangelism":
In audio TWO discovered from a 2005 Christian conference in San Antonio, Invisible Children's co-founder Jason Russell called his organization a "Trojan Horse" designed to infiltrate secular institutions and surreptitiously promote his group's version of Christian fundamentalism. The audiotape reveals that that his organization is particularly focused on targeting youth in public schools. According to Russell's remarks (0:44):

"Coming in January we are trying to hit as many high schools, churches and colleges as possible with this movie. We are able to be the Trojan Horse in a sense, going into a secular realm and saying, 'Guess what? Life is about orphans, and it's about the widow. It's about the oppressed. That's God's heart.' And to sit in a public high school and tell them about that has been life-changing. Because they get so excited. And it's not driven by guilt, it's driven by an adventure and the adventure is God's."

"This vividly reveals Invisible Children's invisible agenda," said Truth Wins Out's Executive Director Wayne Besen. "This group is not simply about exposing LRA leader Joseph Kony, but engaging in stealth evangelism."
Invisible Children and The Family
While most mainstream media continues to uncritically report on the Invisible Children effort -- despite a growing body of reporting tying the KONY 2012 authors to the politicized Christian right -- at least a few mainstream media venues have picked up on my 7,000 word report that investigates extensive institutional and social ties between Invisible Children and the Washington, D.C. based neo-fundamentalist evangelical network called "The Fellowship" (or "The Family"). As I wrote in the executive summary to my report (cited by Forbes, USA Today, and The Guardian):
It is unlikely that many Americans who watched Invisible Children's record-smashing viral video hit KONY 2012 were aware of IC's evangelical nature (1, 2) or of the nonprofit's early financing from foundations that back the hard Christian right, including one of the biggest funders of the 2008 push for California's anti-same sex marriage Proposition 8.

But Invisible Children, which has branded itself as welcoming cultural, religious and sexual diversity, also enjoys extensive institutional and social ties to the global evangelical network known as The Fellowship (also known as "The Family") -- which has been credited with inspiring and providing "technical support" for Uganda's internationally-denounced Anti Homosexuality Bill, also dubbed the "kill the gays" bill.
"This, of course, is sickening"
The efforts of Invisible Children and KONY 2012 have been sharply criticized by a wide range of voices, especially Ugandans -- who jeered and threw stones at the screen during a screening of KONY 2012 in North-Central Uganda -- as well as journalists [1, 2, 3, 4] familiar with conflict in Northern Uganda and the DRC Congo and academics [1, 2, 3] who study the Northern Uganda region.
According to Rosabell Kagumir, a young Ugandan journalist, the war in Northern Uganda was, in the beginning, "much more about resources and about marginalization of people of Northern Uganda." Kagumir, who has studied at the Fletcher School of Law and Diplomacy at Tufts University, observed that "the situation [shown] in the [KONY 2012] video was [from] five, six years ago," and noted that the video shows Westerners and Americans as rescuers who swoop in and "save" helpless, benighted Africans. "if you are showing me as voiceless, as hopeless... you shouldn't be telling my story if you don't believe that I also have the power to change what is going on," said Kagumir.
In a March 12, 2012 op-ed in Al Jazeera, Dr. Adan Branch, senior research fellow at the Makerere Institute of Social Research in Uganda and assistant professor of political science at San Diego State University -- as well as author of Displacing Human Rights: War and Intervention in Northern Uganda -- called out Invisible Children for "the warmongering, the narcissism, the commercialisation, the reductive and one-sided story they tell, their portrayal of Africans as helpless children in need of rescue by white Americans." He continued:
As a result of Invisible Children's irresponsible advocacy, civilians in Uganda and central Africa may have to pay a steep price in their own lives so that a lot of young Americans can feel good about themselves and a few can make good money. This, of course, is sickening.
Voicing a similar view in a March 8, 2012 op-ed, Michael Deibert, a Visiting Fellow at the Centre for Peace and Reconciliation Studies at Coventry University and the author of the forthcoming Democratic Republic of Congo: Between Hope and Despair (Zed Books), wrote,
"The problem with Invisible Children's whitewashing of the role of the government of Uganda's president Yoweri Museveni in the violence of Central Africa is that it gives Museveni and company a free pass, and added ammunition with which to bludgeon virtually any domestic opposition, such as Kizza Besigye and the Forum for Democratic Change.

By blindly supporting Uganda's current government and its military adventures beyond its borders, as Invisible Children suggests that people do, Invisible Children is in fact guaranteeing that there will be more violence, not less, in Central Africa."
Are Western charities and the Ugandan government the real problem ?
One critic whose voice carries special weight is former "South Park" writer (and atheist) Jane Bussmann, whose investigation in Northern Uganda (around the same time Invisible Children was shooting footage that wound up in KONY 2012 ) led her to a sharply different take on the situation.
In a scathingly acerbic op-ed from April 3, 2012 in the The Guardian that upends Invisible Children's brilliantly crafted but ultimately deceptive narrative frame, Jane Bussmann suggested that the horrific suffering which plagued Northern Uganda for two decades probably had less to do with Joseph Kony and more to do with the corrupt regime of Ugandan President Yoweri Museveni, and with Western charities that enabled Museveni and used the horrific suffering in Northern Uganda as a fundraising cash cow:
Kony stopped being solely an African problem when western charities helped Museveni keep 2 million Ugandans in semi-starvation camps at gunpoint while he "looked" for Kony. These "protected villages" were so badly protected that Kony was able to commit massacres inside them, and simply could not have existed without western complicity. It was President Museveni's job to stop Joseph Kony, but he'd have been an idiot to stop Kony when half his budget came from foreign aid and a fat chunk of that aid was earmarked for the Kony mess. The cash keeps coming despite Museveni's dodgy 26 years in office, dodgier shooting up of protesters and political opposition... and mysterious failure to stop the LRA. (Incidentally, Museveni's army beat up and burned local religious leaders who were peacefully rescuing kids from Kony as early as 2002.)

Charities pimping Africa as victim is reverse child pornography -- send us money or we'll keep showing you pictures of children getting screwed...

Meanwhile, out of sight, the fight against Kony was bungled for 26 years. The World Bank funded a rehab centre for children who escaped Kony. Terrific. Who did they pay to run it? Kony's "Brigadier" Kenneth Banya. Kony ran a city of kids in Sudan, systematically raping thousands; luckily the international community had maps showing its location...

Kony, cash cow of charities and bent governments alike.
[Below: 2:45 video investigates some of the ties between Invisible Children and The Family -- specifically, the apparent co-mingling of Invisible Children's education programs in Uganda with the Ugandan leadership academy system run by The Fellowship, which -- as I wrote in my report, "works to raise up a cadre of elite Jesus-centered leaders who will transform their nation along "Biblical" lines -- with one apparent objective being the categorical elimination of homosexuality."]
Footnote: For those unfamiliar with the story, the Trojan Horse was a device said to have been used by the besieging Greek army to infiltrate the ancient walled city of Troy. After a long and ineffective siege, the Greeks had declared their intent to abandon their effort to conquer Troy, and their intent to sail back across the Mediterranean, to their homelands in Greece. They offered the goddess Athena a huge wooden, wheeled horse; the Trojans opened the gates and rolled the horse inside their city. That night, a select team of Greek commandos emerged from the horse, which was hollow, and opened the gates of Troy, allowing the Greek army to rush in and take the sleeping Trojans by surprise. The Greeks killed or enslaved all the Trojans and reduced their once-might city to rubble.
Popular in the Community