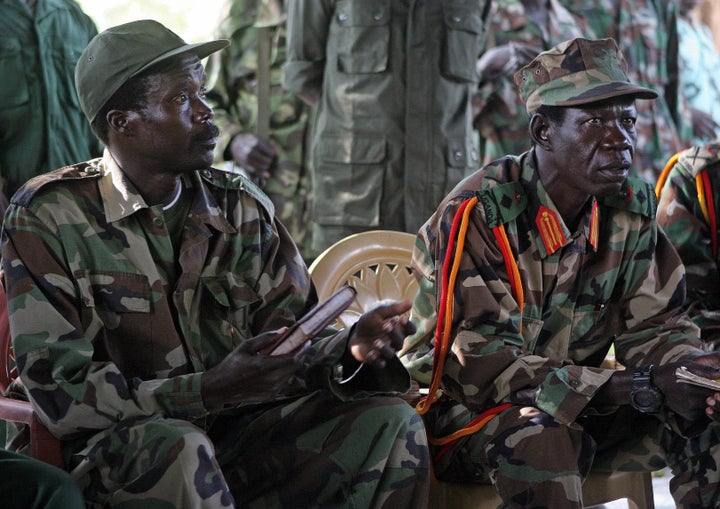 Monday night, I checked my Twitter feed before bed, per usual, and like anyone & everyone else on Twitter that night... I saw Joseph Kony, Stop Kony, Kony 2012, LRA, Uganda, Gulu, and child soldiers hash tagged, all trending worldwide on Twitter and my heart skipped a beat.
You see, for the last three years, all of those subjects have been on my mind daily, as I have worked with my mother and our start-up team of our NGO, www.THARCEGulu.org, or Trauma, Healing and Reflection Center for former child soldiers and victims of Joseph Kony and his rebel group the LRA or Lords Resistance Army in Gulu, Northern Uganda.
Efforts to raise awareness and donations for our NGO, THARCE, which provides non-medical integrative therapies to these victims who are of the Acholi community in Gulu have been successful and awe-inspiring, as my social media following showed up for the last two years on my birthday for Tonic.com and Crowdrise campaigns.
I blasted Twitter and Facebook and every Oprah, P. Diddy, Beiber and Kardashian with tweets and messages about our cause and was extremely moved by the support, curiosity and involvement of fans and friends. Twitter founder Jack Dorsey, my Whedon-Buffyverse comrades, Alyssa Milano, George Lopez, fellow Bostonian Mike Chiklis and many others donated and "re-tweeted" for THARCE-Gulu.
There was new awareness, but we certainly hadn't moved the needle the way Invisible Children did this past Monday night. I have met Jason Russell and fellow actress Kristen Bell over the years and we have shared our passion for Gulu and the Acholi people devastated by Joseph Kony and the LRA. I believe they have honest and true intentions, in spite of some of the negative press that has since exploded on the Web about Kony 2012. And, they have trail-blazed in the area that we hadn't quite been able to cover, creating a worldwide awareness through social media and young people, making Joseph Kony a virtual celebrity almost overnight.
This heightened awareness of the 26-year trail of wreckage left by Kony is a good thing. And now, more than ever before, countless people are asking how to help the victims and not only how to help catch Kony.
This is what matters most to me: 30,000 child mothers and fathers, now raising children that came from rape in the bush, make northern Uganda one of the most traumatized places on earth. There is crushing poverty, terrible PTSD, and unbelievably high suicide rates. Traditions, the bonds of family and community, were all compromised by years of captivity and then IDP camps enforced by the Museveni government. The issues are not simple. There are many additional good NGOs working to help the people of Uganda recover.
The Trauma Healing and Reflection Center in Gulu, or THARCE-Gulu is one such NGO. Gulu was the epicenter of Kony's war in Uganda. THARCE-Gulu includes on its staff two former child soldiers who have risen from "victim" to "survivor" then "thriver." They are assisting others to rebuild their lives. Programs to assist with earning a living, developing everyday coping skills, building strong families, and finding ways to creatively express their experiences and take from them their terror, are all part of what THARCE does.
My mother Judy Dushku, a 40+ year African politics professor and historian, is our fearless president, and a number of our family members and close friends, including my boyfriend Rick Fox make up the board and we travel to Gulu to work closely with our staff on the ground. We have done some extraordinary and powerful work over the last three years and have numerous ambitious goals for the future.
You are invited to go to the website www.tharcegulu.org and contribute today. Augment what Invisible Children is doing -- reach out to those who are courageously rebuilding northern Uganda. Click on the "Donate" button on the website and use your PayPal account or to make a credit card donation. Donations by checks made to THARCE-Gulu, Inc. may be sent to Gulu (P.O. Box 261, Gulu, Uganda) or to Boston (P.O. Box 52557, Boston, MA 02205).
While the hunt for Kony goes on, the people in Gulu desperately need your help now. It might go without saying, but please "retweet" and "share" this piece.