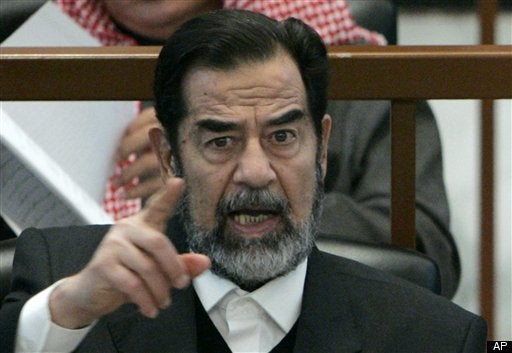 The Guardian reports that Iraqi leaders are struggling to come up with a solution to dealing with a Koran that Saddam Hussein commissioned . . . written in his own blood.
Iraqi leaders have worked to erase lingering memories and artifacts of Saddam's brutal rule, but they are mystified with what to do with with valuable relic.
The unique Koran's creation took over two years:
It was etched in the blood of a dictator in a ghoulish bid for piety. Over the course of two painstaking years in the late 1990s, Saddam Hussein had sat regularly with a nurse and an Islamic calligrapher; the former drawing 27 litres of his blood and the latter using it as a macabre ink to transcribe a Qur'an. But since the fall of Baghdad, almost eight years ago, it has stayed largely out of sight - locked away behind three vaulted doors. It is the one part of the ousted tyrant's legacy that Iraq has simply not known what to do with.
Slate notes that Saddam was never one for subtlety, and that this undertaking would serve propaganda purposes for when the dictator need to be seen as pious; he "decided to show the world that he was willing to literally sacrifice his blood for the sake of his religion."
"My life has been full of dangers in which I should have lost a lot of blood...but since I have bled only a little, I asked somebody to write God's words with my blood in gratitude," President Saddam Hussein said in a letter published in the official media.
Related
Popular in the Community