Kore Ionz is an amazing reggae band that is Seattle based with its feet planted in the island reggae scene but always touching many different types of musical genres.As you'll see, the reggae from the islands of Hawaii are a heavy influence but with the horn section, Pyramid, the drum foundation, melodic keys, heartlike bassline, and awesome perscussion styling, Kore Ionz is worldly. Geologic from Blue Scholars described to Daniel Pak, Kore Ionz's lead man, that the band is reaching the level of cosmic.
That's a beautiful thing. To be able to transcend and have any listening ear to transcend with you, is a gift. These guys take their gifts and help you as the listener join, participate, and contribute to the true meaning of "Aloha."
I had the great opportunity to talk story with Kore Ionz's lead man, Daniel Pak. What we came up with I believe you will enjoy. Get to know these guys and if their charisma alone don't win you over, their music will demand you to follow along.
If you don't believe me, check out their exclusive premier on Huffington Post of their new video, Starship (below). You'll be belly full. Chee!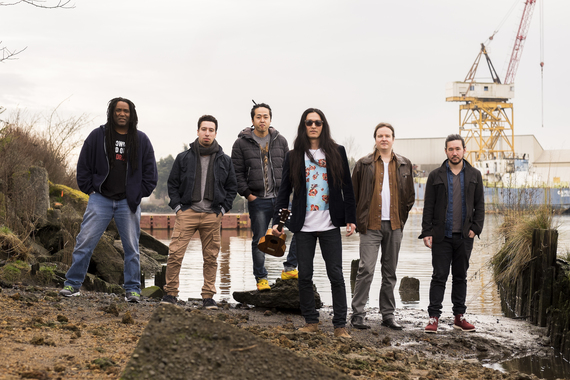 Pictured (l to r): Ahkeenu Musa, Max Levin, Masa Kobayashi, Daniel Pak, Darian Asplund, Greg Kramer Not Pictured: Teo Shantz, Owuor Arunga
All Photos: Brad Puet
What is the meaning behind the name Kore Ionz?
Originally the meaning of the name, Kore Ionz, was a joke.
A former bass player and I, who were both Korean and Japanese American, came up with it. He came from a punk rock background. We both said after we were done with this reggae thing we could start a hardcore, punk rock band and call it Kore Ionz. Koreans.
It's funny because people have told me, "That's so cool that your band is all Korean."
Oh so you haven't seen our band live before, ok I get it. (laughs)
Anyway the meaning has evolved. Everyone has a different idea, a different perspective of what the meaning is behind the name. What it means to me is that in this world there is positive and negative energy. There's love and hate. There's happiness and sadness. There's the constant polarity and duality of life. Opposites!
Coming from a background in science, before I got into the music industry, my understanding of ions are that they are charged particles. They are building blocks of everything that we see, feel, hear, taste. Everything that we as humans can interpret as things. Those ions when they are charged in their ionic state, are either positive or negative. At this state, they are in constant state of chaos. They're colliding. They're violent. They're repelling each other. They're this mish mash of energy. It's only when a positive and negative ion can come together and bond to find a compromise of sorts, only then can stability be accomplished.
To me, since those are the building blocks of life and everything that we see out there, sort of is an ionic phase. So it's only when a positive and negative can come together, its only when love and not so much love - hate as we know it, can come together, and or when happiness and sadness can come together is when we reach stability. It's when a major chord and a minor chord can come together and compromise and create something beautiful. That to me is the essence of what we do, where we go, and what the music means.
I've been told by many of my students that it's not music that I do for a living. It's the idea of connecting people. Music is just one tool for doing that. I like to think that everywhere I go in this world with this band is with the idea of spreading "Aloha" to the people. It always happens. As far away as we ever travel, people are drawn to us, drawn to this Aloha spirit. It's the act of welcoming. It's the act of leaving.
So whenever we have this chance to take the stage and be amongst the people and play this music, it's not just about the stage performance, the lights, the Facebooks, the Instagrams, the Twitters and all the other smoke and mirrors...it's just not about that. It's truly about the platform to meet people, to connect with people and that is the main thing.
Can you tell me a little more about who Daniel Pak is?
I was born in Honolulu, HI, on the island of Oahu. I'm fourth generation Korean American. I'm fifth generation Japanese American. My first ancestors, my great grandparents, first got to Hawaii in 1875. This background influences my life and the work that I do by my strong connection to my roots. I always have. The way that I was raised, the people who I was around, everything, especially the food.
It was the family gatherings that brought us together. For example, on my Korean side, my grandmother who was born on a pineapple plantation, had ten brothers and sisters. When I was a child, I remember those gatherings. Her brothers and sisters married Japanese, Chinese, Filipino, Hawaiian, Samoan, Portuguese. I mean, when we had family gatherings, we had almost every ethnic group you could possibly find on the pineapple plantation. These were my blood cousins. As kids this is all that we knew. AND the food that was a diversely representative was all we knew. It was a melting pot on the table. To me that is the essence of who I am. It's the reason why I love to be in many different communities. It's why I feel like I play music, I feel like I'm playing for all my cousins and it's what I put on the table. It's the sharing of foods and culture and traditions.
Can you tell us more about your daily community work?
In a lot of ways, I consider Kore Ionz my night job. We rehearse at night, we create at night. We get together and have meetings at night. We write and talk at night. It's like the only time that all of us are able to get together because all of us have so many different things going on during the day.
My day job is a teaching artist. As teaching artist, it's our responsibility to give a powerful gift to youth is to be artists. When a student can see us, actively practicing our art, I feel that is the greatest gift. You can talk about right and wrong, and talk about discipline, and talk about the best way to do things...but it's more powerful if you show them what you do.
For example, yesterday I was doing an ukulele class in White Center for 5th and 6th graders. I told them let's do this exercise where we are all going to play a chord progression together. We're going to all go through whole notes, to half notes, to quarter notes, to eighth notes, and if you make a mistake, and you know that you made a mistake - I encourage your, I challenge you to stand up and go the corner. It's good to know that you made a mistake and begin to be accountable to yourself about it. At first it was kind of joking around and then after a while it became an understanding that you're taking responsibility and accountability of your mistake for yourself and also for everyone who is playing with you. The kids understood this. I even took a risk with one rhythm and I made a mistake. I messed up. So I stood up and I went to a corner. And the kids all started looking at me like, "What are you doing Pak?" "What do you mean, what am I doing? I messed up. I'm calling myself out." They were all like whoa, that's never happened before.
We can teach the kids and empower the kids by modeling this. It's ok to be creative. It's ok to express yourself. It's ok to make mistakes. It's ok to take risks.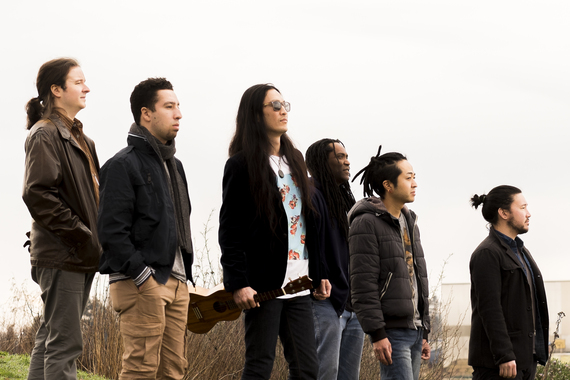 Tell us about Kore Ionz the past, the current, and the future.
Kore Ionz has always been a musical group that's been influenced by reggae. Reggae has always been the common ground that has brought us together into this band. For all the snapshots of this band, since 2008, reggae has been the common denominator.
I will say this. Ever since Kore Ionz had first started, we never really had a clear identity. The reason for that is the whole mission of Kore Ionz. We've always been about welcoming people in. We've always been about Aloha. We've always been about, "Yeah, I'm cooking a lot of food at the house on Saturday night and you should come over and bring the family. Totally relaxed style. Come over. Come eat with us. Come play music." It's always been about that impromptu jam. It's about bringing together all these different souls. So really, Kore Ionz has never had a clear identity. We all agreed that we are doing some sort of reggae. We had members in the band from Bosnia, Brazil, Virgin Islands...it was all mixed up. In the current state of the band; we have members from Japan, the jazz community, the original b-boy community. I'm from Hawaii. So I guess at this point, for the first time since our inception, we are really trying to figure out what is our clear identity of Kore Ionz. So when we meet up we are really trying to lock up our sound. We are really trying to figure out our identity.
What I do know now, is that Kore Ionz is about celebrating life, celebrating love, its all about people coming together and spreading Aloha.
As the front person of this group, I've been told by fans that they love the connection they have to our music.
Please introduce us to the band.
Again my name is Daniel Pak. I'm the singer songwriter for Kore Ionz. I guess you can say I'm sort of the band leader. I like to do a lot of the production. I love being in the studio. I love the whole mixing process. I just like to be involved in all the creative processes of the band.
Teo Shantz is our drummer. I would say he's one of the main producers. He has a lot to do with the music direction. He and I have meetings about the aesthetics of the band and the direction of the group.
Masa Kobayashi is our bass player. He's really awesome at the ukulele and many other stringed instruments.
Ahkeenu Musa is our percussionist. He's been dabbling with a lot of electronic arrangments which is really cool. Akinu and I are the only two from the original five members.
The horn section or as they call themselves, "Pyramid" is comprised of Owuor Arunga, Greg Kramer, and Darian Asplund. Owuor and Greg are part of the Macklemore and Ryan Lewis camp. Darian completes the trio. They all got to know each other through the jazz scene. When these three are together, it is one sound, one beat of a sound.
Max Levin is on the keys. He's the newest and the youngest cat in the group. He's the most driven 19 year old I've ever met.
(Unfortunately due to time constraints, I had to email the other band members questions. Here are their answers)
Masa: I'm a bassplayer, my role is big booty. I've been in the band for a little less than a year. I'm from Tokyo Japan and played in African bands and Balkan Gypsy bands.
My favorite experience with Kore Ionz thus far was the Cd release party in April 2014 at the Crocodile Cafe. It was my first show with Kore Ionz. Sold out show!
My advice to aspiring musicians is, "Be a musician, not a "_______" player."
Ahkeenu Musa: My roll in the Band is percussion and have been apart of it 11 amazing years.
I was born in Seattle and started music at an early age of 3yr old playing on pots and pans as well as first African Methodist episcopal church in Seattle. Having a strong spiritual music foundation has greatly influenced my work within the band.
My favorite experience thus far being with Kore Ionz is opening for Still pulse.
My advice to aspiring musicians is always center your self in music let it be the shoulder you lean on.
Owuor: I am the trumpet player in Kore Ionz.My role in the band is to turn up the Vibes to Maximum capacity. I've studied music from the best, at the best institutions, I love music, and I love the message of love and helping others less fortunate, and I have always used my gift to keep that spirit alive.
My favorite experience so far was our 2012 show opening for J Boog, to make a long story short, it was when I realized how genuine our friendship and camaraderie is.
There are no limits, anything you focus on you will achieve, anything you practice you will master, sharing music with others is the key to growth.
Greg: I play trombone in the band and also keyboard. I joined the band last Summer in June or July. I grew up in Seattle attending Garfield High School and playing jazz. From there my music taste branched out getting into hip-hop especially. I went to college for Engineering but also continued to play music and started to write music myself. A year and a half ago I quit my job in Biotech to tour with Macklemore and Ryan Lewis and have been doing music full time ever since.
As Kore Ionz is developing a new sound I feel my contribution comes from my knowledge of the intersection of Hip-hop, Jazz and pop music. I feel I have far more to learn than to share. It's hard to nail down a favorite moment. In such a short time, we've become very close..
A favorite moment would be eating San Fernando's Chicken in the sun after we played on New Day Northwest. Also whenever we play music.
My advice for aspiring musicians is; 1. Alway create, 2. Always say yes, and 3. Be nice.
Darian: I joined Kore Ionz back in 2012, first to fill in the saxophone slot that was vacant, when the previous saxophonist was too busy with other things and couldn't continue working with the group. Then one show became more shows, and soon I found myself to be in the care of Kore Ionz as a regular. Now, on top of being the saxophonist in the group, I also play the EWI (electronic wind instrument) and sing background vocals; whatever maximizes the band's potential. Also from time to time I fill in as a back up keyboardist and back up bassist.
I grew up in a musically inclined family. My mom and dad have been in a group together before I was born, and still from time to time sing and play guitar together. They would sing songs by Paul Simon and Crosby, Stills and Nash, among other artists. My brother played lots of different instruments, before settling into digital music, and becoming a Disk Jockey in the Industrial, EBM, electronic type scene. I would listen to my grandpa play old jazz classics on the piano, (pretty convenient since I later learned the technical side of music through jazz).
Being the only member in my family to pursue a career in music, I had gotten my Bachelors in music, and with that, a whole wealth of knowledge and experience, from learning from the professionals, to performing and recording with professionals, to becoming a professional musician in trade, mainly as a saxophonist.
Being in Kore Ionz, aside from playing as part of a horn section, and as a horn soloist, I do my best to bring to the table, an awareness for some of the things in our music that tend to be less attended to. Though Kore Ionz is an established band, mainly in the reggae genre, we continue to grow through added skill, knowledge and awareness. It is this growth that makes a big difference in delivering our collective sound to our audience/listeners.
My most favorite experience, by far, would have to have been when I went to Hawaii for the first time.
Our lead singer and our keyboardist at the time, are originally from Oahu, and would schedule flights from Seattle to there, for band related things. Of course there would be some downtime in between as well.
Being from the Pacific Northwest, I loved the warmth that Hawaii gave me, and the chance to go swimming in the ocean, something I rarely get the chance to do. Being there, I gained an appreciation for Korean food, and Hawaiian reggae music.
To all of those that are artists or aspiring to be an artists: Never stop learning. As much as people think it's a matter of "What it takes to be...," it is also the "journey to be..." You can set goals and strive to achieve them by whatever means, whether it's by giving or taking, gaining and sacrificing... But always be aware of your growth in this, and not take the simple things, even if they seem complex, lightly. "... Instead of making the 'simple,' complex, make the 'complex,' simple." An estimation of a Charles Mingus quote.
Max: I play keyboards in Kore Ionz, and have been with the group since June 2014! I grew up in the Seattle area, started playing piano when I was 5 years old, and started a band when I was 14. Since then, I've directed groups, delved into artist management, and more recently have gotten into music production. I think my work with Kore Ionz, or any musical venture for that matter, is heavily influenced by the involvement I've had on both the business and creative ends of the music industry. I try to be strategic and goal-oriented, while keeping an open mind and letting the creative process flow naturally.
I'm not sure I can pick one particular "favorite" moment. Pak's positive energy and the brotherly love these guys have fostered over the years makes for too many good memories, even over the relatively short time I have been playing with them.
My advice to an aspiring musician is to have an open line of communication and a sense of trust between you and the people you work with is overly important when creating an environment that's conducive to producing good content.
Today, February Friday the 13th 2015, Kore Ionz releases its newest video from the most recent EP, "Starship." Can you tell us more about the song and the video?
The director, Terrence Jeffrey Santos, came up with the idea to do the video for this song. He directed and produced our first three videos.
He hit me with a text one day and was like, "Hey Pak. Man, I gotta tell you Starships is my favorite song off the "Feels Good" EP. What do you think about doing a video with you on a bicycle riding around Seattle?" We started talking about it and started talking about the meaning of the song.
I wrote the song originally for my kids. I have 5 and 3 year old. I wrote the song for them. I wrote the song from a post-apocolyptic perspective. The human battle, the human struggle to share resources leads us to a place where our earth is in danger and maybe, just maybe, we have to consider the idea of moving. I mean moving to other planets. (laughs)
So I was thinking it was like as easy as catching a bus downtown, or a catch a plane to Hawaii. We would be able to catch a starship. The problem is that starships only show up certain locations and times. It's a really small VIP or guest list. (laughs)
The concept is that we all come from the belly of the beast and so where can we find the best example of a beautiful natural environment full of natural resources being depleted and transformed into an ugly industrialized monster. The first thing we could think about was the Duwamish River. I always tried to imagine what is like before the river was industrialized. Imagine it was beautiful place, fresh water, salmon for days, beautiful place to set up camp. Now you go to the Duwamish and see you rust and oil, plastic bottle, tug boats, plastic bottles and just plain filth. So we thought this is the symbol of what we want to move and get away from. So the video is a bike ride out of these industrialized areas back into lush forests and beautiful nature. I don't want to give away too much but basically this is our bike ride of those who are on the VIP list and we all ride to our rendezvous point. The place where we are to meet up and out of the sky drops a starship and takes us away.
Takes us away to a better place.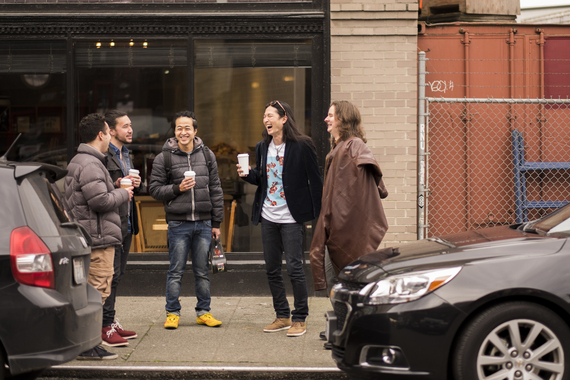 So what's next for Kore Ionz?
You know, we have no timeline right now. It feels good to be just free. It feels good to have open conversation every time we get together. We want to put out some new material as quick as possible. When? Maybe this year. I would love to put it out this year. We have a handful of songs that we are really excited about. I think it's our first time that we have come to terms with our musical identity so from there who knows. We're in this for the long run. In fact, we'll probably be still making music when it's time for us to put our names on the list for the next transport, the next starship to the next place.
Right now, making music and being creative is our role, it's our job, it's our contribution, and it's our responsibility. So we can keep offering that to everyone.
Expect a lot from Kore Ionz. Expect a lot like this Friday the 13th when stuff starts dropping out of the sky.
Without further ado and dropping out of the sky comes the exclusive premier of the Kore Ionz, "Starship" video.
Calling all HuffPost superfans!
Sign up for membership to become a founding member and help shape HuffPost's next chapter