INCHEON, South Korea — North and South Korea exchanged artillery fire Tuesday after the North shelled an island near their disputed sea border, killing at least two South Korean marines, setting dozens of buildings ablaze and sending civilians fleeing for shelter.
The clash, which put South Korea's military on high alert, was one of the rivals' most dramatic confrontations since the Korean War ended, and one of the few to put civilians at risk, though no nonmilitary deaths were immediately reported. Sixteen South Korean soldiers and three civilians were injured and the extent of casualties on the northern side was unknown. (Scroll down for video.)
The skirmish began when Pyongyang warned the South to halt military drills in the area, according to South Korean officials. When Seoul refused and began firing artillery into disputed waters, albeit away from the North Korean shore, the North retaliated by bombarding the small island of Yeonpyeong, which houses South Korean military installations and a small civilian population.
"I thought I would die," said Lee Chun-ok, 54, an islander who said she was watching TV in her home when the shelling began. Suddenly, a wall and door collapsed.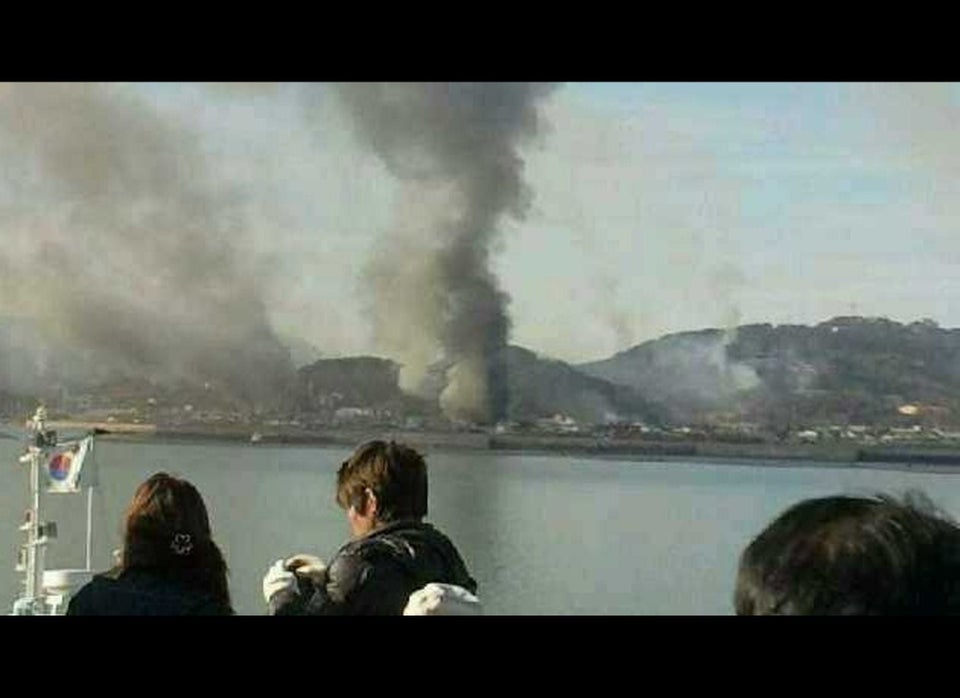 North Korea Shells South Korea, Causing Casualties And Raising Tensions
"I was really, really terrified," she told The Associated Press after being evacuated to the port city of Incheon, west of Seoul, "and I'm still terrified."
South Korea responded by firing K-9 155mm self-propelled howitzers and dispatching fighter jets. Officials in Seoul said there could be considerable North Korean casualties. The entire skirmish lasted about an hour.
Each side has threatened the other against another attack.
South Korean President Lee Myung-bak, who convened an emergency security meeting shortly after the initial bombardment, said that an "indiscriminate attack on civilians can never be tolerated."
"Enormous retaliation should be made to the extent that (North Korea) cannot make provocations again," he said.
Meanwhile, the supreme military command in Pyongyang threatened more strikes if the South crossed their maritime border by "even 0.001 millimeter," according to the North's official Korean Central News Agency.
A statement from the North said it was merely "reacting to the military provocation of the puppet group with a prompt powerful physical strike," and accused Seoul of starting the skirmish with its "reckless military provocation as firing dozens of shells inside the territorial waters of the" North.
Government officials in Seoul called the bombardments "inhumane atrocities" that violated the 1953 armistice halting the Korean War. The two sides technically remain at war because a peace treaty was never signed, and nearly 2 million troops – including tens of thousands from the U.S. – are positioned on both sides the world's most heavily militarized border.
The exchange represents a sharp escalation of the skirmishes that flare up along the disputed border from time to time. It also comes amid high tensions over the north's apparent progress in its quest for nuclear weapons – Pyongyang claims it has a new uranium enrichment facility – and six weeks after North Korean leader Kim Jong Il anointed his youngest son, Kim Jong Un, as the heir apparent.
"It brings us one step closer to the brink of war," said Peter Beck, a research fellow with the Council on Foreign Relations, "because I don't think the North would seek war by intention, but war by accident, something spiraling out of control has always been my fear."
Columns of thick black smoke could be seen rising from homes on the island, footage aired by YTN cable television showed. Screams and shouts filled the air as shells rained down on the island just south of the disputed sea border.
Yeonpyeong lies a mere seven miles (11 kilometers) from – and within sight of – the North Korean mainland.
The United States, which has more than 28,000 troops stationed in South Korea, condemned the attack. In Washington, White House Press Secretary Robert Gibbs called on North Korea to "halt its belligerent action," and said the U.S. is committed to South Korea's defense.
China, the North's economic and political benefactor, which also maintains close commercial ties to the South, appealed to both sides to remain calm and "to do more to contribute to peace and stability on the peninsula," Foreign Ministry spokesman Hong Lei said.
Stephen Bosworth, the Obama administration's special envoy to North Korea, said he discussed the clash with the Chinese foreign minister and that they agreed both sides should show restraint. He reiterated that the U.S. stands firmly with its ally, South Korea.
Yeonpyeong, famous for its crabbing industry and home to about 1,700 civilians as well as South Korean military installations. There are about 30 other small islands nearby.
North Korea fired dozens of rounds of artillery in three separate barrages that began in the mid-afternoon, while South Korea returned fire with about 80 rounds, South Korea's Joint Chiefs of Staff said.
Two South Korean marines were killed and 16 injured, it said. Island residents escaped to some 20 shelters on the island and sporadic shelling ended after about an hour, according to the military.
The Koreas' 1950s war ended in a truce, but North Korea does not recognize the western maritime border drawn unilaterally by the United Nations at the close of the conflict, and the Koreas have fought three bloody skirmishes there in recent years.
South Korea holds military exercises off the west coast like Tuesday's about every three months.
In March, a South Korean warship went down in the waters while on a routine patrolling mission. Forty-six sailors were killed in what South Korea calls the worst military attack on the country since the war.
Seoul blamed a North Korean torpedo, but Pyongyang denied responsibility.
Kwang-Tae Kim reported from Seoul. AP writers Seulki Kim, Kelly Olsen and Foster Klug in Seoul contributed to this report.
(This version CORRECTS that three civilians were injured.)
Related
Popular in the Community