They filed in, one by one, a long line of fourth- and fifth-grade students, quiet and well-behaved until they crossed the threshold of the Asia Society gallery. And then, one by one, they gasped, cried out, and-- in the case of one young boy-- jumped and nearly fell on landing. "Oh, man!" said one of the students. "Check out my robot!"
A months-long project culminated May 19 when children from four New York City public schools saw their own work on the walls and the gallery floors of a major cultural institution. Each fall, Asia Society invites students and teachers to a major exhibition at the museum, then works in partnership with Studio in a School to help the students craft their own art inspired by the show. This year marked the 22nd year of the program, and the original exhibition featured the work of technology-obsessed contemporary Korean American artist Nam June Paik, whose work with robots and televisions starting in the 1960s and 1970s presaged many social and technological advances of the 21st century. The students from P.S. 297 in Brooklyn, P.S. 75 in Manhattan, and P.S. 87 and P.S. 182 in the Bronx used materials and concepts that the late Korean American artist would have recognized to create robotic suit jackets; a "pet" made from the chassis of a vacuum cleaner; a tree showing the evolution of the telephone; and other imaginative works.
"I'm famous," said one young boy as adults snapped photos of him and the robot he had helped design.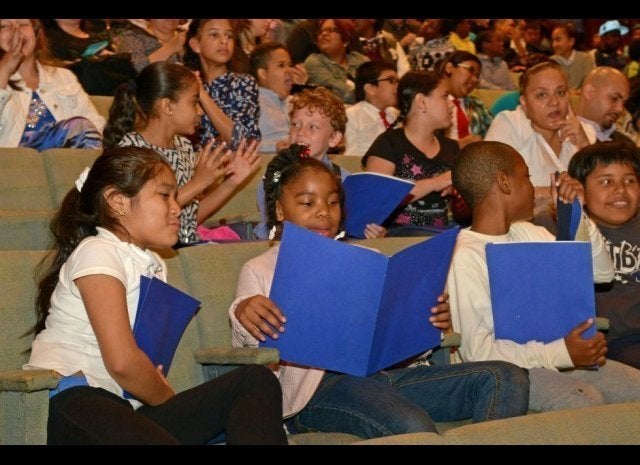 Inspired by Nam June Paik
Among those on hand for the opening was Agnes Gund, President Emerita of the Museum of Modern Art (MOMA), long-time arts patron and founder and chair of Studio in a School. In the Asia Society auditorium prior to the gallery tour, Gund congratulated "these brilliant young artists" for their creativity and skill. She praised the "thoughtful collaboration" among Studio in a School, the schools' teachers and principals, and Asia Society, and gave special thanks to Nancy Blume, head of arts education at Asia Society.
Gund singled out the piece Baby from the series Robot Family Sculptures, the creation of five boys from P.S. 75 in Manhattan. The piece was built with, among other materials, a basketball for a body, a videocamera lens hood for its mouth and energy-efficient light bulbs for hands.
"I think it's a terrific work of art," Gund said, "and I happen to have an interest in basketball." She explained, to laughter from the students, that she was a fan of the Cleveland Cavaliers and had watched their win over the Atlanta Hawks the previous night.
"We fought a lot about how to make it great," said Isaac, one of the students who designed Baby. "I think Mr. Nam June Paik would have liked it."
Just a few feet away from Baby lay Dog, also part of the Robot Family Sculptures series and a creation of Chloe and Stephanie from P.S. 75 in Manhattan. This piece, it turns out, had been inspired by something missing from Asia Society's Nam June Paik show.
"There were robot moms and dads but no pets, no animals," Chloe said. "So this is kind of based on his art, but kind of our own idea, too."
The students' art will be on display at Asia Society Museum until July 19 in an exhibition titled Inspired by Nam June Paik: Becoming Robot. The show and this partnership with Studio in a School is one of the coolest things we do, and just as much a part of our mission as the visits of Asian leaders to our stage. The idea behind both is the same -- building bridges of understanding between the people of Asia and the U.S.
"You are the youngest artists to exhibit at the Asia Society Museum," Peggy Loar, Asia Society's Interim Museum Director, told the children. "And this is a museum where some of the artists were born three thousand years ago." Loar spoke of the power of a young person's creativity and working as a team. Before the children left, she invited them to return with their families and receive free admission to see the exhibition and share their accomplishments with their loved ones. "Just come in," she said, "and say you are one of the artists featured in Inspired by Nam June Paik."
Related
Popular in the Community