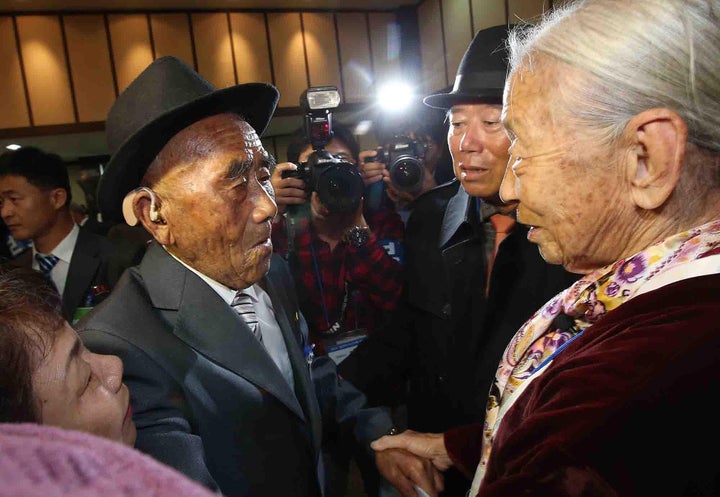 Soon-gyu Lee and In-se Oh were separated six months after they got married, and have spent the intermediary 65 years stuck on opposite sides of the Korean peninsula -- until Tuesday, that is, when they were given a chance to briefly reunite.
Millions of people were separated during the Korean War, and have since been banned from crossing -- or even communicating across -- the greatly armed border between North and South Korea.
Ninety-six families that had been divided for decades met at the Mount Kumgang resort in North Korea on Tuesday afternoon for the first reunion their governments have held in almost two years. The South Korea Red Cross organizes these sporadic inter-Korean reunions; there have been about 20 since 1985.
Among the people who gathered to meet their loved ones were Lee and Oh -- and their son, Jang-gyun Oh, who had never met his father. Lee was pregnant when Oh left, intending to return home in 10 days. She told him to have a safe trip, not knowing those would be the last words they would exchange for decades.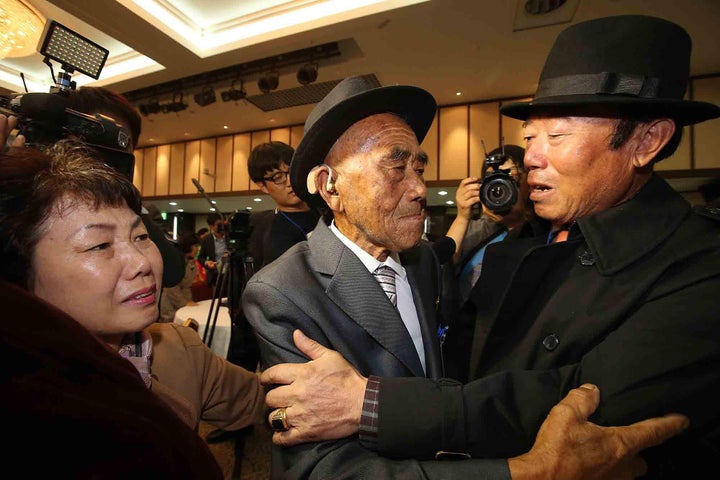 "Come and sit closer to me, please," Oh told his wife at the reunion, according to South Korean newspaper Hankyoreh.
Lee gave her husband a wristwatch, which she had always wanted him to have.
"A watch was a very rare accessory in the countryside back then," she told Hankyoreh. "It always pained me that I couldn't give him one as a present."
And Jang-gyun Oh finally got to meet and hug his father.
"I really want to say the word 'father' out loud," he said in an interview with Seoul-based news website Newsis. "I have missed him my entire life." He wanted his father to take his mother's hand and apologize for the years she had to spend without him, he said, and for all the hardships she and their son endured.
Jang-gyun Oh said that while his father managed to start a new family in North Korea, his mother struggled to make ends meet, working on a farm during the day and as a tailor at night.
Lee had a dream 37 years ago that convinced her that her husband was dead. So she was completely surprised when the South Korean Red Cross told her Oh was alive.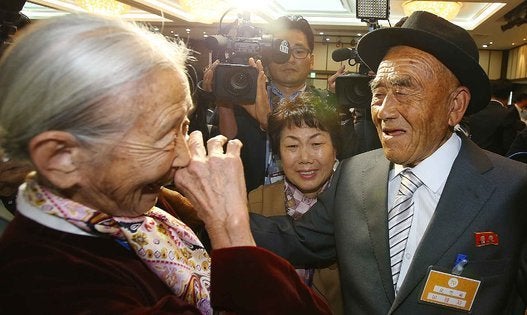 "I saw him in my dreams," she told South Korean News Agency YonHap on Tuesday. "He was always in my heart. I could not tell anyone about it because it would not solve anything for me. I am sure that he was captured and forced. I want to tell him that I am thankful that he is still alive after all those painful days."


This story originally appeared on HuffPost Korea. It has been translated into English and edited for clarity.
Popular in the Community