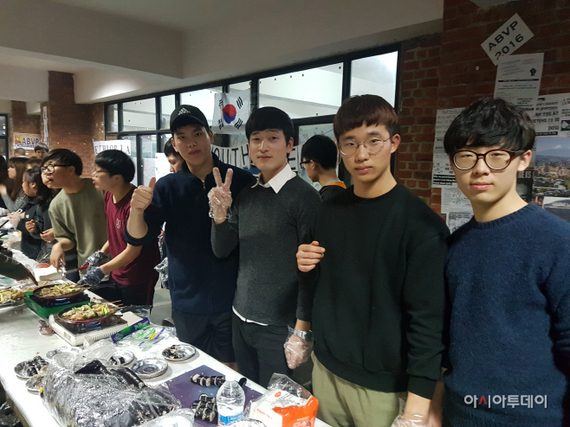 [The International Food Festival was held at the Jawaharlal Nehru University (JNU) in New Delhi, India. Korean cuisine was praised by local media and attendees of the event. The photo shows Korean students from JNU./ Photographed by Jeong In-seo]
By Jeong In-seo, New Delhi correspondent, AsiaToday - International students of Jawaharlal Nehru University (JNU) organized an international food festival on Thursday.
I headed to JNU after hearing the news that Korean students were attending the event. The venue was set up in a park in front of Ganga hostel, a crowded place with many students coming and going. As continuous heavy rain made outdoor events virtually impossible, the start of the festival was changed from 7:00 pm to 8:00 pm and the venue was moved indoors.
I asked people to find a way to the changed venue, but most people were not aware of the fact that the venue had been changed. Luckily, I was able to join people on the way to the event.
As I got closer to the venue, I was able to smell the aromas of food. At the event, many people were enjoying international food.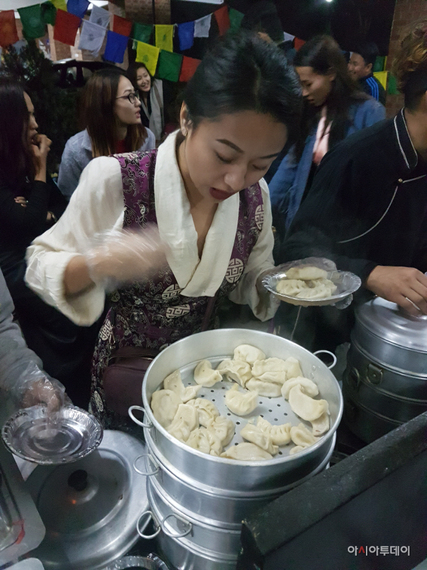 [A student in traditional Tibetan costume is serving momo, which is similar to Korean dumpling, on a plate. The Tibetan stall was one of the most popular booths along with the South Korean's./ Photographed by Jeong In-seo]
The first thing that caught my eyes was the Tibetan booth. The colorful Tibetan costume reminded me of Korean traditional costume, hanbok. The people dressed in traditional costumes were selling momo and thantuk, which resemble mandoo (Korean dumpling) and sujebi (hand-pulled dough soup).
Then I headed to a crowded booth. It was a South Korean booth ran by Korean students. 25 students were bustling to treat the guests flocking to the stall. Gimbap (dried seaweed rolls), dakkochi (chicken skewers), bibimbap (rice and vegetables dish), kimchijeon (kimchi pancake), and dalgona (sugar candy) were the menu items. While I was waiting for an interview with Korean students, people were kept coming.
Deepika, 20, raised her thumb and said, "Gimbap and dakkochi are really delicious." She said, "It's fantastic. I've also tried other food dishes, but Korean food is the most delicious. Most of all, dakkochi is more delicious than tandoori chicken."
Her friend Anshal, 20, said it was the first time she tried Korean food. He said, "I came here because my friend told me that a food festival was being held. I think Nepalese and Korean dishes are delicious. My favorite is dalgona. I'm sure Indian people will like it."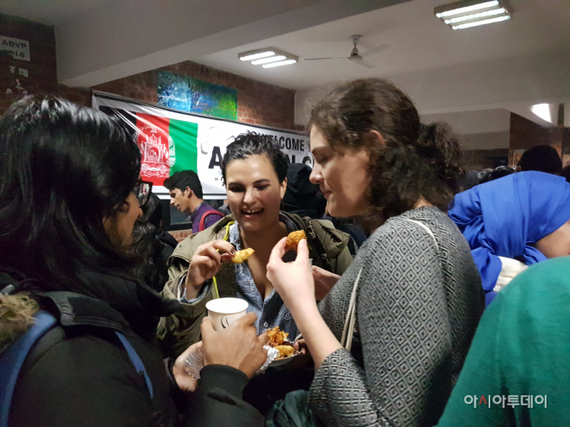 [Attendees of the event are trying kimchijeon and bibimbap./ Photographed by Jeong In-seo]
Most of Korean dishes including gimbap were sold out. Koh Kwan-woo, the head of the Korean Student Association at the Jawaharlal Nehru University, credited his team members for successfully concluding the event. Koh said, "From the preparation of ingredients to the sale, all the students came together to get ready for the event. The event was successful thanks to my team members." He added, "I did a lot of research to introduce Korean cuisine to my friends in India. I visited all the dormitories in the school and made some adjustments to localize Korean dishes. I'm so glad to be able to promote Korea to India."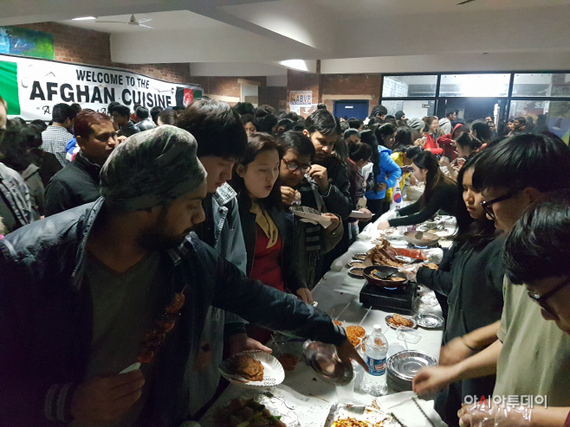 [Korean students are hosting flooding guests./ Photographed by Jeong In-seo]
Choi Ha-young, 28, a student in the School of Japanese Language, said, "We had a hard time in finding this place. But I felt good because all the dishes were sold out."
Kim Ye-won, 19, a student at the Chinese Language School, said, "I thought they were going to cancel the festival because of the heavy rain. But I'm so happy because so many people came to enjoy the event. There are many foreign students at school but it's hard to have international exchange. It's a great opportunity to exchange culture with each other though this kind of event."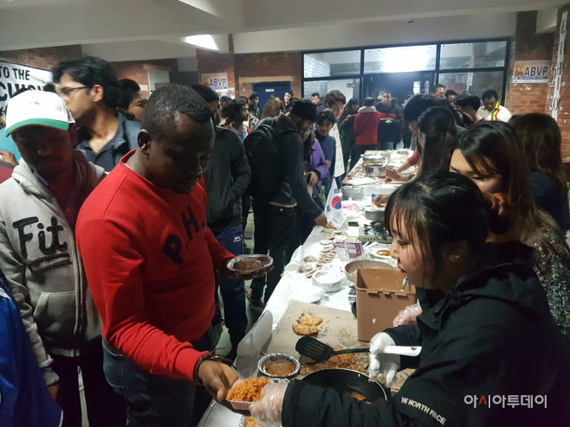 [Korean students are introducing bibimbap to guests./ Photographed by Jeong In-seo]
The International Food Festival was hosted by students from 22 different countries, including South Korea, Japan, Russia, Tibet, Nepal, Afghanistan, Uzbekistan and Bangladesh. An official of the festival said, "All the preparations and sale of food in the festival are done by international students."
The Times of India (TOI) and other local media outlets selected South Korean booth as the top booth of the day.
Related
Popular in the Community