Death experience programs in South Korea encourage people to embrace life -- by asking them to lie in a coffin and think about what it would mean to die.
The programs began as a way to address, and possibly combat, the nation's high suicide rates. Korea's suicide rate, which is the highest in the world, has been linked to the competitive, high-pressure nature of school and work culture in the country. South Korea had 29.1 suicides per 100,000 people as of 2012, the most recent year for which information is available, according to the Organization for Economic Cooperation and Development's Health Data 2015 report.
The fake funeral experience is designed to help people appreciate what they have in their lives by reflecting on the experience of death.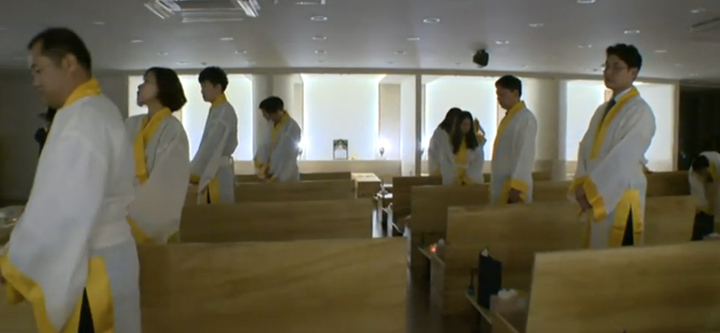 Participants in the exercise dress in white robes and typically write final letters to their loved ones. They also often watch videos of people facing adversity, such as a person born without limbs who has learned to swim or a cancer patient making the most of her last days, the BBC reports.
Then then get into the coffins, which are closed by a man representing the Angel of Death. At some of these mock funeral institutions, participants stay inside for 10 minutes. Others locations may keep people closed in their coffin for half an hour, according to a Vice Japan documentary released earlier this year.
Agence VU noted that these death experience schools have a wide variety of clients, from depressed teenagers to corporate workers who often take part in the practice as a corporate team-building exercise to boost morale against the pressures of work life.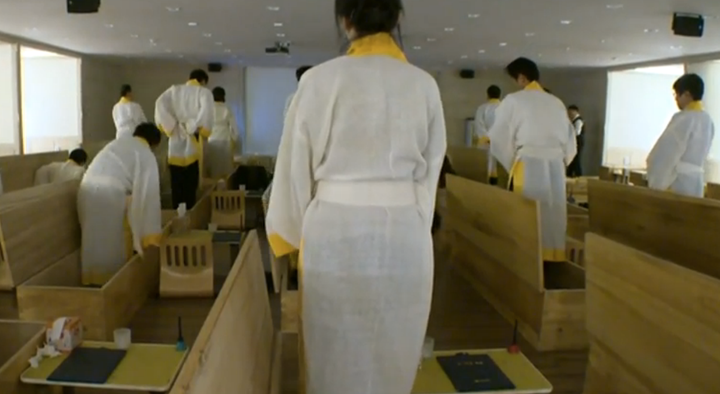 Park Chun-woong, the president of a company that sent employees to participate in the experience, told the BBC he wanted his employees to learn to value life over stress.
"I thought going inside a coffin would be such a shocking experience it would completely reset their minds for a completely fresh start in their attitudes," he said.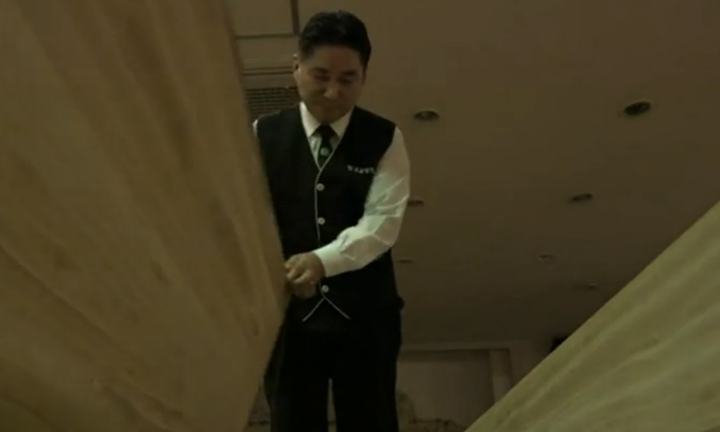 "After the coffin experience, I realized I should try to live a new style of life," Cho Yong-tae, who participated in the ritual, told the outlet. "I've realized I've made lots of mistakes. I hope to be more passionate in all the work I do and spend more time with my family."
Related
Popular in the Community