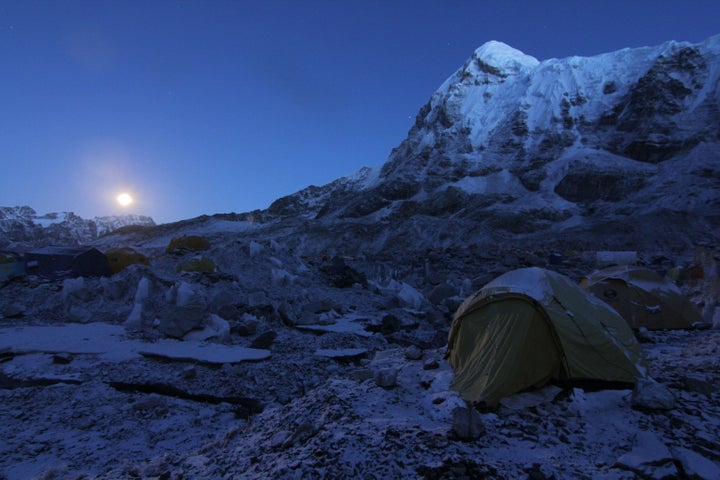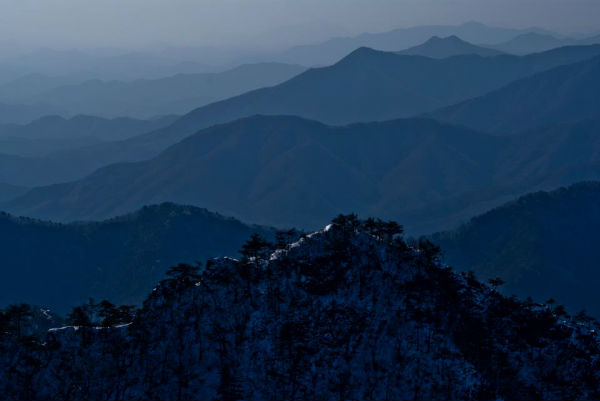 Views SW from Hwangjangsan on the Baekdu-daegan. Photo credit: Roger Shepherd at Hike Korea.
In Gary Pak's diasporic, Korean-Hawaiian novel A Ricepaper Airplane (University of Hawaii, 1998) a woodsman named Uncle Bhak serves a warm bowl of rice porridge, or juk, to Uncle Sung Wha, a revolutionary on the run from the Japanese colonial army. The woodsman lives on Kumgangsan, a sacred mountain located in what is now the Democratic People's Republic of Korea, or North Korea, near the Demilitarized Zone (DMZ).

After eating the juk, which was prepared with special mushrooms and other mountain vegetables, Sung Wha begins to have revelatory visions of Kumgangsan:

"Time does not dawn here. It never did. Today is yesterday is tomorrow is today... and there are no such things as villages or towns or societies. There is peace in nature, and nature is everything. There is no anger or sadness or happiness. There is no frustration or loneliness. And all is forgotten but the journey of the moment."

Uncle Bhak is the irregular offspring of a union between a Buddhist monk and a tigress -- he is a "a tiger, a man of the mountains," a symbol of "living in harmony with the natural world."

The Korean Peninsula has historically been imagined in the form of a tiger with its spine mapping the contours of the Baekdu-daegan mountain system that begins in the north at Mt. Baekdu (2,744 m) and winds 1,400 km south to the highest peak in South Korea, Cheonwang-bong (1,915 m) in Jirisan National Park. Kumgangsan is part of the Taebaek Mountain Range, a segment of the Baekdu-daegan that ignores political ideology and geopolitical conflict as its jagged, craggy peaks traverse and tower over the all-too-human DMZ.

In 2006, New Zealander Roger Shepherd, after working for eight years in Africa as a Wildlife Ranger and Safari Guide, began to explore the Baekdu-daegan. The following year, Shepherd, along with friend and colleague Andrew Douch, started walking the entire 735 km length of the southern portion of the Baekdu-daegan, reentering civilization 70 days later. In June 2010, Shepherd and Douch published Baekdu Daegan Trail (Seoul Selection), the first English guide to hiking, understanding and respecting this cultural treasure.

Shepherd is the founder of Hike Korea, a company that he hopes will introduce people to:

"Korean Mountain Culture spiritually through trails that represent Shamanism, Buddhism, Taoism, Confucianism, Folkism, Nature and People... Hike Korea offers to its pilgrims a unique and genuine experience that will reward them with personal self-development, education and spirituality. Let walking become your pilgrimage into another world."

It's hard to overestimate the historical, ecological, political and religious importance of the Baekdu-daegan. Shepherd describes the Baekdu-daegan as a great central nervous system. When asked to explain this metaphor, he told me:
The Baekdu-daegan has been recognized for thousands of years as the back-bone and sustainer to all life on the peninsula due to its relationship to water management. Water is life, and therefore the vitality of life is connected to the Baekdu-daegan. Hence during the BC period the people of Korea believed that their mountains housed spirits that if looked after and revered, provided them with the necessary sustenance and good will to survive. Later, around the late 9th century, a monk called Doseon guk-sa recognized the Baekdu-daegan as the main artery of energy in Korea, a kind of Chinese Feng-shui, known in Korea as Pungsu-jiri. So to view it in a topographical or animistic sense, the Baekdu-daegan is the skeletal back-bone, and its energy is the spinal cord, the central nervous system. Its subsidiary ridges are like the arterial network of the human body that spreads that energy throughout the peninsula, down to its smaller ridges which become part of the peninsula's venous system. It's like comparing blood with water, its unimpeded circulation is vital to the health, wealth and well being of the humans that thrive on it. The Baekdu-daegan is where it all begins, either physically, mentally, or spiritually.
Mountain-worship has disappeared from many parts of the world, largely as a result of the twin forces of modernization and aggressive missionary Christianity. Yet mountain-worship continues to thrive on the peninsula. As David Mason, a professor of religious tourism in Seoul and contributing editor to Baekdu Daegan Trail, writes in Spirit of the Mountains (Hollym, 1999):
"An OECD-member nation with a developed industrial economy (rapidly going post-industrial) has a 'Mountain-God' at the center of its complex web of religious forms -- connecting most of them to national roots -- and flourishing, varied practices of this ancient belief-system. Not only is mountain-worship still 'alive' in Korea, but it is evolving new roles for itself in Korea's twenty-first century cultural and political realities."
Korean mountain-worship is centered on San-shin, an animistic concept that designates a Mountain-spirit, Mountain-God, or spirit of the mountain. Professor Kum Jang-tae summarizes San-shin with the idea that "every mountain has a spirit, and those who live on or climb the mountain receive that spirit and experience a deepening of their humanity." San-shin are actively venerated by professional shamans, Buddhist monks, brightly-clothed mountain hikers as well as the local community.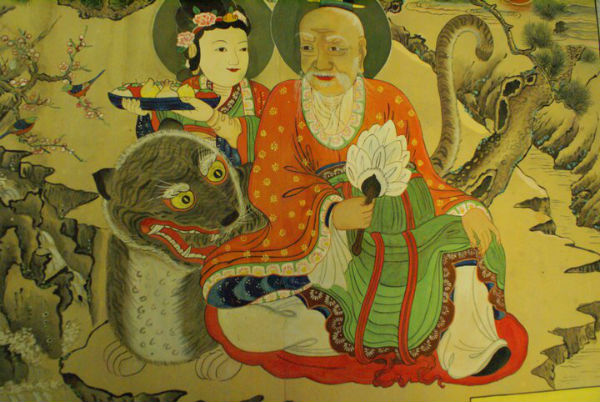 The San-shin (mountain spirit) of Habiro-am hermitage in Myohyang-san in north Pyonghan Province, in the DPRK. Photo credit: Roger Shepherd at Hike
San-shin remixes images, symbols, myths and practices from many different eastern religious sources. The Late Dr. Zo Zayong noted that, "At times these religious motifs (Confucian, Buddhist, Daoist, Shamanist) are so completely interwoven that it becomes impossible to determine to which specific religion each belongs. The end result of this is a general impression that in Korea there is Daoist Buddhism, Buddhistic Shamanism and Daoist Shamanism... "
Perhaps the history of religious syncretism that informs Korean mountain-worship can help heal some of the wounds of war. These wounds are brutally displayed in Jang Hun's recent Korean War protest film, The Front Line (2011), which is set on the strategically located Aerok Hill near the 38th parallel (Aerok is Korea spelled backwards). The film narrates an absurd, sisyphean struggle by beaten down troops from the North and South to control Aerok. During the colonial period, sacred mountains provided refuge for Korean nationalists fighting the Japanese Army. Rugged mountainous areas, which cover seventy-five-percent of the peninsula, later provided refuge for communists, suspected communists and ordinary Koreans who wanted to escape the violence of the Korean War. Distinctions between these groups mattered little as peaks, hills and valleys were heavily bombed, strafed and drenched in napalm by U.S. Warplanes.
In 2002, the Kumgangsan Tourist Region was established to handle South Korean tourists and has been the site of reunions for families divided when the border along the 38th parallel was established in 1953. In 2008, tours ended when a South Korean tourist was shot. Sadly, the Kumgangsan Tourist Region includes a golf course on its sacred valleys, a serious affront to the local mountain-spirits.

In October of last year, Shepherd, along with three North Korean companions, hiked 10 mountains and covered 2,300 km of country roads in the southern half of North Korea under an agreement with the New Zealand-Korean Friendship Society.
"It's safe to say that all the places I visited on the Baekdu-daegan in this expedition were mainly unexplored by all humans, especially a foreign one, and required a lot of bushwhacking," he says.
When I asked Shepherd how he was received in the North, he said:
When I got the chance to meet some of the local people in North Korea, and this could've been anywhere from a city to a small mountain village, any initial doubt on their behalf would quickly diminish once they found out why I was here. They were always relieved to know that I wasn't an aid worker, or some dodgy journalist, but a photographer and writer with a deep knowledge and understanding of their mountains and what they mean to them. In other words, they were amazed and grateful that I had come to their country to take a genuine interest in it from an angle no one else ever had. Skepticism, politics, and suspicion was quickly booted out the door and we became men and women forged together by the landscape.
Shepherd will exhibit photos from the expedition in Seoul and New Zealand. This will be the first time photos of mountains on both sides of the DMZ will be shown together in the same space, creating a brief moment of reunification, at least at the level of representation. Shepherd, who is funding these expeditions out of his own pockets, which aren't deep, plans to return this year to complete the photographic project. He will visit Mount Baekdu and the Gaema Plateau in the very north of the peninsula for at least one month.
"It will be logistically more difficult in many ways due to the terrain," he says. "I'm still hoping to acquire a major sponsor to assist with financing such an expensive operation."
San-shin is an ancient form of sacred graffiti, thrown up on stone, wood, canvas and walls all over the mountainous regions of the Korean Peninsula. David Mason points out that a "mountain spirit can manifest itself in human form or tiger. It can do so in dreams, visions during ascetic practices or ecstatic states, by 'possession' of a shaman in trance, or to extraordinary persons at seemingly-ordinary times."
Novels like A Ricepaper Airplane also manifest mountain spirits, and a novelist like Gary Pak is a shaman who animates the many plateaus and pleasures of mountain culture for readers who, like Uncle Sung Wha, love all mountains.
Memories of Kumgangsan in A Ricepaper Airplane connect diasporic Korean readers to the homeland. Beyond this existential comfort, which circulates as much in bodies as hearts and minds, the memory of mountains creates a visionary, reunified landscape through which an end to the Korean War can be productively imagined. The Baekdu-daegan is a living geographical entity, and San-shin is a continually evolving cultural formation that both sides of the DMZ participate in, thus offering a glimmer of hope for the future reunification of the Korean peninsula.
"When up in the mountains with my team," Roger Shepherd comments, "it really just felt like I was in Korea, not North Korea, not South Korea, just Korea."
Exhibition dates;
Feb17-22 Gyeongbukgung Station Gallery
Mar02-Apr03 Pataka Museum of Art and Culture, Porirua, New Zealand
April Daejeon Government Building Complex