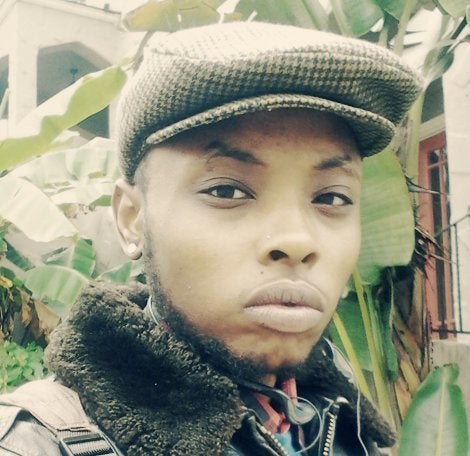 To call Kortney Ryan Ziegler a Renaissance man would almost be an understatement. He's an artist, filmmaker, writer, entrepreneur and human rights advocate, not to mention a prominent voice within the black transgender and academic community. With a doctorate in African-American studies, he often writes and speaks about queer people of color, media visibility, black sexuality, transgender activism, black male feminism and more.
In 2008, he released his noted film, "Still Black: A Portrait of Black Transmen." Last year, he was nominated for a Transguys Community Award, and this year he's been nominated for a GLAAD Media Award for outstanding blog. Ziegler is also the founder of Who We Know, a paid fellowship focused on creating products and developing initiatives that economically empower the transgender community of color, and co-owner of Halmoni Vintage, a boutique in the Lake Merritt neighborhood of Oakland, Calif. He took some time out to chat with HuffPost Gay Voices about filmmaking, transgender advocacy and more.
What was the inspiration behind your film "Still Black"?
I was inspired to make it at the moment I made it because it was the beginning of the trans explosion, which I think is happening right now. There were a lot of films coming out mainstream and independent. For example, there was "Trans America" and "Trans Generation," which is a TV show. All of these shows that were coming out didn't have any representation of black trans people.
So I wanted to see that movie, and specifically I wanted to see a movie that centralizes the voices of black men, because it's so rare. I wanted to see it. So I made it.
You specifically chose to do the film in black and white because you believe that being a transgender man of color isn't just a black-and-white issue. How so?
Actually I tried to see the film as shades of gray. I really didn't want to play with the idea that gender is this ridiculous spectrum. It's not black or white; it's shady. You can be this or that. You can be whatever you want to be. That's what I really wanted to push as far as the aesthetic.
Gender is very fluid, and I identified that with the multiple camera angles that show different movements of the body and how we come to practice our performance. We really wanted to show that in the film.
Do you plan to make more films?
Yes, I made work before and it was all short films. I have a narrative feature that is in development right now. It will have a black transgender man character. The premise of the film is a man who transitions in his late 20s and has to return home as this man and having to conquer that. It deals with what it means to be a man and transitioning as an adult.
You're the first person to hold a Ph.D. in African-American studies from Northwestern University. It's often taught in the black community that education is the key to freedom and success. Do you feel that getting your doctorate has made things more seamless for you?
No. Not at all. I think in terms of now having some type of cultural capital that I can navigate with is very helpful, but I don't think it has made anything that much easier. Blacks aren't seen as educated in the first place. I'm grateful that I went to school. For me, it's a personal achievement demonstrating that I could do it. I thought it would, but it hasn't made things easier.
You wrote a great piece for HuffPost about making race the center of transgender advocacy. How do you think the community can begin to break down its barriers?
Like I mentioned in the essay, more resources need to be given toward issues that affect people of color. I say that because I've gotten a chance to work with a number of advocacy organizations, specifically in California, and everyone is pushing for health care and don't want to be discriminated against. That's great and we should be doing that, but for people of color, it's a very different experience. In terms of employment, it's not only issues of gender; it's also issues of race.
Also, the work that trans people of color are doing needs to be recognized by organizations. Not necessarily inclusion, but recognition. We use the word inclusion a lot, but why do we need to include? Include is not the right word. We need to recognize people for doing work. Trans people of color are doing work without the money and resources, with the drive or promoting visibility and showing our humanity.
You also stated in that piece that we have to take the necessary steps to destroy racist institutional barriers, but the responsibility shouldn't be left upon communities of color. Where should society start with breaking down these racist institutional barriers?
I think we can come at it from different angles. Yes, there are people who don't have houses. Yes, there are people who can't go to the doctor. There are all of these ways. We need to talk about all of them and see how they are connected and distinct at the same time. Without addressing everything that is connected, we really don't have a platform. Even recognizing that information is multifaceted is a starting point.
It's often been said that the black community is very homophobic. How do you feel that the division or lack of understanding can be broken down inside of the black community?
I am a person who believes that black people are no more homophobic, transphobic or racist than anybody else. I believe that because in my life experience I've been blessed to encounter people in my family or loved ones who openly loved me and respected me. They may not have understood anything about who I am, but have respected and honored that they don't understand. It's not just family. It's also people that I run into on a daily basis. We need to move beyond that narrative that black people aren't as accepting because I think we really are.
Knowing society's notions about masculinity in regards to black men, how do you grapple with that and expressing yourself as a black transman?
It's very eye-opening. I don't want to fall on that it's-so-hard thing. I think it's hard for everybody, no matter who they are. I've realized that the plight of being a black man in America is not what I understood it to be when I was not living as a black man in America. What I mean by that is just it's really sad the way people fear me. Or the way that people see me and don't see me. I'm very hyper-visible. At the same time, people are very intimidated by me and it has to do with my black masculinity.
I also use it as an opportunity to shape myself. I do shape the way that I move throughout the world in some ways to show a different reality of black masculinity. People who I meet now, unless I tell them, wouldn't really think about it, and they treat me as they would treat any black man.
You once tweeted that someone who hosted a screening of your film posted pictures of you prior to transitioning. Can you explain how that is problematic?
It's problematic because you can do a Google search, and for my name, probably 80 percent of the pictures that come up I don't look like that right now. I have no problem with that, but for trans people who are public, it's important to honor how they are now. It's important because no matter who you are, it's just important to use current photographs. It's important for people to be mindful. And if you need to ask questions, it's OK. Ask how a person wants to be represented. I think that's an OK question to ask.
During the last season of VH1's "Love and Hip Hop: Atlanta," one particular cast member, Joseline Hernandez was repeatedly called a man and accused of being transgender and not a cisgender woman. As a transgender person, can you explain how this can be problematic and insulting to the transgender community?
I followed that story, and she eventually posted a nude photograph to prove herself. Not even just being cisgender or trans, being a woman of color and not really having control of your body anyway -- that was also a part of the problem with Joseline. Specifically for trans people, it's insulting for anybody to have to prove themselves. If they say that's who they are, they are.
People need to also realize that gender isn't just about genitalia.
Exactly.
Calling all HuffPost superfans!
Sign up for membership to become a founding member and help shape HuffPost's next chapter
BEFORE YOU GO
PHOTO GALLERY
48 Transgender Pioneers