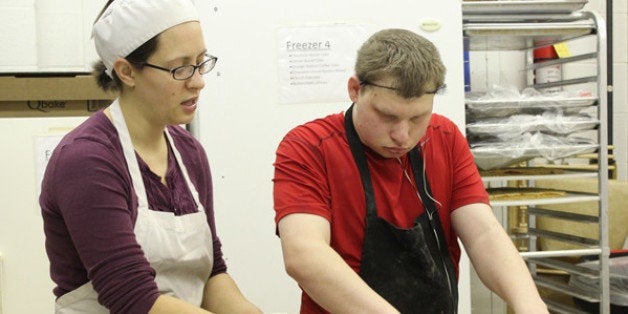 GAITHERSBURG, Md. (RNS) Some of the trainees at the Sunflower Bakery can't read the recipes. Others need a reminder to shave. Several had to practice before they could manage the bus ride to the bakery on their own.
The idea that this suburban bakery could make adults with cognitive disabilities into employable bakers surprises even some in their own families. Perhaps more surprising: the Sunflower bakers must work within the strictures of Jewish dietary laws, assuring customers that the products they make are certified-by-a-rabbi kosher.
By giving people who have had few breaks in their lives a chance for a real career, the four-year-old nonprofit bakery aims to sell $240,000 worth of raspberry jam bars, brownie lollipops, bar mitzvah cakes and other goodies this year.
But this month, it's all about the hamantaschen — 25,000 of them to be exact.
Jews serve the traditional cookie for Purim, which begins on Saturday evening (March 15) this year. Though the bakers have battled a host of obstacles in their paths toward independence, in the weeks before Purim, success takes the form of a perfectly folded triangle-shaped hamantaschen.
"I made 1,100," said Wilhsia Kimmakon, 20, who explains that she learned to place them on the cookie sheets "with just the right spacing." The task is a fitting one for Kimmakon, who, despite intellectual disabilities, does well with structured, repetitive tasks.
She has also learned a bit about Purim. The hamantaschen takes its name from the three-cornered hat of the evil vizier Haman, who sought to exterminate the Jews of ancient Persia. Purim commemorates the commoner Esther's rise to the throne, and her brave and successful efforts to save her people from Haman's plan.
It is one of the Bible's great reversal-of-fortune stories, and one that resonates at the Sunflower Bakery. The theme here is making the very most out of the most humble ingredients.
Zeke Koster, 39, can't read the hamantaschen recipe. Before he came to Sunflower, he cleaned bathrooms. "He's never ever been fired but he's always had menial jobs, so he's never had a positive feeling about what's he's doing," said his mother, Marilyn Koster.
"At Sunflower, he feels so good about himself and what the potential down the road is," she said. "He's like a flower opening up."
Sunflower staffers, who met Koster in November, realized that he needed extra time to repeat a recipe — and repeat it and repeat it — until he got it right. Koster, who is now on track for a job in a real-world, for-profit bakery, took it upon himself to fit in more cookie-making practice at home.
"Put egg at the corners," he gently advised a visitor to the bakery whose hamantaschen triangles often unfold into circles. "It's like glue."
Other students at Sunflower live with autism, ADHD, anxiety, bipolar disorder and depression. The bar for them is high enough. Why add kosher, and its many rules, to the mix of challenges?
"We keep kosher," answered Sara Portman Milner, a social worker who co-directs Sunflower with Laurie Wexler, a friend from her synagogue.
They guessed the market would support a kosher bakery, since there are so few of them. But just in case, the two friends commissioned a study, which confirmed a niche waiting to be filled in metro Washington. They and two other friends each contributed $500, and founded Sunflower in the kitchen of Beth Sholom, their synagogue in Potomac, Md.
Sunflower is a Jewish bakery in that everything is kosher. One homework assignment, no matter the religious background of the student, is to go to a supermarket to search out the kosher symbols on various products.
But it is also Jewish in that the bakery takes its cues directly from Maimonides, the 12th-century rabbi. "On his ladder of 'tzedakah' (Hebrew for "charity"), the highest rung is to enable a person to become self-sufficient and not have a need for charity," she said.
Students learn to bake, yes, but they also learn basic skills like getting to work on time, washing their hair before they arrive, and speaking up for themselves. Some pass a National Restaurant Association food-handling test that can help assure future employers that they would be assets in the kitchen.
"You need to have pants that have a belt," Portman Milner recalls telling one student. "Your pants can't be falling down while you're baking."
Sunflower hopes to open a store beyond its 1,100 square feet of industrial kitchen. For now, it delivers orders or prepares them for pickup at seven locations. To date, it has graduated 24 students, who now work at area restaurants, bakeries and supermarkets.
Sunflower's budget, $530,000 this year, comes partly from local government grants and several Jewish foundations. It employs 10 professionals, including executive pastry chef Liz Hutter.
Hutter — the non-Jewish former executive pastry chef at Washington's Watergate Hotel — has tweaked many of her recipes to make kosher versions. No Sunflower products may contain a speck of dairy, which makes them more versatile under kosher law because dairy and meat can't be eaten in the same meal. That means no butter, no cream cheese.
A "parve" dessert — which contains neither milk nor meat — can be served after any kosher food. "Ganache without cream," said Hutter with a smile. "That was interesting."
And delectable, Portman Milner promises.
"We don't mind if a customer first comes to us because they've heard about our cause," she said. "But we want them to come back for the quality of our products."

Support HuffPost
The Stakes Have Never Been Higher
Related
Before You Go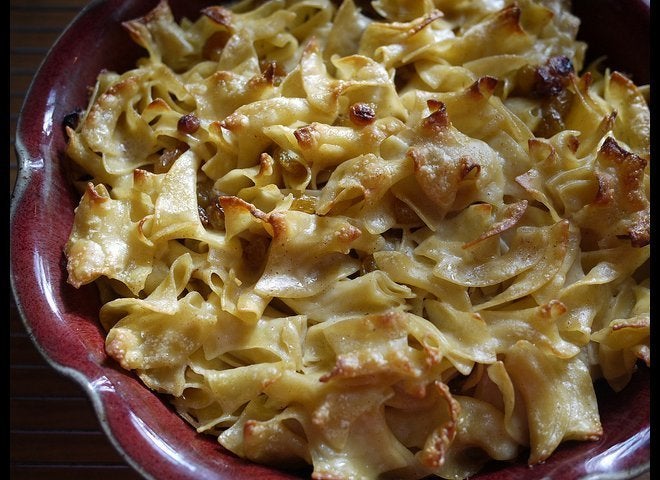 Rosh Hashanah Recipes
Popular in the Community