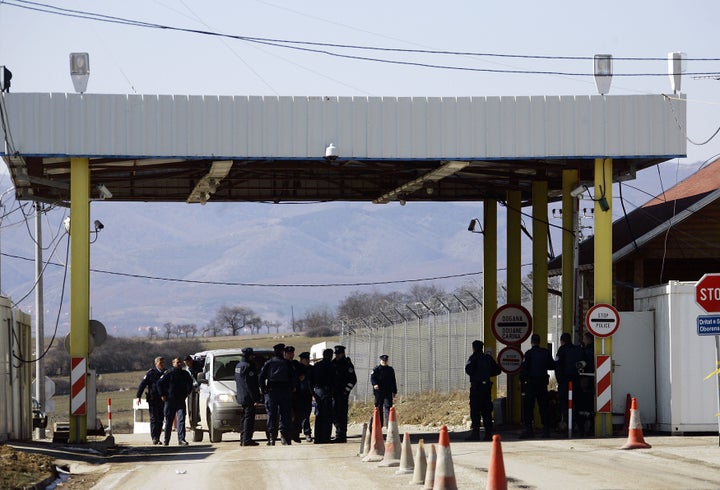 BELGRADE/BRUSSELS, July 28 (Reuters) - Kosovo's escalation of tensions over an ethnically Serb area this week appears aimed at pushing the West to allow Pristina to expand its authority but is likely to backfire by frustrating its European backers.
On Monday, Kosovo, where ethnic Albanians are in the overwhelming majority, seized border posts in the Serbian-populated north to enforce a ban on imports from Serbia -- retaliation for its block on Kosovo's exports.
The action triggered the fatal shooting of a Kosovar policeman and clashes with local Serbs who burned down a customs border post and fired at NATO's KFOR peacekeeping force.
Kosovo officials, who face domestic pressure over their lack of authority in the north and the poor economy, say they acted to establish control over a mineral-rich part of what they consider their own territory.
"At the moment, we are facing difficulties and challenges, but we will not withdraw under any circumstances and at any price, this is our land, our country, it is our constitutional and legal right," Prime Minister Hashim Thaci told parliament.
With domestic politics playing a vital role, European diplomats say Pristina may have jumped at a chance to contest Serb policies to assert its international standing.
In a largely miscalculated move, it may have tried to underline problems it is facing in difficult dialogue with Serbia, from which it declared independence three years ago.
The tensions come a week after Serbia blocked a round of talks mediated by the European Union which was meant to improve customs cooperation between Belgrade and Pristina.
"This is about creating facts on the ground," said one EU diplomat, adding that at least in the short-term, Pristina has risked alienating its supporters in the European Union.
"Three weeks ago, Kosovo was better off internationally," one EU diplomat said. "Serbia was clearly being blamed for problems in dialogue and Kosovo had the high moral ground ... now they have shot themselves in the foot."
The tiny and impoverished Balkan state depends largely on international support but its aspirations to forge closer ties with the EU have been hurt by the opposition of several EU governments to recognising Kosovo's independence.
A new bout of tensions might complicate its efforts to garner stronger support in Europe, where evidence of good regional cooperation is seen as essential to joining the bloc.
It will likely underscore the region's difficulties in overcoming ethnic hostility, the legacy of wars that tore through the Balkans after Yugoslavia collapsed in the 1990s.
"Serbia and Kosovo will have to come back to the negotiating table and it will be more difficult now," an EU diplomat said.
Until now, Kosovo and Serbia have made patchy progress, if any, in mending ties with the northern part of Kosovo, EU diplomats say. Serbia does not recognise Kosovan independence and the Serbs in the north consider Belgrade their capital.
In the region which runs north from the main city of Mitrovica, Serbia finances the municipality, utilities, schools and hospitals. Kosovo runs courts, police and customs aided by the EU's EULEX justice mission.
The hazy legal status means that many of the 60,000 local Serbs in that region drive cars without license plates and do not have to comply with rules such as local parking regulations. Most people do not pay sales or income taxes and can use either the Serbian dinar currency or the euro which Kosovo has adopted.
In addition, crime and drug trafficking flourish in the administrative vacuum.
"Mitrovica is like a patient in recovery from an almost incurable disease of conflict," said Padraig O'Malley, professor at the University of Massachusetts, Boston who has worked on cities divided by conflict, including Mitrovica.
"The conflict in Mitrovica will be a conflict in one way or another until the status of Mitrovica and the status of Kosovo and the status of Serbia are settled," he said in an interview. "This will not begin in a significant way until both Serbia and Kosovo are members of the European Union."
EU-mandated dialogue on resolving many issues started this year. But while many EU diplomats feel Serbia may have acted belligerently during last week's round of talks, some feel Kosovo's government is taking international backing for granted.
"They are a bit spoilt. They think they can manipulate the international community and they have, quite frankly, for quite some time," one regional ambassador said.
"They think that we have such a huge stake in their success that we will accept basically almost whatever comes and I think that it going to be a big mistake on their part."
Regional jealousy also plays a part in the region that under communism functioned as a single state, Yugoslavia.
Some diplomats said Kosovo's actions in recent days were meant to slow down Belgrade's EU progress, which has seen fresh momentum since it extradited the last of a long list of internationally wanted war crimes suspects this week.
They may "want to create a problem for Serbia's EU process," one European ambassador said. "If that is the case, it is extremely short-sighted and also dangerous in the region."
Serbia has appealed for calm, earning praise from EU diplomats in Belgrade. But such a measured response will have a political impact at home ahead of early 2012 elections.
"What they are actually doing now is making it more difficult for (President) Boris Tadic in the upcoming elections and they are actually in a sense supporting the more extreme elements in Serbian politics," the regional ambassador said.
(Additional reporting by Fatos Bytyci in Pristina and Aleksandar Vasovic in Belgrade; Editing by Elizabeth Fullerton)
REAL LIFE. REAL NEWS. REAL VOICES.
Help us tell more of the stories that matter from voices that too often remain unheard.